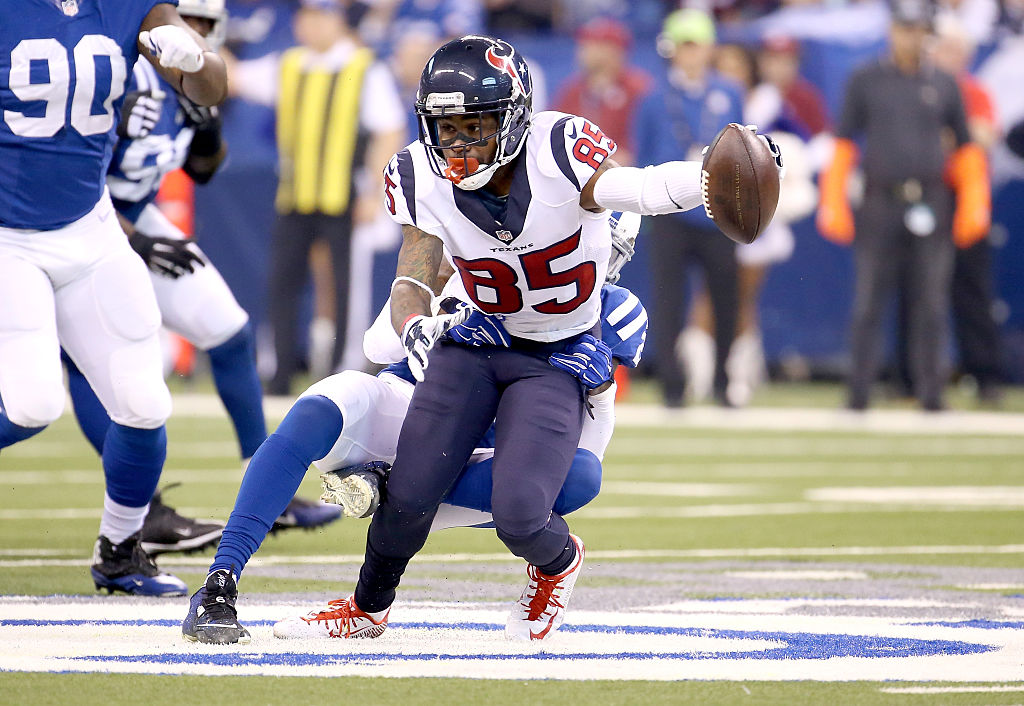 Nate Washington Calls Out Antonio Brown for His Shot at JuJu Smith-Schuster
Earlier this week, Antonio Brown took a shot at JuJu Smith-Schuster. Then Nate Washington waded into the Twitter beef.
The NFL regular season might be over, but Antonio Brown can't get out of his own way. Within the past week alone, the wide receiver had—and as far as we can tell, ruined—a workout with the New Orleans Saints, and revived an old feud with JuJu Smith-Schuster. The latter action, which came in the form of a juvenile tweet, also caught the eye of someone else.
Nate Washington spent four seasons with the Pittsburgh Steelers. While he never played alongside Antonio Brown, he wasn't afraid to call the receiver out on Twitter.
Antonio Brown's beef with JuJu Smith-Schuster
Antonio Brown and JuJu Smith-Schuster lined up side-by-side for two seasons with the Pittsburgh Steelers. The senior receiver, however, hasn't always been kind to his former teammate.
The two worked well together in 2017 and 2018, but cracks emerged after the pair parted ways. When a fan tried to troll Brown on Twitter by reminding him that Smith-Schuster was the 2018 Steelers' MVP, the receiver took a shot at his former teammate. "Emotion: boy fumbled the whole post season in the biggest game of year," Brown tweeted. "Everyone went blind to busy making guys famous not enough reality these days!" Brown also shared some Twitter DMs that Smith-Schuster—who was still in college at the time—sent him, seeking advice.
Once the NFL season began, Brown seemed to move on. On Monday, however, he turned his gaze back towards Smith-Schuster, criticizing his poor 2019 stats. That tweet caught the eye of another receiver, though.
Nate Washington enters the fray
While Nate Washington never played with Antonio Brown or JuJu Smith-Schuster, the former Steeler is still a member of the wide receiver's union. When he saw the former player stirring the pot, he stepped in himself.
"AB lost alllllllll respect," Washington tweeted. You talkin bout JuJu like he get into beef! Boy like playing video games! Take yo lost childhood, no real friends ass on!"
"Boys pull the weakest moves when they sit in the dark," he continued. "I bet the jugs machine don't even wanna throw to that boy! #HellaWeak
While there's plenty to unpack there, it is worth noting that Smith-Schuster hasn't done anything to antagonize Antonio Brown. The young receiver publically praised the veteran and even considered him a role model.
Twitter beefs are all fun and games, but Antonio Brown is no laughing matter
In 2019, Antonio Brown did just about everything except play football. He had frostbite and couldn't find a helmet that he liked. He fought with the Raiders' front office and played one game with the Patriots. After that, Brown's former trainer accused him of sexual assault and rape; Brown then made matters worse by sending her intimidating texts.
It's tempting to look at Antonio Brown as a sideshow, but, at this point, you can't help but be concerned. While the receiver hasn't done anything to deserve sympathy, he's still a human being; no one wants to see another person slowly imploding in the public eye.
At this point, though, Antonio Brown isn't going to stop spiraling because Nate Washington or anyone else calls him out. It's going to take more than serious than a social media burn to get things in check.