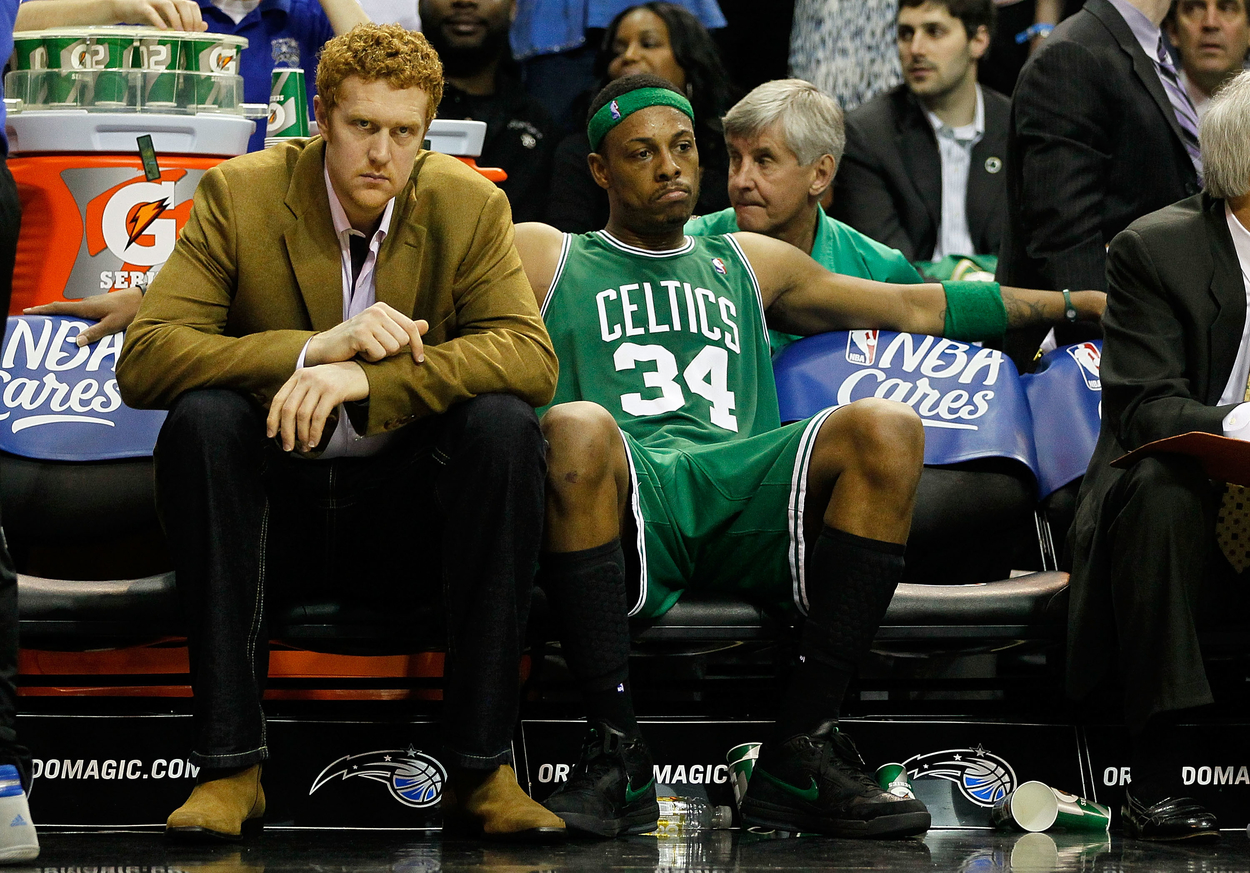 Brian Scalabrine, an NBA Folk Legend, Blasts Amateurs Who Try to Challenge Him 1-on-1: 'I May Suck for an NBA Player, but I Don't Suck Compared to You'
Brian Scalabrine may not have been the best NBA player. But he wants it known that if you try to play him, you're in for a bad time.
No player in recent NBA history is more synonymous with a participation trophy than Brian Scalabrine. The White Mamba's career spanned 11 seasons, highlighted by a championship with the 2007-08 Boston Celtics. He got the ring, but spent zero minutes on the court during Boston's entire playoff run.
Scalabrine has been the subject of mockery during and after his playing days. But the 43-year-old wants it known just how much better at basketball he was — and still is — than the people laughing at him.
Brian Scalabrine wants you to know that no, you can't beat him in a pick-up game
How many times have you or a friend watched an NBA game and thought to yourself, "I could do that"? Well on Miami Heat forward Duncan Robinson's podcast The Long Shot, Scalabrine confirmed you, in fact, can not do that.
"I played in this YMCA rec league, I dropped 60 one game," said Scalabrine. "I wasn't trying to brag or anything like that. I was like, 'yeah, I had a good game, had 60 the other night in my rec league'. And so people immediately started tweeting, 'You suck, Scal, I'll beat you.' I'm like, 'Listen, I may suck for an NBA player, those guys are pretty good, but I don't suck compared to you. Like you suck, compared to me.' I suck compared to Derrick Rose, and Russell Westbrook, and those guys."
People doubting his ability is nothing new to Scalabrine, as he once told Sopan Deb of The New York Times.
"Being a white NBA player from the suburbs, I have to level up," said Scalabrine. "People don't understand how a little bit nuts you have to be to sustain an NBA career. Especially when you're not that talented. You have to be ready. You have to be up for the fight. You have to be like that every day. And if you're not, you lose your livelihood."
Scalabrine hasn't just said he'll beat anyone who challenges him; he's actually done it
While talking is one thing, doing is another. So after "fans" said they could take the NBA champ in a pick-up game, Scal gave them their wish.
In 2013, just a year after his final season in the league, Scalabrine partnered with Comcast SportsNet New England (now NBC Sports Boston) for "The Scallenge". The premise was simple: Fans got to make their case for why they could beat Scalabrine one-on-one, and if chosen, they would face the retired vet in a game to 11.
The results went exactly as you would expect. Scal dusted each competitor, allowing a single point or two on occasion. He even took down three amateurs who teamed up in an attempt to defeat him.
Scalabrine was able to dominate his competition just a few months following his retirement. But this year, the Ginger Ninja proved he can still play — and win — against anyone who challenges him.
In a viral video, a high school basketball player came face-to-face with Scalabrine at a gym. The young man said he could take down the 43-year-old, and even put his shoes on the line if he lost.
Scalabrine won 11-0. No word on whether he took the shoes, though.
For all the jokes, Scalabrine had a better career than people think
Scalabrine never had a season where he averaged double-digit points, assists, or rebounds. But he had longevity, something a lot of NBA players can't say for themselves.
When Scal was in the NBA, the average career-length of a player who averaged more than 12 minutes a game but less than 20 was right around five seasons. For a player averaging less than 12 minutes, it was just two seasons.
Scalabrine, who averaged 13 minutes, made it 11 seasons in the world's top basketball league.
The White Mamba also played for just three teams; the Celtics, New Jersey Nets, and Chicago Bulls. For context, that's less than both Westbrook and Rose, the two players Scalabrine singled out as players he pailed in comparison to.
"Joakim Noah said it best," Scalabrine said to The New York Times, referring to his former teammate on the Bulls. "He said, 'Scal, you look like you suck, but you don't suck.'"
Overall, Scalabrine finished his 11-year career averaging 3.1 points and 13.0 minutes per game. He also finished with 520 career games, 61 starts, 39 playoff game appearances, and a championship ring.
But even though his career is well in the rearview, Scal is always ready for a few pick-up games he's all but guaranteed to win.
All statistics courtesy of Basketball Reference.