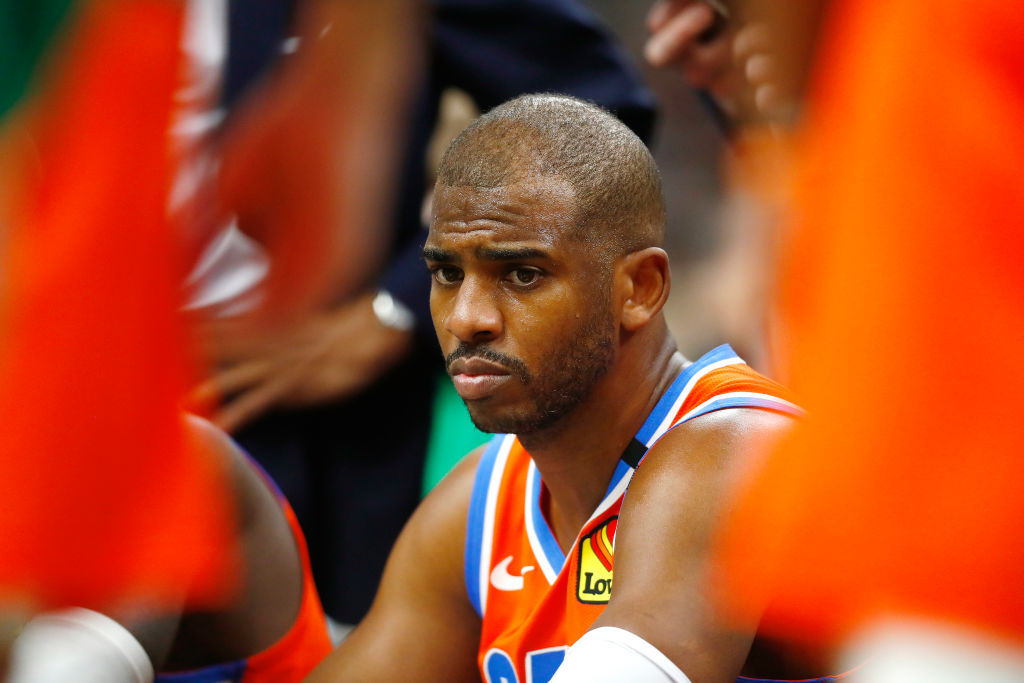 NBA Star Chris Paul Takes Care of His Fellow Basketball Players
Oklahoma City Thunder guard Chris Paul is still at the top of his game and bound for the Naismith Hall of Fame while heading up the union for NBA players.
The responsibilities of a pro athlete can be greater than fans may realize, and NBA star Chris Paul is an example of how the workday doesn't always begin with the opening tip-off or end at the final buzzer.
The Oklahoma City Thunder guard is president of the NBA Players Association, which requires a complicated balancing act of the needs of young prospects still on their rookie contracts and superstars whose decisions on where to play next set a franchise back for years.
Chris Paul has big duties off the court, too
Chris Paul had given his career a significant boost this season before NBA play was suspended by the coronavirus pandemic. Paul, who'll turn 35 next month, is in his first season with the Oklahoma City Thunder and 15th NBA season overall.
After two largely frustrating seasons with the Houston Rockets, his numbers are up. He's showing his best shooting touch in a decade at 48.9%, playing his usual minutes, and rebounding a little bit more while his assists total has slipped a bit.
With career averages of 18.5 points and 9.5 assists per game to pair with his two Olympic gold medals and a multitude of NBA individual honors, Paul is on track for induction into the Naismith Hall of Fame after he retires. However, Paul has more important things on his mind now. As president of the players' union, Paul is the point man for conversations with NBA owners as the league and the country move beyond the COVID-19 crisis.
The union boss took care of his Utah Jazz friends
The NBA's Ground Zero in the COVID-19 pandemic was Oklahoma City on the night March 11 when the Thunder's game against Utah was hastily called off after it was determined that Jazz center Rudy Gobert had tested positive for coronavirus. It was followed almost immediately by the NBA suspending its season and then the disclosure that Utah guard Donovan Mitchell had also tested positive.
The Athletic pulled together a detailed examination of how the Jazz prepared before the events of March 11 and then what transpired in the tense hours afterward as both teams were quarantined at the arena while team and league officials huddled with medical experts.
Chris Paul knew what to do as the Utah players and staff endured what would turn into a five-hour lockdown: He arranged for wine and beer to be sent to the Utah locker room. Said Jazz head coach Quin Snyder: "One of the best things all night was Chris Paul trying to get us some refreshments, which was great. That was a nice gesture."
Paul is a noted fan of fine wines. Reporters still laugh over a 2015 episode in which he spotted a winery owner sitting courtside and blurted out, "Hey! You bring me any good wine?" while bringing the ball up the court.
What's next for Chris Paul?
Ten-time NBA All-Star Chris Paul says he will participate in a televised HORSE contest next week for the entertainment of a country that's been largely locked down for weeks. After that, it will be back to union duties.
The NBA salary cap determines the total payroll and is calculated as a percentage of the league revenue figure that is currently getting hammered by the shutdown of sports. Player reps on the respective teams will ultimately have to vote on some sort of adjustment that Chris Paul, who has been the union president since 2013, and the executive director will work out with owners.
That puts him is the difficult position of protecting his fellow players while giving the owners leeway in rebuilding ticket sales, sponsorships, and TV deals. And much of the work will likely have to be done concurrent with players' return to the court, whether that comes this spring to wrap up the 2019-20 season or next fall.