NBA Trade Deadline: Marcus Smart Eyed by Timberwolves, but the Celtics' Asking Price Is Spot On
The Minnesota Timberwolves reportedly are showing interest in Boston Celtics point guard Marcus Smart.
The heat will be turned up this week as the NBA trade deadline hits Thursday, Feb. 10. As expected, the Boston Celtics are in the middle of all the talk, but which way will they go? They are riding a hot streak, winning five straight games heading into Tuesday's game with the Brooklyn Nets, but have struggled much of the year.
Fiery point guard Marcus Smart has reportedly been on the Minnesota Timberwolves radar, but it appears Boston's asking price is a little high — and rightfully so.
With the NBA trade deadline three days away, Marcus Smart's name tossed around — again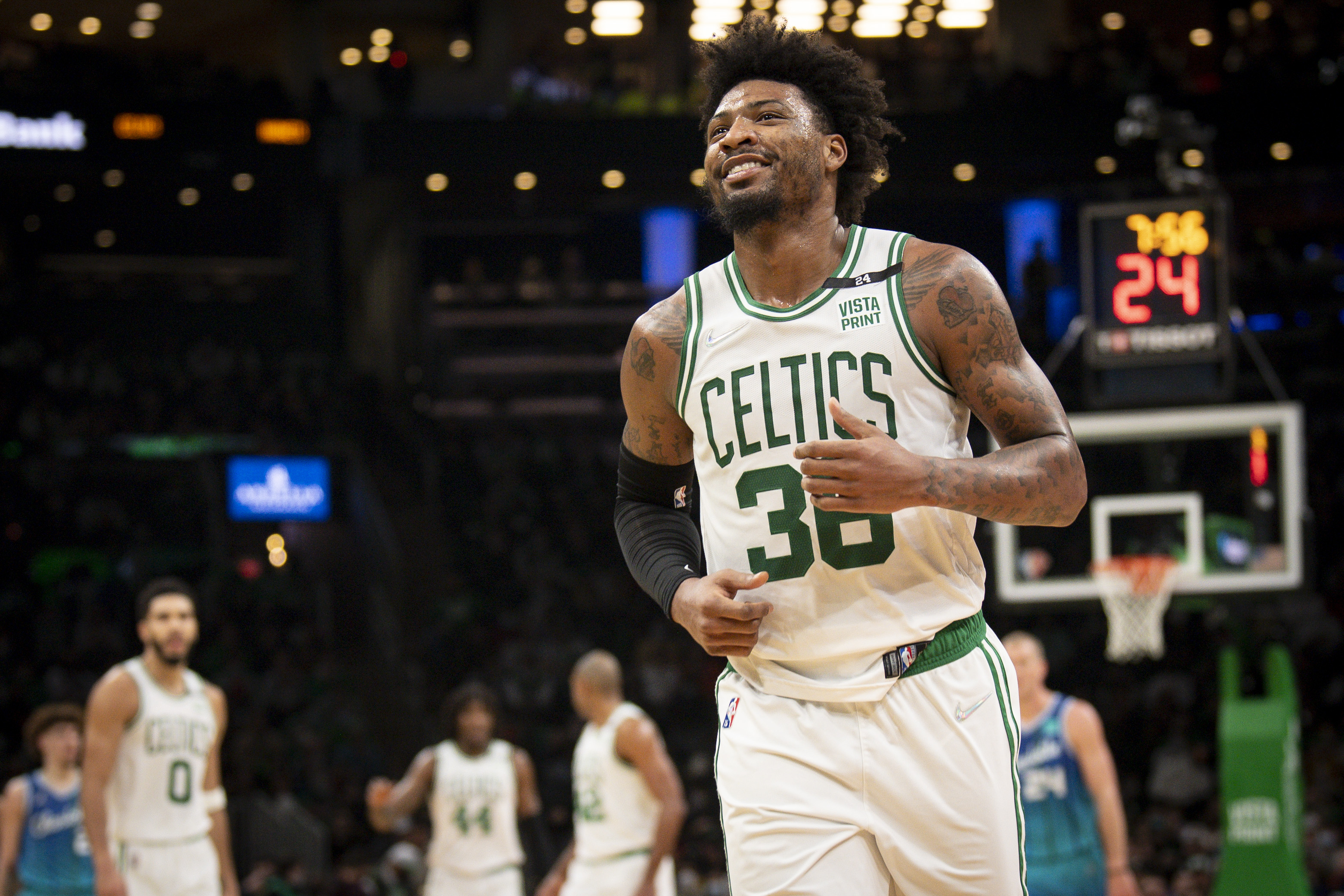 When you think of the Boston Celtics, Jayson Tatum and Jaylen Brown come to mind right away, but it's Smart who is the heart and soul of the team. The eight-year point guard is the catalyst of the defense that has the Celtics rolling lately. With Tatum and Brown expected to provide the bulk of the team's scoring, Smart's role has been to be a facilitator on offense and an instigator on defense.
With Smart, there's no off button. When effort was questioned multiple times by first-year coach Ime Udoka, Smart's drive was never an issue. Smart has been the vocal leader, even calling out Tatum and Brown publicly for not passing the ball earlier this season.
Smart's name always comes up in late January and early February as the NBA trade deadline draws near. He knows it's a business. Last year at this time, he knew his name would be thrown around.
"Any time you hear your name in trade talks, you pray for the best and prepare for the worst," Smart said last year near the deadline, per NBC Sports. "This is seven years in for me. My name's been in trade talks every year, so nothing new. It's a business."
The Minnesota Timberwolves have shown strong interest in Marcus Smart
Last week, it was the Dallas Mavericks, who reportedly had an interest in Smart. Now, it appears the Timberwolves have their eyes on the veteran. The problem for Minnesota is that the Celtics seemingly don't have a whole lot of desire to move him.
According to Darren Wolfson, a sports anchor at of KSTP in Minnesota, the Wolves are very interested in acquiring Smart, but the price is steep.
"So, here's what I was told, I'm reading verbatim: Minnesota definitely trying to trade for Marcus Smart of the Boston Celtics," Wolfson said, as reported on Mackey & Judd. "But unless they include a first-round pick or Jaden McDaniels in addition to Malik Beasley, (a deal) most likely doesn't get done."
That's a pretty good return for Smart, but it's a deal the Wolves likely won't follow through with.
If that is, indeed, the Celtics' asking price, then it's likely the have no plans to move him. Surely, they'll listen to all offers, but don't expect teams to overpay for Smart.
The Celtics' asking price for Smart should be high
The knock against Smart is his shooting, just as it should be. For his career, Smart has shot 37.9% from the field and 31.9% from three-point land. This season, he's a bit better from the floor (41.1%) but worse from long range (30.7%).
While you might get the clunkers off the rim, you know you'll be getting his all every game. Smart's known for taking the charge and guarding players at any position. He's tough, intense, and tenacious.
On a team with two young stars, it's Smart who is the leader. As he goes, the Celtics go. Since he missed six games with a thigh injury and was in the NBA's health and safety protocols, the Celtics have gone 7-1 and have won their last five games.
Still, Smart knows his name can be called at any moment.
"We're human," Smart said, according to NBA Sports. "Especially if you've been in one place for a very long time and your name comes up in trade rumors, you're definitely just preparing for anything to happen. So, I wasn't really concerned, but I was prepared."