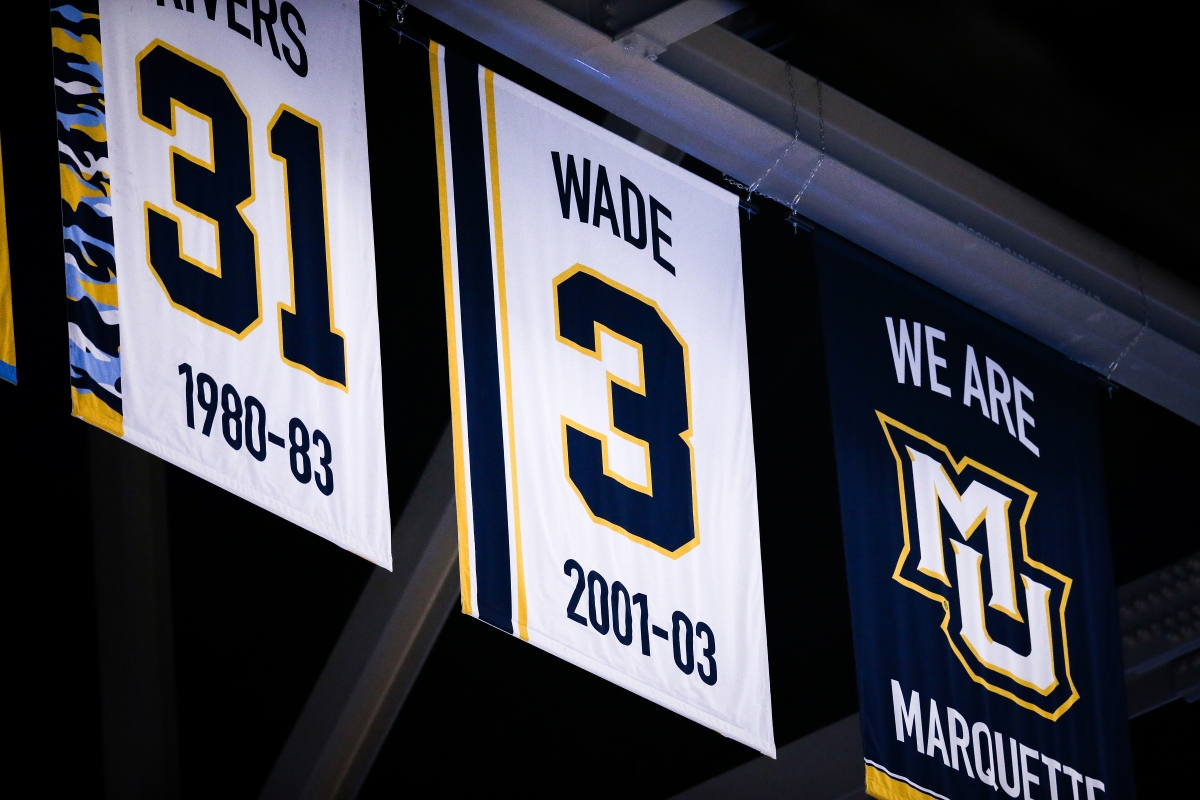 NCAA Tournament: Dwyane Wade Put Himself On the Map With a Final Four Run for the Ages in 2003
Dwayne Wade became a sure-fire lottery pick after carrying Marquette to the Final Four in one of the most dramatic March Madness runs in tournament history.
Dwyane Wade is a sure-fire Hall of Famer. He carved out one of the most legendary NBA careers of the past 20 years. But before he became a Miami Heat superstar, he was a good college basketball player at Marquette University — certainly not a top-five NBA Draft pick, though.
That was until he carried the Golden Eagles to the 2003 NCAA Tournament's Final Four in one of the most epic March Madness runs of all time.
Marquette wasn't expected to make any kind of deep NCAA Tournament run in 2003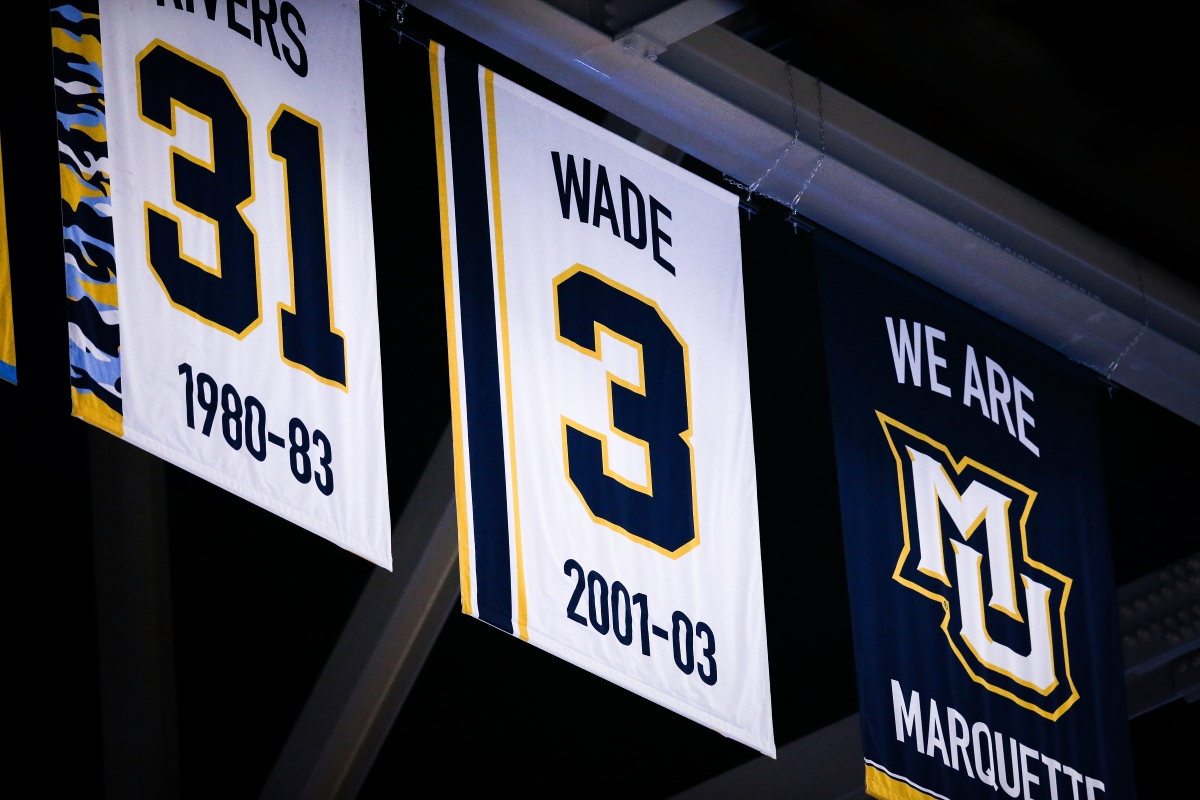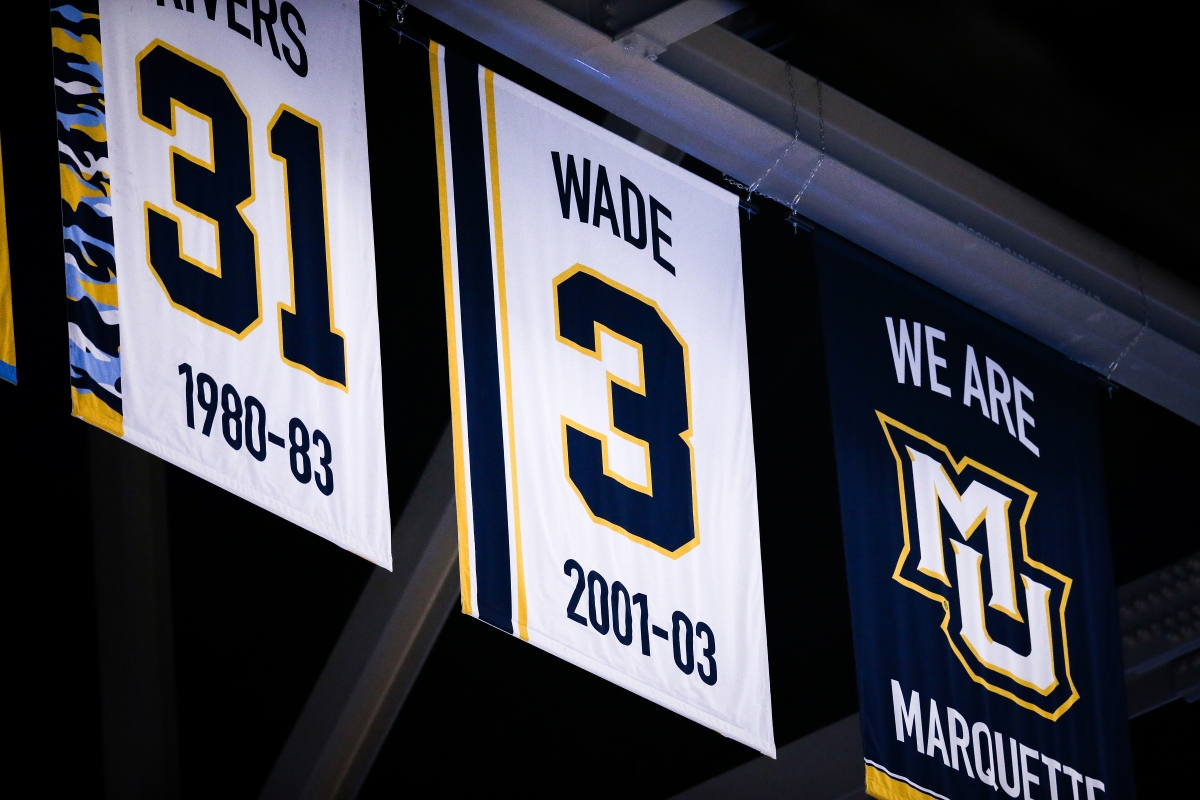 The Golden Eagles hadn't seen any real success as a program since Al Maguire's 1977 team.
And Wade certainly wasn't expected to bring them back to relevancy — he was a zero-star recruit coming out of Chicago, per 247Sports, and didn't play his freshman season for academic reasons.
In his first year on the floor, however, the redshirt freshman led his team in scoring (17.8 points per game), rebounding (6.6), assists (3.2), steals (2.5), and blocks (1.1).
The Golden Eagles went 26-7 in 2001-02, showing promise for the 2002-03 season.
An infusion of talent and a better D-Wade (who won Conference USA Player of the Year) had Marquette set up for success.
But the Golden Eagles lost in the opening round of their conference tournament, so a streaky and inconsistent — but talented — team became a No. 3 seed heading into the Big Dance.
Dwyane Wade led his team on one of the greatest March Madness runs in college basketball history
Wade's backcourt partner was sophomore Travis Diener from Fond du Lac, Wis., who averaged almost 12 points and six rebounds a game.
Future NBA sharpshooter Steve Novak was a freshman who won C-USA's Sixth Man of the Year.
So Flash wasn't on his own, but he certainly took center stage in Marquette's dramatic run.
The whole thing almost ended before it began, though. It took a 29-point performance from Diener for the Golden Eagles to beat Holy Cross in the first round. Wade finished with 15 points, five rebounds, and four assists.
But the future NBA champion responded with 24 points, eight rebounds, seven assists, and a pair of steals in the Round of 32 as Marquette dropped 101 points in a win over Missouri to advance to the Sweet 16.
Wade continued to roll with a game-high 22 points to go along with four assists, three steals, and a block in a three-point win over Pitt to bring the Golden Eagles to the Elite Eight.
That set the stage for the guard's signature collegiate game.
In one of the all-time NCAA Tournament performances, D-Wade had a game-high 29 points and added 11 rebounds and 11 assists for a triple-double that sent the Golden Eagles to their first Final Four in 26 seasons. He had four blocks to boot in a 14-point rout of Kentucky, the tournament's No. 1 overall seed.
Marquette's season came to an end at the hands of eventual runner-up Kansas (who lost to Carmelo Anthony's Syracuse Orange in the title game).
But Wade's dominance on the biggest stage to lead a dead-end program to the Final Four — and his incredible performance against the No. 1 team in the country — made for one of the most epic runs in tournament history.
The 2003 NCAA Tournament set the stage for Wade's legendary NBA career
That summer, the Heat picked Wade at No. 5 in one of the most loaded drafts in NBA history.
LeBron James went No. 1, Melo No. 3, Chris Bosh No. 4, and Wade No. 5
Eventually, LBJ, Bosh, and Wade would win two NBA Championships together. But they gravitated toward South Beach, where the Marquette alum was king.
Flash was a 13-time All-Star, an eight-time All-NBA performer, the 2008-09 scoring champ, and a member of three All-Defensive teams.
But he didn't fully hit the national radar until he led the Golden Eagles on one of the most entertaining runs in March Madness history.
All statistics courtesy of Sports Reference.