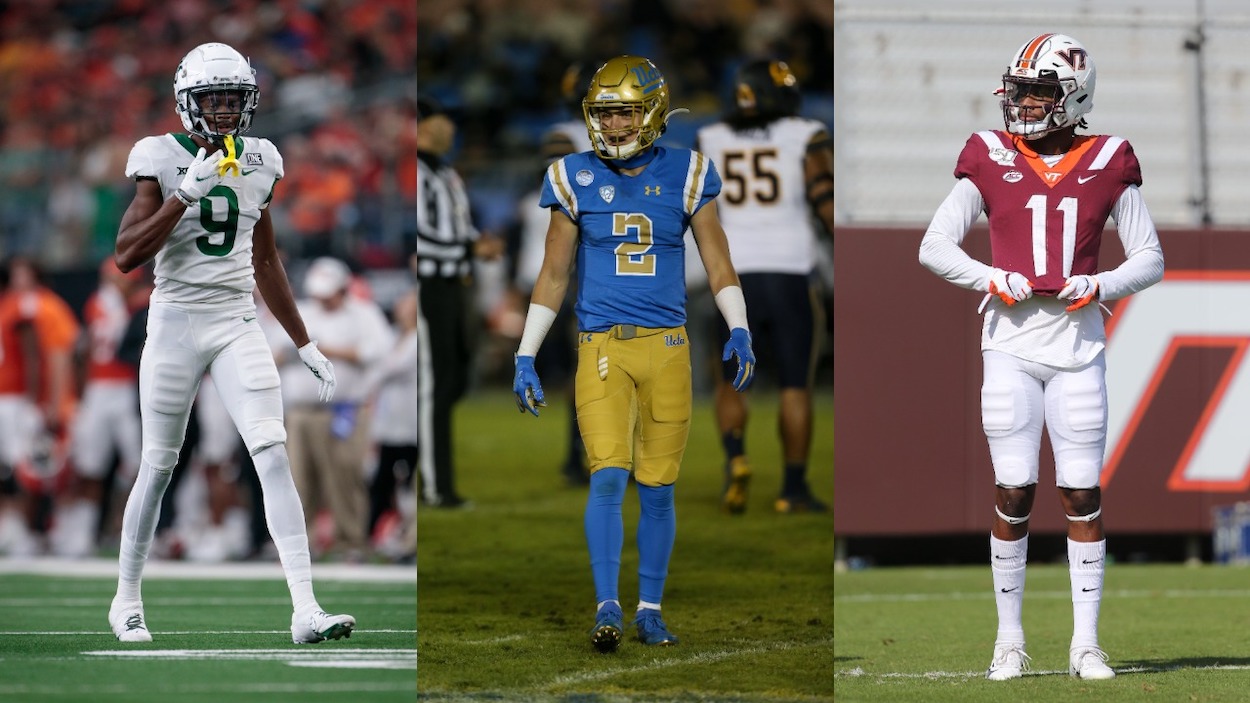 NFL Draft: 8 Sleeper WRs to Watch out for on Day 3 of the 2022 Draft
Don't sleep on Day 3 of the 2022 NFL draft, there are plenty of sleeper WRs who could make a difference next season and beyond.
The NFL draft isn't just about the player picked on Thursday and Friday. Sure, we know all about wide receivers like Jameson Williams, Drake London, Garrett Wilson, and Chris Olave. But what about the sleeper WRs? 
A quick look down the list of 2021's leading pass-catchers shows you that there can be just as much value on Day 3 as Days 1 and 2. Amon-Ra St. Brown (No. 112), Hunter Renfrow (No. 149), Darnell Mooney (No. 173), and Cole Beasley (undrafted) all came to their teams in Round 4 or later. 
To this end, here are eight sleeper WRs to look for your favorite team to draft on Saturday or even sign on Sunday. 
Tyquan Thornton, Baylor — Projection: Round 4
Baylor speedster Tyquan Thornton could easily slip into the third round, but for the purpose of this exercise, we'll call him a Day 3 pick. Thornton is a 6-foot-2, 181-pound wideout who ran a blazing 4.28-second 40-yard dash at the combine. 
Thornton can go up and get it in the red zone, or he can go get it in the red zone when your team is on its own side of the field. Yes, he's painfully skinny, but the NFL protects receivers more than ever these days, so that shouldn't matter as much as it used to. 
Romeo Doubs, Nevada — Projection: Round 4
Last season, Nevada quarterback Carson Strong's favorite target was 6-foot-2, 201-pound wideout Romeo Doubs. The pass-catcher made 58 grabs for 1,002 yards and nine touchdowns in 2020 and improved on that in 2021 with 80 catches for 1,109 yards and 11 TDs.  
The wide receiver class at the 2022 draft is incredibly deep, which is what Doubs falls into the sleeper WR category this particular year. However, he's big, physical, can run, and has an "alpha demeanor," per his scouting report. Other years he is probably a Day 2 pick. 
Dareke Young, Lenoir Rhyne — Projection: Round 5
For those of you who don't know (like myself before I started writing this), Lenoir Rhyne University is a Division II school with 2,700 students in Hickory, North Carolina. And one of those students looks like the "little" brother of DK Metcalf and Terrell Owens. 
Dareke Young is 6-foot-2, 220-pounds, and looks like he stepped off the pages of a Men's Fitness magazine. He's very raw, but he dominated at the level he played, scoring 16 TD on just 73 catches. If the right NFL coaches can get their hands on Young, he'll be DK or TO 2.0. 
Kyle Philips, UCLA — Projection: Round 5
UCLA's 5-foot-11, 189-pound Kyle Philips looks a little like Hunter Renfrow and plays a lot like him. He led the Bruins in catches for three-straight years with 60 in 2019, 38 in (a shortened) 2020, and 58 in 2021. 
The slot receiver — like many before him — doesn't have measurable that jump off the page. There are plenty of hypothetical reasons not to draft him. However, Philips just knows how to get open, and chances are he'll figure out how to do it on the NFL level as well. 
Tré Turner, Virginia Tech — Projection: Round 6 
An NFL team will draft Tré Turner to play professional football this week, but that may not be his best sport. The 6-foot-1, 184-pound pass-catcher had multiple basketball scholarships coming out of high school, just like his brother, 2014 NBA draft first-round pick, P.J. Hairston. 
Turner chose football, and Virginia Tech fans are happy he did as he put up 134 catches for 2,292 yards and scored 14 TDs in four years as a Hokie. He didn't test well at the combine, but he can play receiver at the next level if a team finds the right uses for this sleeper WR's basketball-style talents. 
Tanner Conner, Idaho State — Projection: Round 7 
Tré Turner isn't the only sleeper WR who is a multisport superstar. Idaho State's Tanner Conner is 6-foot-3, 226-pounds, and ran the 60-meter hurdles faster than anyone in Mountain West Conference history in 2020. 
Conner is nowhere near ready to be an NFL receiver, but he has intriguing size and athleticism that would play at the pro level if his technique improves. He won't help a team in 2022, but picking him in the last round could pay off down the line. 
Jerreth Sterns, Western Kentucky — Projection: Undrafted 
Western Kentucky's Jerreth Sterns is basically a smaller Kyle Philips (see above). He's built like a running back at 5-foot-7, 178-pounds, but the guy can get just open, catch, and run. Sterns played with fellow 2022 NFL draft sleeper prospect QB Bailey Zappe at Houston Baptist University before transferring with him to the Hilltoppers program. Last season, the two hooked up for a staggering 150 catches for 1,902 yards and 17 TDs (in one season!). 
His brothers, Caden and Jordan Sterns, both play safety in the NFL, so he also has the family pedigree. Sterns is simply too tough, too smarty, and too crafty not to succeed as a sleeper WR in the league.  
Dee Anderson, Alabama A&M — Projection: Undrafted
In 2016, 6-foot-5, 218-pound Texan Dee Anderson was a four-star recruit who signed at LSU. Anderson's journey to becoming a sleeper WR prospect got weird from there. Tigers head coach Ed Orgeron suspended Anderson for the entire 2019 season for "conditioning" reasons. The wideout then transferred to Oklahoma State but only played four games in 2020. 
He finally made his way to Alabama A&M (with QB prospect Aqeel Glass) and rediscovered his form. Now, Anderson is five years removed from being one of the best young receivers in the country, but he still has the body and athleticism scouts drool over. Some team will take a chance. 
Stats and scouting reports courtesy of NFL.com