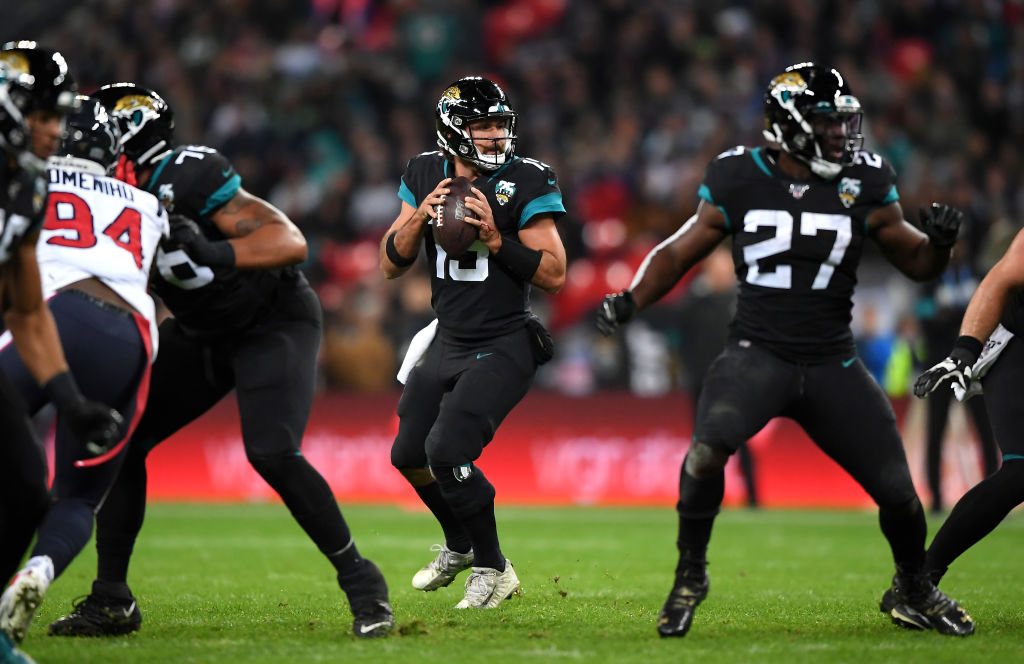 NFL: Gardner Minshew Might Be Benched, but He Can Still Follow In His Role Model's Footsteps
Gardner Minshew lost the starting job as Jaguars QB to Nick Foles. The rookie can still follow in his role model's footsteps, though.
One of the hardest things to do in sports is to establish yourself as a starting NFL quarterback. Given the responsibilities involved, teams are understandably hesitant to hand a young player the role. Gardner Minshew learned that first-hand yesterday, when the Jacksonville Jaguars benched him in favor of the returning Nick Foles.
While it would be easy for Minshew to view his demotion as a setback, it's far from a death sentence. In fact, the young quarterback can still follow in his role model's footsteps.
The rise and fall of Minshew-Mania
In Week 1, the Jacksonville Jaguars hosted the Kansas City Chiefs. While that game would be tough under ordinary circumstances, things got even harder when Nick Foles went down with a fractured collarbone.
Rookie back-up Gardner Minshew was forced into action and, by all accounts, played pretty well. He retained the starting job and became a cult icon; fans embraced the young QB, donning fake mustaches and cheering his every appearance.
Minshew, however, didn't let his newfound celebrity status go to his head. He reportedly turned down several promotional opportunities and marketing appearances, placing his attention on football, rather than branding. Despite that focus, the winds started to change.
On Sunday, the Jaguars laid an egg in London. Minshew threw for over 300 yards, but only completed 27 of 47 total passes; most of his big plays came in garbage time. He turned the ball over four times in what turned out to be his final game as a starter. Yesterday, Jaguars head coach Doug Marrone announced that Foles would be back under center when the club returns from their bye week.
Minshew's NFL role model
Every sports fan has a few childhood heroes who they dreamed of emulating. For Gardner Minshew, that man is another NFL QB who didn't have the easiest start to his career.
"For me, it was Drew Brees," Minshew recently told Forbes. "He's not the biggest guy, and like me doesn't always have the biggest arm but everything he does—from working on what he can control, his preparation, his intelligence in the game—those are all things that I thought I could do. So, meeting him, when we first played the Saints, was surreal. He's a guy I've been looking up to forever."
Despite his benching, the Jaguars quarterback can still learn an important lesson from Brees' career.
Following in Drew Brees' footsteps
As Gardner Minshew mentioned, Brees is on the smaller side for an NFL quarterback. His height caused his draft stock to slip; despite a strong college career, Brees fell into the second round of the 2001 NFL draft.
Brees then started his career backing up Doug Flutie in San Diego; he would claim the starting job in his sophomore season, posting three unremarkable campaigns under center. In 2003, he was even benched for a few games.
The Chargers would then land Phillip Rivers, but Brees would retain the starting job for two more seasons. When he hit free agency, San Diego offered Brees a deal that was heavily based on incentives; the quarterback moved to New Orleans, and the rest is history.
While Minshew might not have the pedigree that Brees did when he entered the NFL, he can still learn from the veteran quarterback's career trajectory. There's nothing wrong with being doubted, doubted, or told you won't make it; it's how you respond that matters. Now it's time for Gardner Minshew to go to work and be ready for his next chance to bounce back.