Notre Dame's Brian Kelly Echos an Old NFL Joke About 'Executing' His Players Then Calls Media 'Crazy' for Taking It Seriously
Notre Dame head football coach Brian Kelly is a good football coach. He's not a great comedian.
The former Grand Valley State, Central Michigan, and Cincinnati coach tried to make a joke that called back to a pithy reply by iconic college and NFL coach John McKay and flubbed it royally. To make matters worse, when media members pushed him on it, Kelly responded horribly, compounding his problems.
John McKay was a big-time coach and an even bigger character
John McKay was an incredibly successful college coach who went to the NFL and didn't find the same success. Despite his struggles at the pro level, he's a beloved figure thanks to his witty quips.
McKay coached the USC Trojans from 1960 to 1975. In his decade and a half at the LA school, he produced a 133-43-8 record. The West Virginia native led his teams to three undefeated seasons (1962, 1969, 1972) and won the Rose Bowl at the end of each. In total, McKay won the "Granddaddy of The All" five times.
He coached 16 Consensus All Americans, including NFL Hall of Famers O.J. Simpson, Lynn Swan, and Ron Yary. McKay's USC teams finished the season No. 1 in the AP poll three times (1962, 1967, 1972), and he won coach of the year honors in '62 and '72.
The expansion Tampa Bay Buccaneers tapped McKay to become the first coach in franchise history. He coached the team for nine seasons, amassing a 44-88-1 record. He did make the playoffs three times, but in his first season, the team went 0-14.
While the exact date is lost to history, after one of his losses, McKay offered the media his most famous quote, and the one Kelly tried to reference. When asked by a reporter after what he thought of his team's execution, McKay simply responded, "I'm in favor of it."
Some other McKay gems, per Bleacher Report, include one-liners like, "We didn't tackle well today, but we made up for it by not blocking," and "Kickers are like horse manure. They're all over the place."
It was quotes like these that made McKay a well-liked and hilarious character.
Brian Kelly's attempt to mirror McKay's line failed miserably
Brian Kelly's No. 9 Notre Dame team took on Florida State to open their season. The Fighting Irish built up an 18-point lead at the end of the third quarter, but the Seminoles came storming back. Kelly's Irish barely walked away with a 41-38 overtime win.
In the postgame interview, the sideline reporter Katie George asked Kelly, "What did you think of your team's ability to withstand Florida State's impressive comeback?"
It was a simple question and not a great setup for McKay's famous line. Kelly went for it anyway, and that's when the wheels started to fall off. Kelly replied, via ESPN:
I'm in favor of execution. Maybe our entire team needs to be executed after tonight. We just didn't execute very well.

Brian Kelly on his team's excecution vs. Florida State
Kelly continued praising Florida State and their tricky two-quarterback system. He also said he likes his 2021 team, but this narrow win shows that there is still much work to do.
The coach rallied as best he could, not referencing the clunky quote again until someone asked about it in the postgame presser. That's when he really started to sink.
Kelly called out reporters for not knowing the quote and not thinking it was funny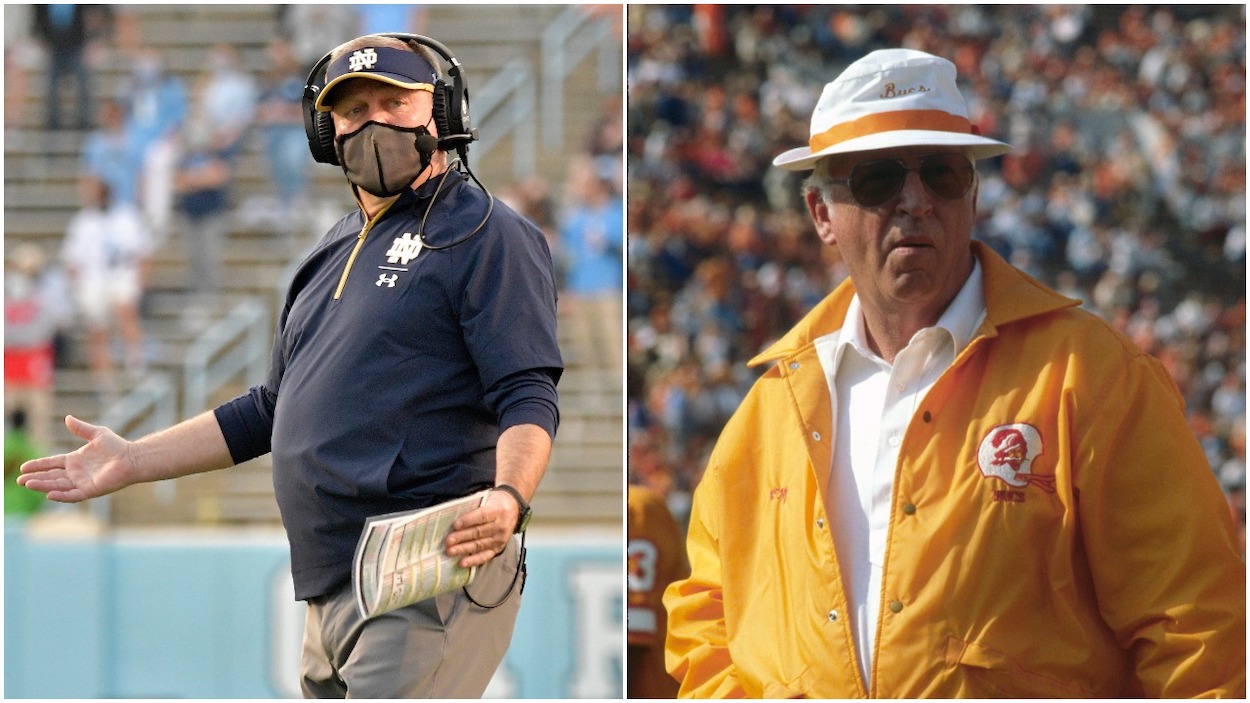 Notre Dame's near choke-job against the 'Noles brought up a lot of questions about Kelly's 2021 squad. However, after Brian Kelly's awkward attempt at humor, a reporter had to ask about that too.
In the postgame press conference, a media member asked, "You said something in your postgame interview after the game about executing your entire team. Can you elaborate on that?"
It was a semi-ridiculous question, but one the reporter had to ask. Kelly responded by taking the bait and going off about his "funny" quip:
Oh, it's an old John McKay quote. I was kidding. It was tongue-in-cheek. It wasn't funny? … I was talking and making a joke about it. Why, it was taken serious? Are you people crazy? It's a John McKay quote that he used after a game. I was stealing one of his old quotes and being funny. I guess nobody likes to be funny anymore. So, yeah, if you want to take me to town on that, please do.

Brian Kelly on his "joke"
Hopefully, Brian Kelly learned two crucial lessons after this whole incident. The first is that you have to think before you speak in this day and age, and jokes made in the 1970s may not be as funny today as they once were.
Lesson No. 2 is that nothing is less funny than a joke you have to explain.
All stats courtesy of Pro Football Reference and Sports Reference