Ohio State Could Be Bronny James' Only Chance to Accomplish What His Father Can't
Bronny James isn't a clone of his superstar dad, which could lead to him being a far more well-rounded player than if he joined LeBron James in the NBA immediately.
Bronny James doesn't look to be on the path to re-creating his father LeBron James' basketball career. The 18-year-old doesn't have the same undeniable, straight-to-the-NBA skills as his father. He doesn't have his immense size. He's clearly talented, but he needs more time to develop. And with that, Bronny could have the opportunity to accomplish something his father will never be able to.
Bronny is on his way to college. LeBron has long hinted that he figured his son's career would go this way. While that isn't as exciting as if Bronny was a clone of his superstar dad, it could lead to him being a far more well-rounded player than if he joined his father in the NBA immediately.
Bronny James' basketball career could take a very different direction than LeBron James' has
Bronny has some options ahead of him that are increasingly narrowing. Going straight to the NBA draft is a possibility, however dim, given he'll have LeBron's support. Bronny isn't just some nepotism baby. After all, he's a legitimate four-star prospect nationally in 2023, ranked. He'd still get a chance to develop as a G-League Ignite player. But most likely, he's going to college.
LeBron has not been shy over the years about dropping hints on where he'd like his talented kid to go. At an Ohio State Skull Session appearance posted to YouTube, the Los Angeles Lakers superstar professed his love for Ohio State's basketball program and how much it means to his family.
"No matter where I go in the world, no matter where it lands me, I will always rock Ohio State colors," LeBron said. But will his allusions to Ohio State pan out into something concrete for Bronny?
Bronny James' top college prospects: Ohio State, USC, and Oregon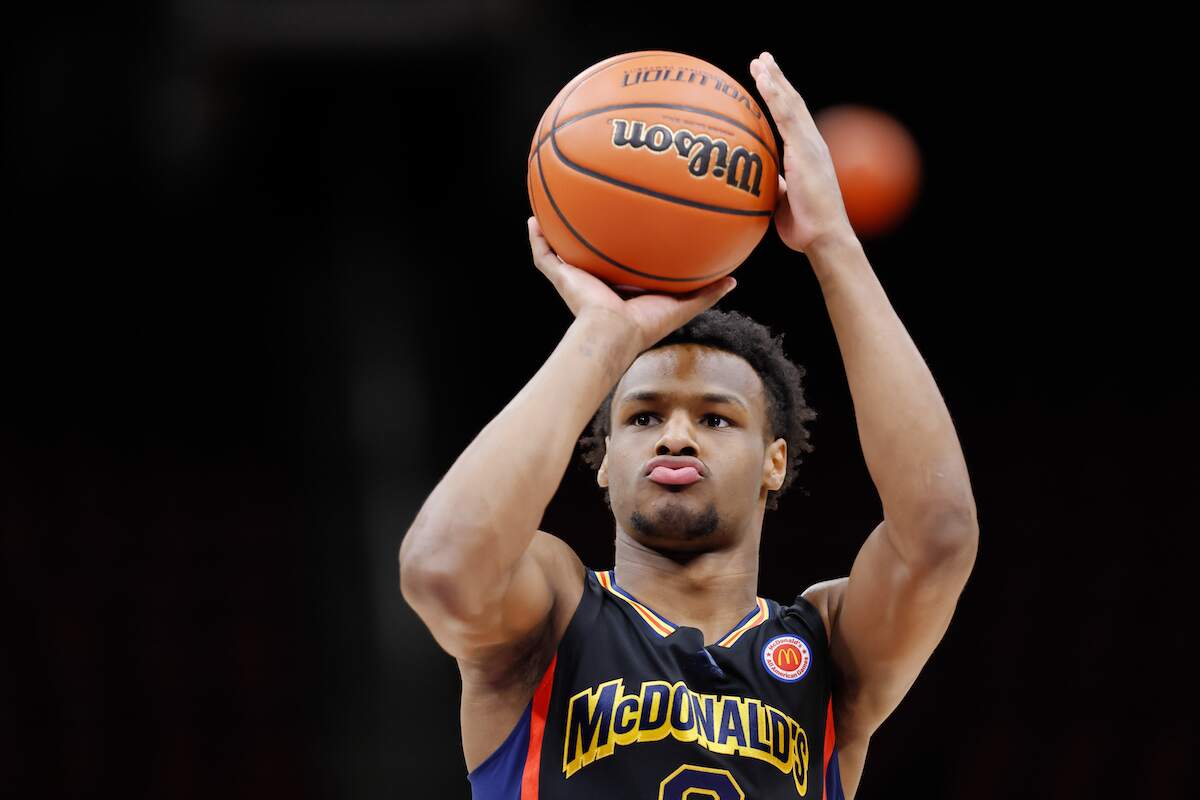 Bronny has more options than just Ohio State, the LA Times reports. The University of Southern California and University of Oregon are his other top options, and they're both good fits for Bronny's particular skill set.
USC's recruiting class would crack the top-10 national list with Bronny on board. Losing Tre White to a transfer might seem like a problem at first glance. But for Bronny, the move makes the Trojans an even better option. He'd likely get much more playtime than originally expected if White's transfer portal entry materializes into a move.
Oregon is simply the best match for the shooting guard's game. They seem to be leaving space open for Bronny even as they take on top recruits like forwards Mookie Cook and Kwame Evans and point guard Jackson Shelstad.
Bronny's ideal time to join Ohio State could be next year
So why go with Ohio State if USC and Oregon are such good fits? The local connection runs deep, of course. But there's more to it than that — Ohio State could have a breakout season next year, USA Today reports.
Key pieces are likely returning, and a new wave of top prospects is coming. With Bronny ranked at No. 9 overall, a five-star prospect himself, he brings a lot to a team on the verge of something big.
Point guard Bruce Thornton found his shot last season, and he'll be back. Shooting guard Roddy Gayle, Jr. proved he hasn't found his ceiling yet, making for an intriguing option alongside Bronny.
We all know where LeBron hopes he's headed. But there's no doubt that in the end, they'll go with whatever helps him develop the best as a player. And this includes getting used to big moments. Ohio State might be the team to join to get Bronny a taste of what it's like to play on a team with heavy fan expectations.