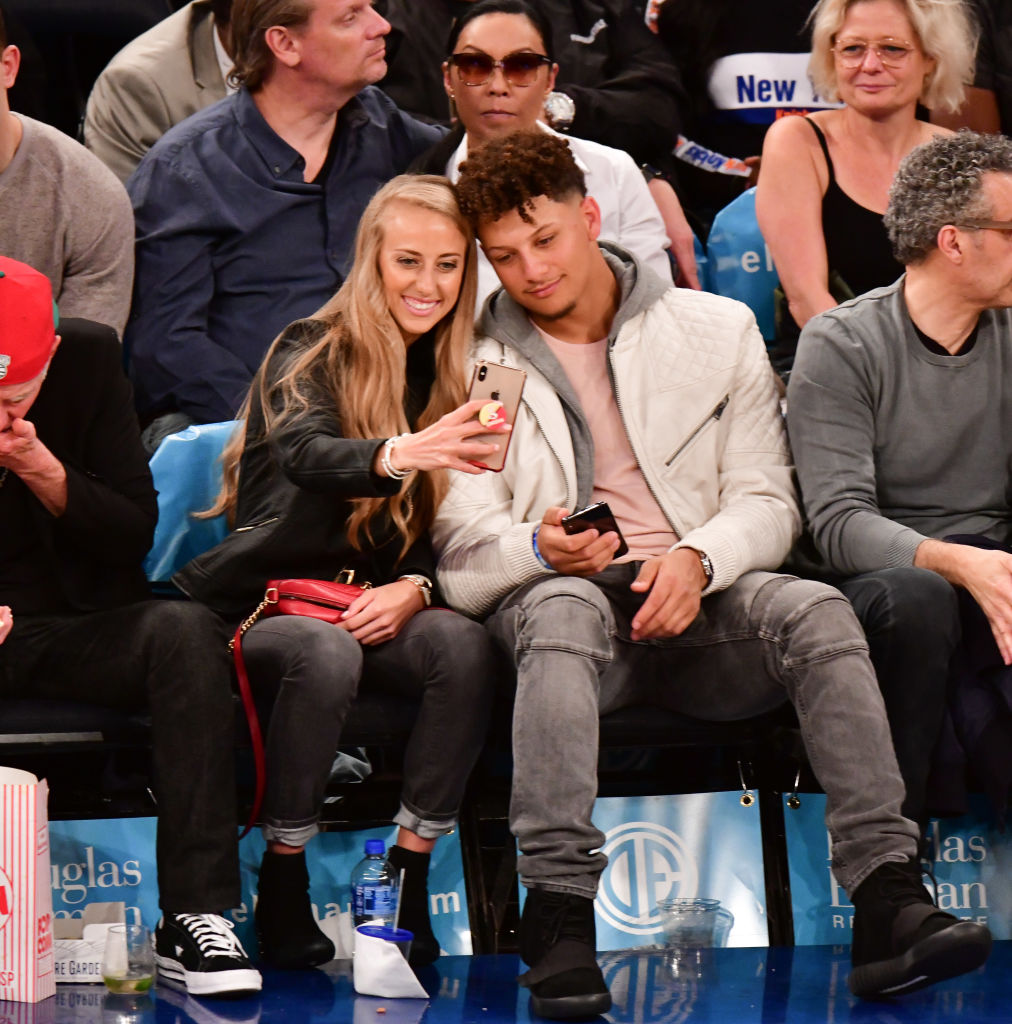 Patrick Mahomes and Brittany Matthews Are Helping People Get Fit at Home
Brittany Matthews has been featuring boyfriend and quarterback Patrick Mahomes of the NFL's Kansas City Chiefs in online workout videos.
If pushing buttons on the remote while looking for Season 3 of "Ozark" on Netflix is your idea of working out, then Kansas City Chiefs quarterback Patrick Mahomes is putting you to shame more than usual.
Like many Americans, Mahomes is also stuck at home these days. Even with NFL facilities and gyms shut down by the coronavirus pandemic, he's still getting in his workouts with help from his resident certified personal trainer.
Patrick Mahomes is getting expert advice
Super Bowl LIV Most Valuable Player Patrick Mahomes and longtime girlfriend Brittany Matthews aren't using being self-quarantined at home as an excuse to stop working out.
Matthews had already been putting at-home workouts online for exercise enthusiasts and last week began promoting a series with Mahomes.
Matthews, a personal trainer who has her degree in kinesiology, has posted two workouts with the 24-year-old quarterback in what she has labeled the "P&B at home workout series" on her Instagram account.
 "Grab your other half and get moving," she wrote in the caption for the first workout.
"Let's focus on our health and positivity during this time! Let's build each other up, let's help each other out! Let's get through this together (while apart)."

Brittany Matthews
Patrick Mahomes is also guided by a longtime friend
Many professional athletes have personal fitness trainers who complement the work of trainers employed by teams. Kansas City Chiefs star Patrick Mahomes is no exception. His connection to Bobby Stroupe dates to the quarterback's days as a high school athlete in Texas.
Stroupe had to suspend operations at his Fort Worth, Texas, training complex, so he assembled workout plans for his clients tailored on the assumption that most wouldn't have a lot of the usual equipment at home.
The trainer knows Mahomes is one of the guys he'll need to worry about the least when it comes to following instructions.
"Lucky for me, his girlfriend is quite a help for me," Stroupe joked. "I can pretty much make certain things are getting done."
What can Mahomes do for an encore?
Patrick Mahomes has already been the NFL Most Valuable Player for the 2018 season and the Super Bowl MVP earlier this year, so there are big expectations for 2020. The William Hill sportsbook has installed him as the preseason favorite to win back the MVP honor that went to fellow quarterback Lamar Jackson of the Baltimore Ravens this past season.
Mahomes backed up Alex Smith in his rookie season with the Kansas City Chiefs and the  emerged as a league sensation in 2018 by throwing for 5,097 yards and 50 touchdowns, a combination previously posted in the NFL only by Peyton Manning.
His 2019 numbers weren't as imposing – 4,031 yards and 26 touchdowns in two fewer games – but the reward at the end of the season was better. Mahomes sparkled in the postseason while leading the Chiefs past the San Francisco 49ers in Super Bowl LIV.
He threw for 901 yards and 10 touchdowns with just two interceptions in the three playoff games en route to becoming the youngest Super Bowl MVP.