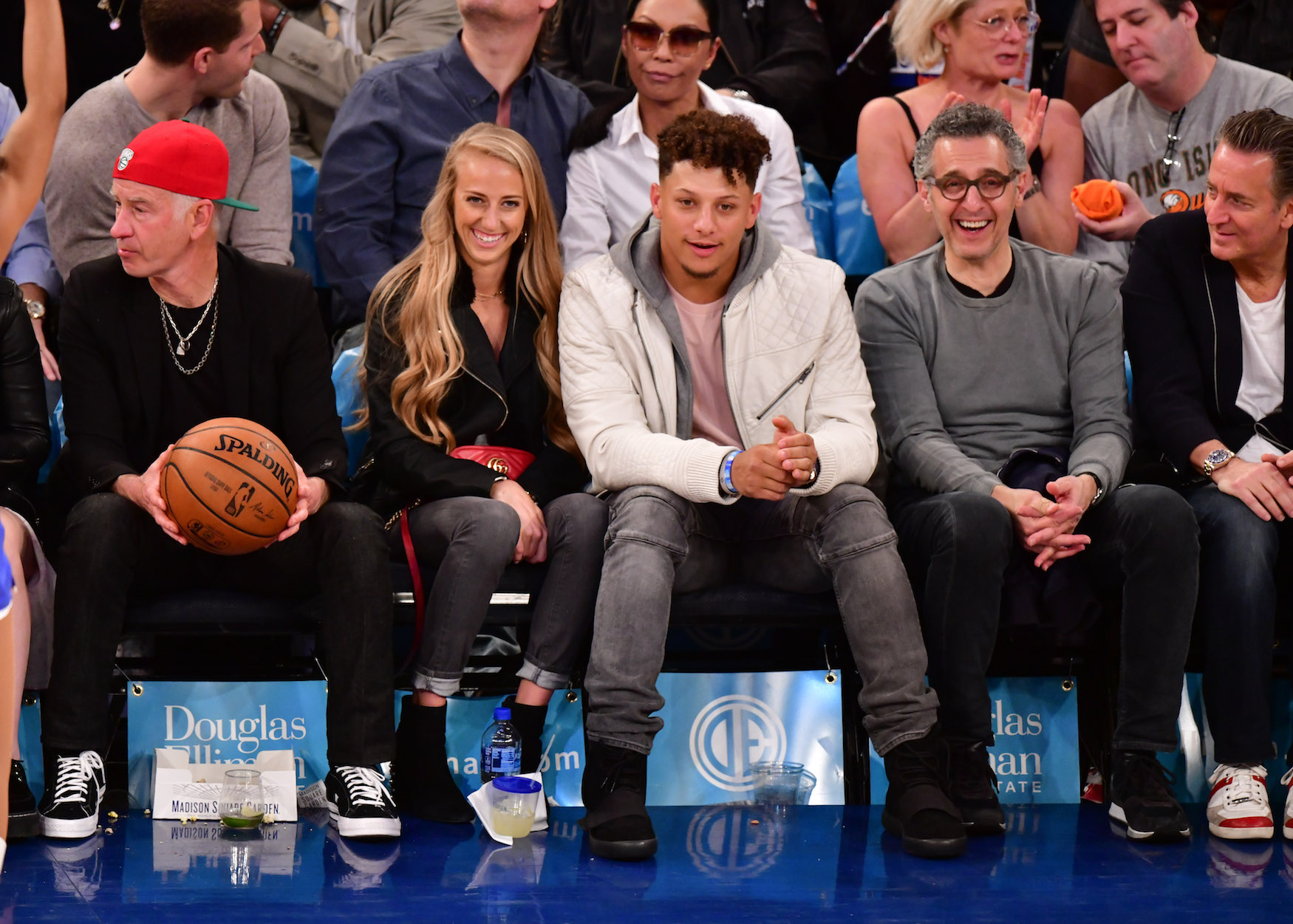 Patrick Mahomes' Girlfriend Brittany Matthews Had the Perfect Response to His NFL Top 100 Rating
Patrick Mahomes' girlfriend, Brittany Matthews, had the perfect response to the quarterback's position in the NFL Top 100 rankings.
While every professional athlete has to be supremely confident in their own abilities, Patrick Mahomes should have more self-belief than most. During his short time as an NFL starter, the Kansas City Chiefs quarterback has accomplished more than some players do in their entire career. The rest of the league, however, might not think as highly of Mahomes as Chiefs Kingdom does.
In the NFL Top 100 rankings, Mahomes was only named the fourth-best player in the entire league by a jury of his peers. While that rating had Chiefs fans up in arms, Brittney Matthews had the perfect response to her boyfriend's place on the list.
Patrick Mahomes has already become a legitimate NFL star
When a franchise trades up to draft a player, there's no guarantee that he'll ever amount to much at the professional level. Patrick Mahomes, however, has already exceeded the Kansas City Chiefs' wildest dreams.
While everyone could see Mahomes raw talent at Texas Tech, there were still questions about his fundamentals and ability to run a professional offensive leading up to the 2017 NFL draft. Andy Reid and the Kansas City Chiefs didn't have any doubts, though. Thanks to some help from the Buffalo Bills, they traded up to select their future franchise quarterback with the 10th overall pick.
Mahomes spend the first year of his professional career backing up Alex Smith but, once he got his opportunity, the young quarterback didn't miss a beat. During his first full season under center, he threw for 5,097 yards and 50 touchdowns; while Kansas City's campaign ended in the AFC Championship game, Mahomes took home the NFL MVP award as a consolation prize. In 2019, of course, he led the Chiefs to a Super Bowl victory as his encore performance.
Patrick Mahomes still came up short in NFL Top 100 voting
If you ask most Kansas City Chiefs fans, they'll tell you that Patrick Mahomes took his game to the next level in 2019. The rest of the NFL's players, however, seem to have come to a different conclusion.
For the past 10 years, the NFL has created the NFL Top 100, which ranks the league's players based on the previous season's performance. The assessment stems from a poll, meaning that the list, at least in theory, shows how guys around the league feel about their peers.
Heading into the 2019 campaign, the NFL Top 100 had Patrick Mahomes in the fourth-overall spot. On Wednesday night, the 2020 edition placed him in the same position; winning the Super Bowl apparently didn't change how players around the league felt about the Chiefs quarterback.
Brittany Matthews has the best response to the NFL Top 100 rankings
As you might imagine, Kansas City Chiefs fans weren't too happy with Patrick Mahomes' place in the NFL Top 100 rankings. While the quarterback's response on Twitter seemed to suggest he was using the poll as motivation, his girlfriend, Brittany Matthews, had a pretty solid response, too.
"I'm lol bc Twitter is about to go to WAR for Patrick Mahomes right now but he's probably at home looking at his new Ferrari, SB ring & getting ready to run it back w/ a new contract that could make him half a bil not giving an EFF about something as DUMB as the NFL Top 100 list," Aly Trost of Sports Radio 810 tweeted after the social media frenzy started. Matthews, for her part, simply responded, "Truth."
As a fan of a specific player or team, it's easy to get wrapped up in perceived disrespect from things like the NFL Top 100 list. Patrick Mahomes and Brittany Matthews, however, seem to have their priorities in order.
Stats courtesy of Pro-Football-Reference