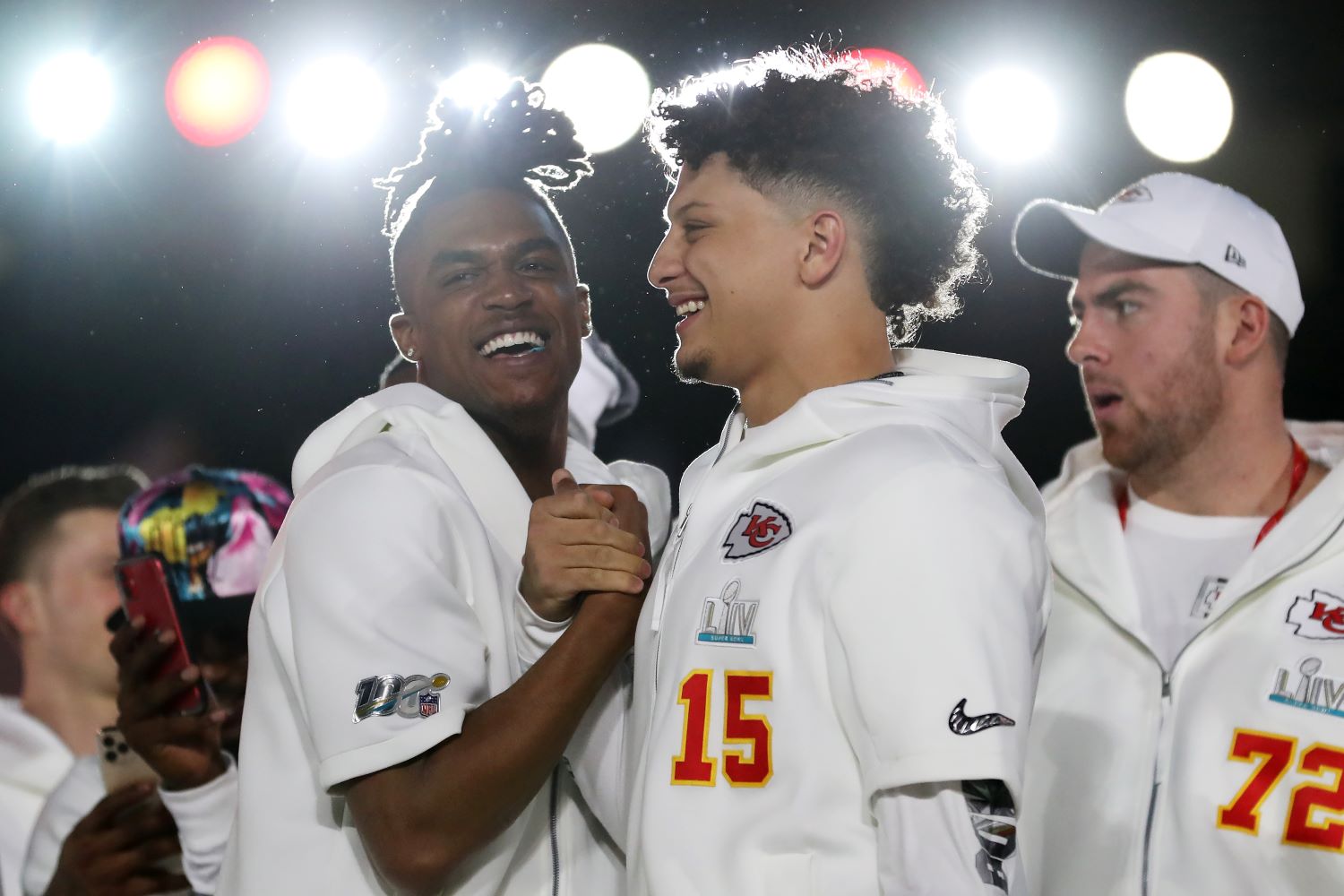 Patrick Mahomes Has a Key Weapon Arriving Just in Time for Super Bowl 55
Patrick Mahomes and the Chiefs should have Demarcus Robinson back in the lineup for Super Bowl 55 barring an unexpected COVID-19 setback
Considering the abundance of weapons Tom Brady has, it seems silly to think that Patrick Mahomes could actually enter Super Bowl 55 with a less-talented supporting cast than the new leader of the Tampa Bay Buccaneers.
But with one of his key weapons inching dangerously close to making his return, the NFL's biggest star should have an important receiver available for the biggest game of the season. And if the Kansas City Chiefs have a full arsenal of skill players ready to go, they should hoist the Lombardi Trophy for the second straight year.
A COVID-19 situation in Kansas City
Like many NFL teams, the Chiefs had to deal with COVID-19 during the regular reason. Earlier in the year, quarterback Jordan Ta'amu tested positive for the coronavirus. And because Cam Newton also suffered an unexpected blow from COVID-19, the scheduled matchup between the two most recent Super Bowl champions got pushed back.
Fast forward to this past weekend and Kansas City once again experienced a setback courtesy of the coronavirus.
According to ESPN's Adam Schefter, the Chiefs had 20 people in line for a haircut on Sunday with a barber who tested positive for COVID-19. Patrick Mahomes was among that group.
Daniel Kilgore, the team's backup center, was actually in the midst of getting his hair cut when the Chiefs learned of the barber's test results. Deemed a close contact, the veteran offensive lineman got placed on the reserve/COVID-19 list on Monday.
In addition, Demarcus Robinson also landed on the list. Like Kilgore, he also fell under the "close contact" category.
However, while his teammate spends most of his time on the bench, Robinson plays a much more significant role for the Chiefs. The former University of Florida wideout has developed into a key weapon for Mahomes since arriving as a fourth-round pick back in 2016. Even on an offense teeming with talent, Robinson has carved out a valuable role as a secondary option for the most gifted quarterback in the league.
Demarcus Robinson should be back for Super Bowl 55
For the Chiefs, not having Demarcus Robinson available for Super Bowl 55 would be a significant loss. After all, the 6-foot-1, 203-pound receiver set career-highs in catches (45) and yards (466) in his fourth NFL season. Robinson has recorded 32 starts since joining the Chiefs.
He has never missed a game during his five-year NFL career.
Luckily for Patrick Mahomes, he's about to get his key weapon back just in time for the Super Bowl.
According to the NFL Network's Tom Pelissero, both Robinson and Kilgore have tested negative for COVID-19 every day since the barber situation happened. That puts both players in line to return for the most important game of the year.
Kilgore can rejoin the Chiefs on Saturday. However, his much faster, svelte teammate is dangerously close to returning to the team.
Barring an unforeseen setback, Robinson can get back to work on Friday.
His return will give Mahomes yet another option in the passing game. Although Robinson didn't get targeted in the AFC championship, he played 65% of the offensive snaps. Assuming Tampa devotes ample attention to stopping Kelce and Hill, that should put the 26-year-old receiver in a position to take advantage of one-on-one coverage.
But does that mean he and the Chiefs will come up clutch on the biggest stage of them all?
Will Patrick Mahomes and his deep arsenal of weapons get the best of a talented Buccaneers defense?
The matchup between Tom Brady and Patrick Mahomes makes Super Bowl 55 one of the most intriguing ever. After all, when you have the greatest quarterback of all time squaring off against the new face of the league, you really can't ask for much more.
Obviously, though, TB12 and his younger adversary will need help from their supporting casts. Luckily for both quarterbacks, they have no shortage of options with which to work.
It will be interesting to see how the Chiefs attack a Buccaneers defense that features a number of blue-chip stars. With left tackle Eric Fisher out with an Achilles injury, will that lead to more pressure on Mahomes? Tampa boasts a terrifying front seven headlined by Jason Pierre-Paul, Ndamukong Suh, and Shaq Barrett.
Plus, the linebacker duo of Devin White and Lavonte David can completely shut down a running game with their sideline-to-sideline speed.
Still, it's tough to envision Tampa holding Kansas City in check for four quarters. Because at the end of the day, the Chiefs can win in so many different ways on offense that it will take a monster performance from Brady and the Bucs offense in order for them to win a Super Bowl in their home stadium.
Ultimately, the return of Demarcus Robinson will simply give the best quarterback in the NFL another avenue to attack Todd Bowles' defense.
And with Mahomes' ailing toe also trending in the right direction, Tampa's chances of winning Super Bowl 55 suddenly seem slimmer by the day.
All statistics courtesy of Pro Football Reference.