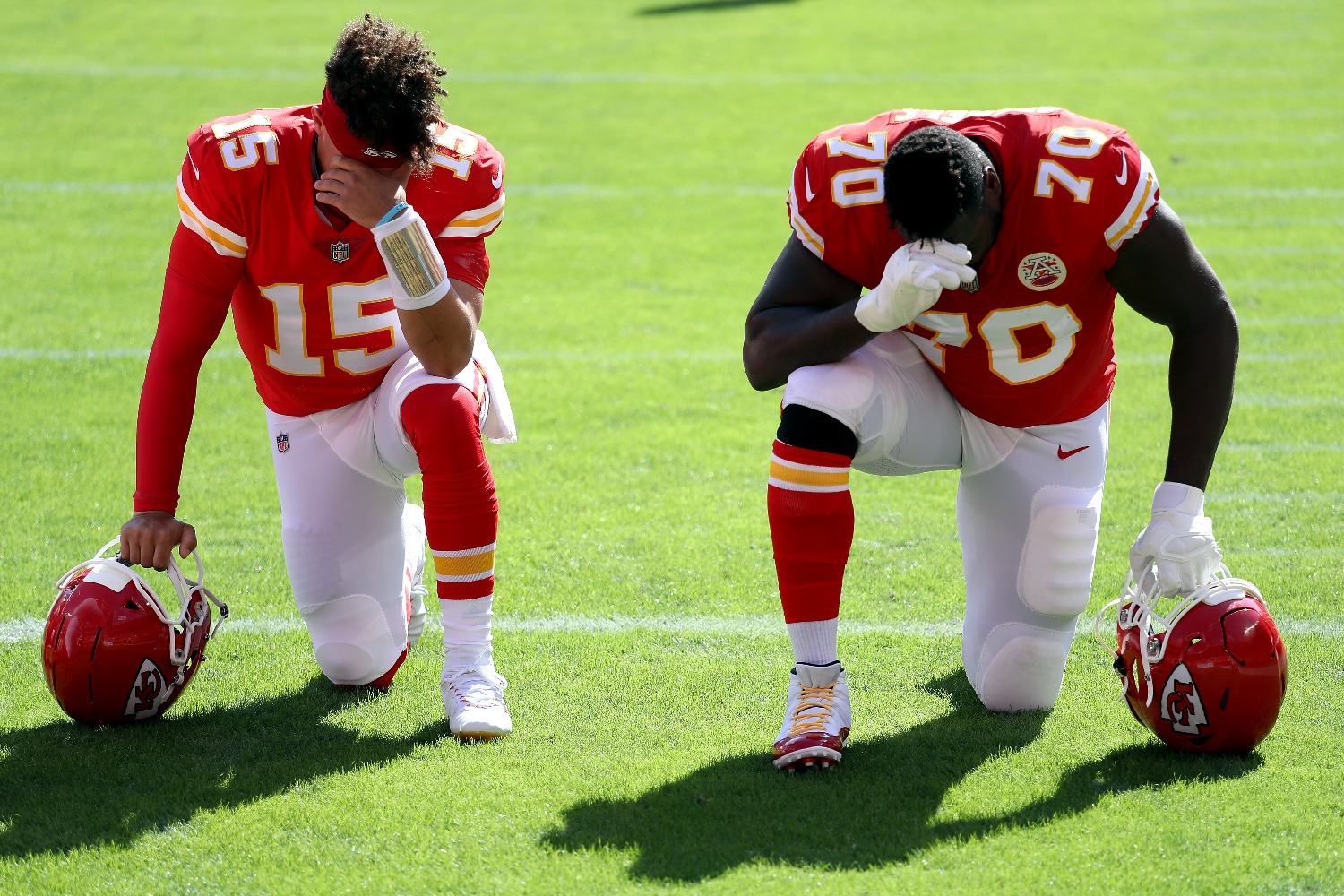 Patrick Mahomes Just Lost His $1 Million Protection Plan
Patrick Mahomes just lost his $1 million protection plan to a devastating injury. How will the Kansas City Chiefs replace Kelechi Osemele?
When Laurent Duvernay-Tardif opted-out of the 2020 NFL season, it left a gaping hole along the Kansas City Chiefs' offensive line. Luckily for Patrick Mahomes, general manager Brett Veach quickly addressed that by signing Kelechi Osemele.
However, after stealing him on a cheap contract, the Chiefs will once again have to find a new starting left guard. With Osemele suffering a devastating injury on Sunday, the pressure is on another battle-tested veteran to protect Mahomes as Kansas City looks to avenge its first loss of the season.
The Chiefs brought in Kelechi Osemele to protect Patrick Mahomes
Once Laurent Duvernay-Tardif decided to continue fighting COVID-19 on the medical front, that forced the Chiefs to find a new starting left guard. The team quickly zeroed in on Kelechi Osemele and signed the veteran to a one-year contract with a base salary of just $1.05 million.
The 31-year-old joined Kansas City after spending the 2019 season with the New York Jets. Prior to that, he earned Pro Bowl honors in 2016 and 2017 as a member of the Raiders. Osemele entered the league as a second-round pick by the Baltimore Ravens in 2012.
With the two-time Pro Bowler entrenched at left guard, the Chiefs entered the season with seemingly zero holes on offense.
Mahomes loses his $1 million protection plan
Following a lost year with the Jets, Kelechi Osemele appeared to rediscover his prime form through the first quarter of the 2020 season. The veteran showcased tremendous power from his left guard spot, which helped Patrick Mahomes and the Chiefs jump out to a 4-0 start.
However, in the team's first loss of the season, Osemele got carted off the field after sustaining what appeared to be a serious injury. After the game, Andy Reid confirmed that the team's starting left guard tore tendons in both of his knees.
In all likelihood, Osemele will not return this season. That's certainly a tough blow to an offense that surprisingly ranks just eighth in scoring through five games.
So how will the Chiefs replace Mahomes' $1 million protection plan? The answer may already be on the roster.
Who will replace Osemele?
With Kelechi Osemele sidelined, the Chiefs will have to determine who will start at left guard moving forward. So far, it looks like Mike Remmers will be tasked with protecting Kansas City's franchise quarterback.
The 31-year-old stepped in for Osemele on Sunday and brings a wealth of experience to the table. Though Remmers went undrafted in 2012, he has started 79 games during his NFL career, primarily for the Carolina Panthers and Minnesota Vikings.
The 6-foot-5, 310-pound guard signed a one-year, veteran minimum deal with Kansas City back in March. Now, he will have to prove he can keep Mahomes upright as the Chiefs look to avenge their first loss of the season.
Moving forward, it will be interesting to see if defenses try and attack Kansas City's new left guard. Remmers faces a tough test in Week 6 when the Chiefs travel to Buffalo to take on the Bills and their fifth-ranked scoring defense. Will he keep his quarterback upright? Or will Osemele's absence result in more pressure on Mahomes?
While the Chiefs may be able to get by in the next few weeks, they will face a number of talented defensive fronts following their Week 10 bye. Kansas City's second-half schedule includes matchups against the Tampa Bay Buccaneers (Week 12), Miami Dolphins (Week 14), New Orleans Saints (Week 15), and the Los Angeles Chargers (Week 17).
Ultimately, if Remmers fails to rise to the occasion, the Chiefs may have to explore the free-agent market to bolster their offensive line. For now, the pressure is on the veteran to keep the pressure off Patrick Mahomes.
All contract data courtesy of Spotrac. All statistics courtesy of Pro Football Reference.