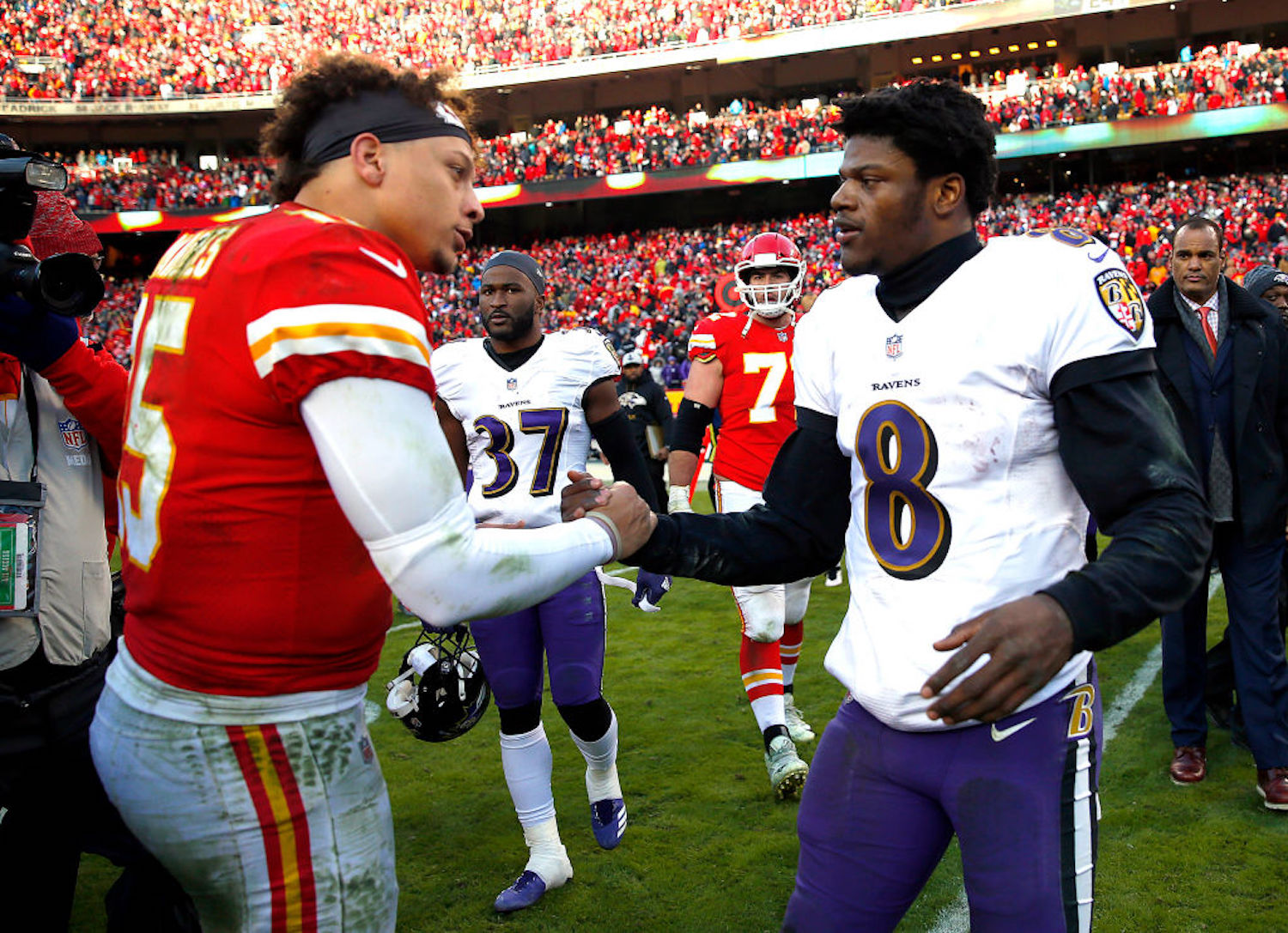 Patrick Mahomes vs. Lamar Jackson: Who Has the Higher Net Worth?
Patrick Mahomes and Lamar Jackson are the two faces of the NFL today, but what are their net worths and whose is higher?
Patrick Mahomes and Lamar Jackson are the two brightest young stars in the NFL today, and they're about to become two of the richest.
Mahomes signed a record-breaking 10-year, $450 million contract extension last offseason to make him the richest NFL player of all time. Jackson, who's been everything Mahomes has been sans a Super Bowl, is due for a lucrative extension of his own soon. Both have had incredible success early in their careers, but which quarterback has the higher net worth?
Patrick Mahomes and Lamar Jackson are already superstars in the NFL
Mahomes and Jackson are both still under 26 years of age, but they're arguably the two best quarterbacks in the NFL. Both players have already won an MVP trophy, and one of them even has a Super Bowl Ring.
Mahomes and Jackson have combined for a 47-10 record in regular season games in their young careers. Neither has missed the playoffs as a starter, and it doesn't look like they're going to any time soon.
Jackson broke out last season in his first year as the full-time starter in Baltimore. He threw for 36 touchdowns and ran for seven more in one of the most prolific seasons for a 22-year-old in NFL history. He led the Ravens to a 13-2 record in the regular season as the starter and beat out Mahomes for the No. 1 seed in the AFC. Jackson was awarded the NFL MVP award for his historic 2019 season.
A season before Jackson was named the MVP, Mahomes won the award himself. The Chiefs QB threw for 5,097 yards and 50 touchdowns in 2018 en route to a 12-4 record. Mahomes led Kansas City to the AFC Championship game the same season before falling to Tom Brady and the New England Patriots in overtime. The next year, he led the Chiefs to the Super Bowl, and this time, he finished the job.
Who has a higher net worth between Mahomes and Jackson?
Mahomes and Jackson might be two of the biggest superstars in the NFL, but their wallets haven't exactly reflected that yet. After all, Mahomes has only been in the league for three years and Jackson has only played one full season.
Mahomes has the early lead in the clubhouse with his $30 million net worth. He's earned just less than $25 million in his young career, but that number is about to explode.
Jackson comes in with a much less impressive $4 million net worth, but that will change for the better soon.
Mahomes and Jackson will see their net worths skyrocket in the coming years
Mahomes has a current net worth of $30 million, but that's about to jump astronomically, as he's set to earn over $40 million per year. Over the next 10 years, Mahomes will make over $450 million in NFL salary alone. That doesn't even include his numerous endorsements and other business ventures.
Jackson, on the other hand, hasn't received his long-term contract yet, but it should be coming soon. The Ravens could possibly pay Jackson as much or even more than what Mahomes got from the Chiefs.
Either way, once Jackson gets his first big payday, these two quarterbacks will be set for the rest of their lives, and their net worths will explode over the next decade.
All stats courtesy of Pro Football Reference. Net worth figures courtesy of Celebrity Net Worth.