'The Patriot Killer' is Coming Out of Retirement to Attempt an NFL Comeback
New England Patriots fans need no reminder of the damage Bernard Pollard can inflict. After all, the former Kansas City Chiefs draft pick earned "The Patriot Killer" nickname by taking out a number of Bill Belichick's biggest stars in brutal fashion.
Although his last pro football game came back in 2014, Pollard apparently believes he can still contribute to an NFL team. In fact, even though he just turned 36 in December, the physical defensive back has his sights set on suiting up on Sundays again.
Bernard Pollard inflicted severe punishment on several Patriots players back in his prime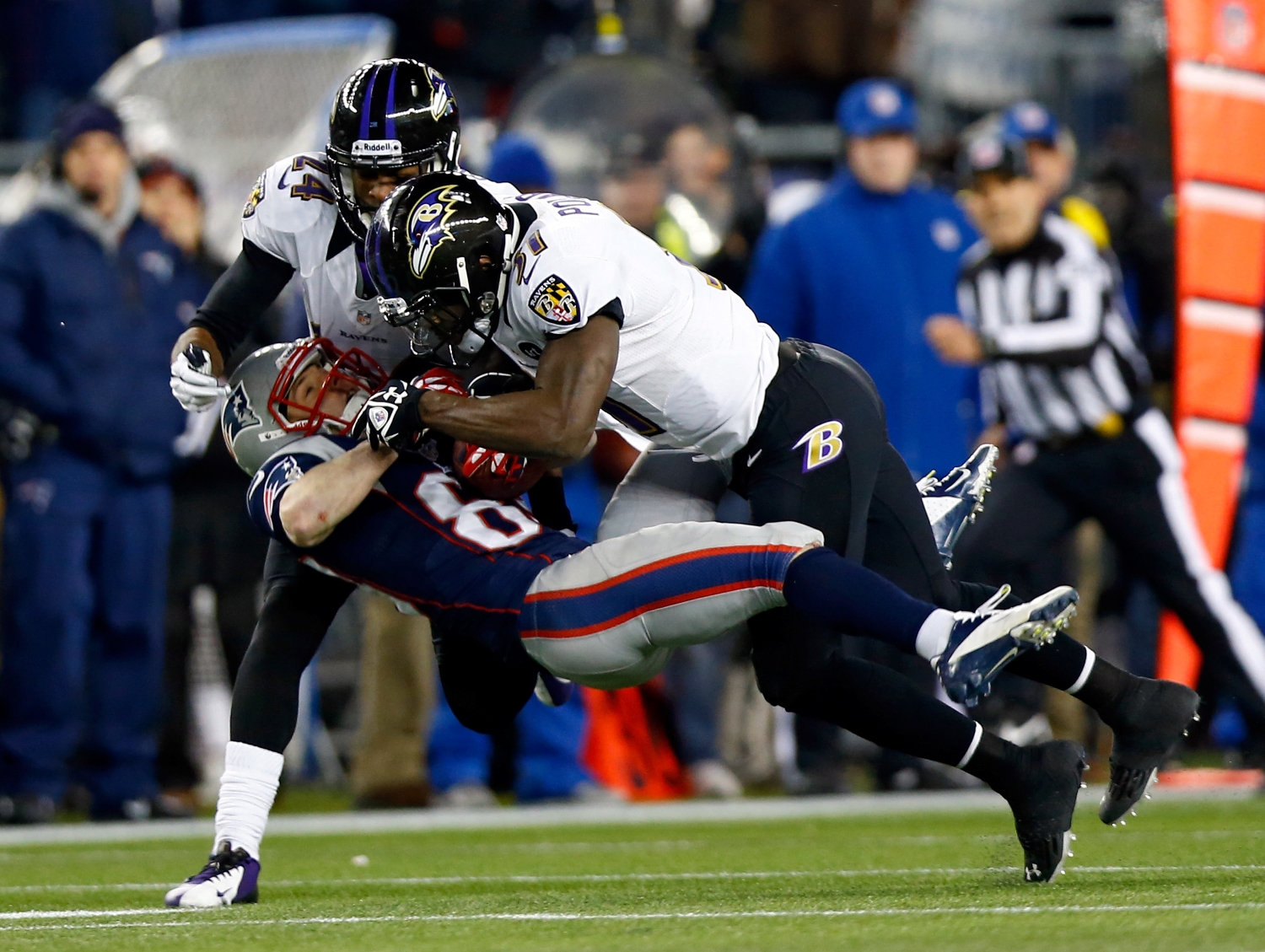 RELATED: The Tragic Death of Former Patriots Star and Convicted Murderer Aaron Hernandez
Bernard Pollard entered the league in 2006 as a second-round pick by the Chiefs. And in the first game of his third season, he completely changed the course of NFL history.
Pollard's direct hit on Tom Brady's left knee ended the star quarterback's season. Even though Matt Cassel put forth a valiant effort, the Patriots ultimately missed the playoffs. Meanwhile, Brady spent months rehabbing his way back from the first significant injury of his career.
The following year, Pollard once again inflicted catastrophic damage to Bill Belichick's team. In New England's Week 17 matchup against the Houston Texans, Wes Welker tore his ACL and MCL on a play involving the imposing defensive back.
And after taking his talents to the Baltimore Ravens, Pollard earned "The Patriot Killer" nickname by taking out another one of Brady's trusted targets. Rob Gronkowski left the 2011 AFC Championship with a nasty high-ankle sprain that severely limited him in the Super Bowl. To little surprise, Pollard once again played a direct role in a Patriots player's injury.
As if that wasn't enough, he saved one final shot for the 2012 AFC title game. Pollard's helmet-to-helmet hit on Stevan Ridley knocked the running back out cold. The play swung the momentum fully in Baltimore's favor. Of course, the Ravens later went on to win Super Bowl 47.
'The Patriot Killer' is coming out of retirement to attempt an NFL comeback
RELATED: Aaron Rodgers Officially Has a New Obstacle to Overcome in What Could Be His Final Season With the Packers
After establishing a reputation as "The Patriot Killer" with three franchises, Bernard Pollard didn't spend much more time tackling ball carriers. In 2013, he recorded 99 tackles and three interceptions for the Tennessee Titans. But he hasn't played a single down since an abbreviated 2014 campaign that included 27 tackles in five starts.
However, even though he's been away from the game for six years, Pollard hasn't given up on playing pro football. In fact, he has every intention of collecting NFL paychecks again.
On March 30, the experienced safety shared a video on Twitter of him going through drills and workouts.
"All I can do is control me. #NFL #TheReturn," Pollard wrote.
A day later, he once again took to Twitter to share another video of him training in an indoor facility.
"I refuse to allow my focus to be broken. #Grind is all I know. #NFL #TheReturn," he wrote.
Independent NFL reporter Dov Kleiman provided further clarification about Pollard's future plans via Twitter.
"Just spoke with former Ravens, Chiefs Safety Bernard Pollard. The Super Bowl champ is coming out of retirement after 6 seasons away from the NFL. He'll play at 220 pounds. He's healthy and looking forward for the challenge of competing," Kleiman wrote.
He also noted Pollard has spoken with the Chiefs about a possible return.
Pollard joins a group of lackluster free-agent safeties
RELATED: The Tampa Bay Buccaneers Have Backed Antonio Brown Into a $2 Million Corner
Although Bernard Pollard deserves tremendous credit for putting in the work to attempt an NFL comeback, he may not get his wish of playing on Sundays again.
Considering he turns 37 this year, it's fair to wonder how much his physical skills have diminished. Plus, after a six-year hiatus, it seems highly unlikely that a team will view him as a worthwhile investment moving forward.
After all, several experienced free-agent safeties still need new contracts. With Malik Hooker, Tre Boston, Duron Harmon, and Kenny Vaccaro all on the market, Pollard doesn't stand a chance of jumping ahead of those players.
At best, maybe he will get an invitation to training camp. But that still doesn't guarantee him anything.
Ultimately, Pollard's comeback bid doesn't seem destined to work out.
All statistics courtesy of Pro Football Reference.