Peyton Manning's 'Biggest Fear' in the NFL Motivated Him to Become an All-Time Great
Peyton Manning was never one to show up to the field on Sunday without being 100% prepared for the opponent in front of him. Manning's rigorous film sessions and tireless work ethic throughout the week always had him prepared for any trick a defense tried to play on him.
Well, it turns out Manning was so obsessed with preparation and thinking one step ahead because his "biggest fear" in the NFL was being caught off guard by a surprise blitz or a disguised coverage. That fear made him impossible to beat between the ears, and it motivated him to become an all-time great and now, a Hall of Famer.
Peyton Manning was the most prepared player on the field every Sunday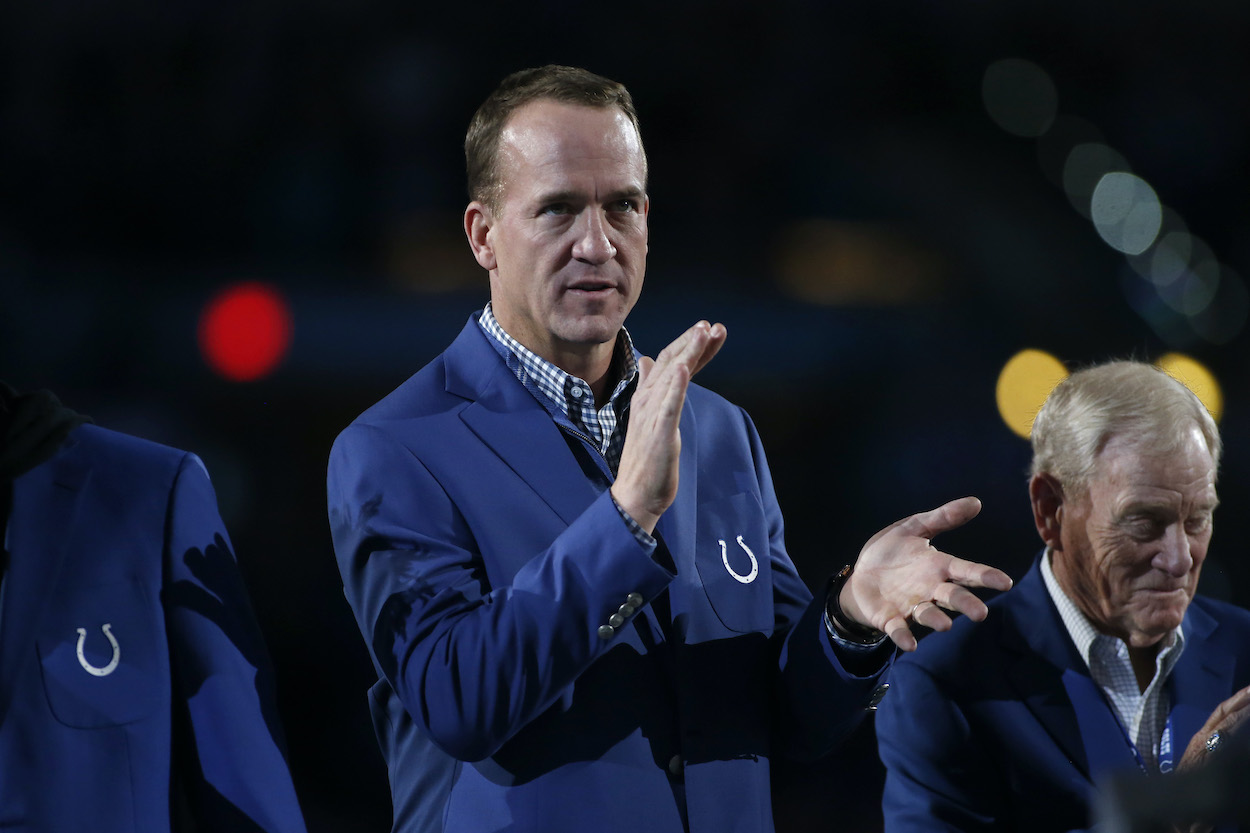 Manning was never the most athletic player on the field during his NFL career. He never had the biggest arm or the quickest feet in the league, but he always had an advantage over his opponent simply because of how tirelessly he prepared throughout the week.
Every play call, every audible, and every checkdown was precisely calculated before Manning even stepped on the field. The retired quarterback explained his detail-obsessed approach to the game of football in a recent interview on Barstool Sports' Pardon My Take podcast.
"I think we're all looking to get an edge out there somehow," Manning said. "For me, I came to the realization that I couldn't outthrow anybody, right? I couldn't throw it 85 yards down the field like a Brett Favre or like a Randall Cunningham. [I] couldn't outrun anybody, clearly. If you've ever seen me play, you realized that.
"I realized to get an edge I had to try to out-prepare anybody. Whether I was working harder than anybody else in the room, I'm not sure if that was true, but I told myself that I was. And the main people I was trying to outwork was our opponent."
Manning used his "biggest fear" as fuel to become an all-time great
Manning didn't just outwork everybody around him en route to a Hall of Fame career because he wanted to be great. His obsession with being more prepared than the opposing team actually developed because he was so scared of being caught by surprise on the field.
He detailed the origin of his relentless preparedness to Pardon My Take.
I don't think you can overprepare. I think you can at some point say, 'Hey, I've seen enough film. The hay is in the barn. It's time to go out and play and react to what the defense is doing,' knowing that they're studying the film as well, and they're gonna have some different wrinkles. But I guess my biggest fear was, in all of the years I was playing — I remember one time in my third NFL season we played a team, and we hit them with a blitz in the fourth quarter. The quarterback from the other team came out and said, 'Yeah, that was a new blitz that the Colts just put in.' And he was wrong. We had run that blitz in the preseason earlier that year, and he had not gone back that far to watch that film. And I just remember saying, 'That is not gonna happen to me. They are not gonna hit me with a blitz that they have shown before during the season.'

I think that's kinda where that film preparation came from.

Peyton Manning
Manning was simply a different breed.
Running from his biggest fear all the way to the Hall of Fame
For 18 years, Manning refused to let his biggest fear in the NFL haunt him on gameday. He never took a day off throughout the week leading up to a game, and he never stepped foot on the field unless he was fully prepared for everything the opposing defense could throw at him.
Manning's legendary work ethic took a lot out of him over the last two decades, but it recently paid off with the highest honor an NFL player can receive. Earlier this year, Manning was named to Pro Football Hall of Fame class of 2021. He'll be enshrined on Sunday, Aug. 8.