Racing Legend Mickey Thompson and His Wife Were Brutally Murdered in Their Driveway by 2 Complete Strangers Who Were Never Identified
On March 16, 1988, auto racing legend Mickey Thompson and his wife, Trudy, left their house early in the morning like they did every day. Only this time, there were two hooded assailants armed with guns waiting for them outside. Mickey and Trudy were brutally murdered that day, and the last faces they saw were of two complete strangers.
As it turned out, those strangers were actually hired by a former business partner of Mickey's — Michael Goodwin. Goodwin was later found and convicted of the murders years later, but the two actual killers escaped and were never identified.
Mickey Thompson made a dangerous enemy during his racing career
Mickey Thompson was a racing fanatic with a serious need for speed. He competed in more than 10,000 races across various circuits during his career and always strived to become the fastest man on land. In 1960, he did just that when he reached 406.6 miles per hour in his four-engine Challenger 1. By doing so, Thompson became the first American to reach 400 mph in a land vehicle. He set more speed records than any other driver in auto racing history.
After Thompson's iconic racing career came to an end, he switched over to new ventures in the sport. In 1984, he teamed up with successful promotor, Michael Goodwin, to form a merged promotional company. But shortly after signing the contracts to initiate the merger, Thompson and Goodwin started fighting about finances. The deal quickly fell through, and the two men went up against each other in court.
Thompson was eventually awarded a settlement worth nearly $800,000, which forced Goodwin to declare bankruptcy. That's when the death threats started to roll in.
The murders of Mickey and Trudy Thompson
On the morning of March 16, 1988, Mickey Thompson left his California home with his wife, Trudy. As he opened the garage to get to his car, two hooded strangers armed with guns approached the married couple and opened fire, killing them both. The assailants then fled on bicycles and disappeared down the road.
When police arrived on the scene, they immediately ruled out a robbery because the Thompsons had thousands of dollars in cash and expensive jewelry on them. The investigation quickly pointed to a murder-for-hire, but law enforcement couldn't convict the mastermind until years down the road.
Michael Goodwin was caught and convicted, but the two killers were never found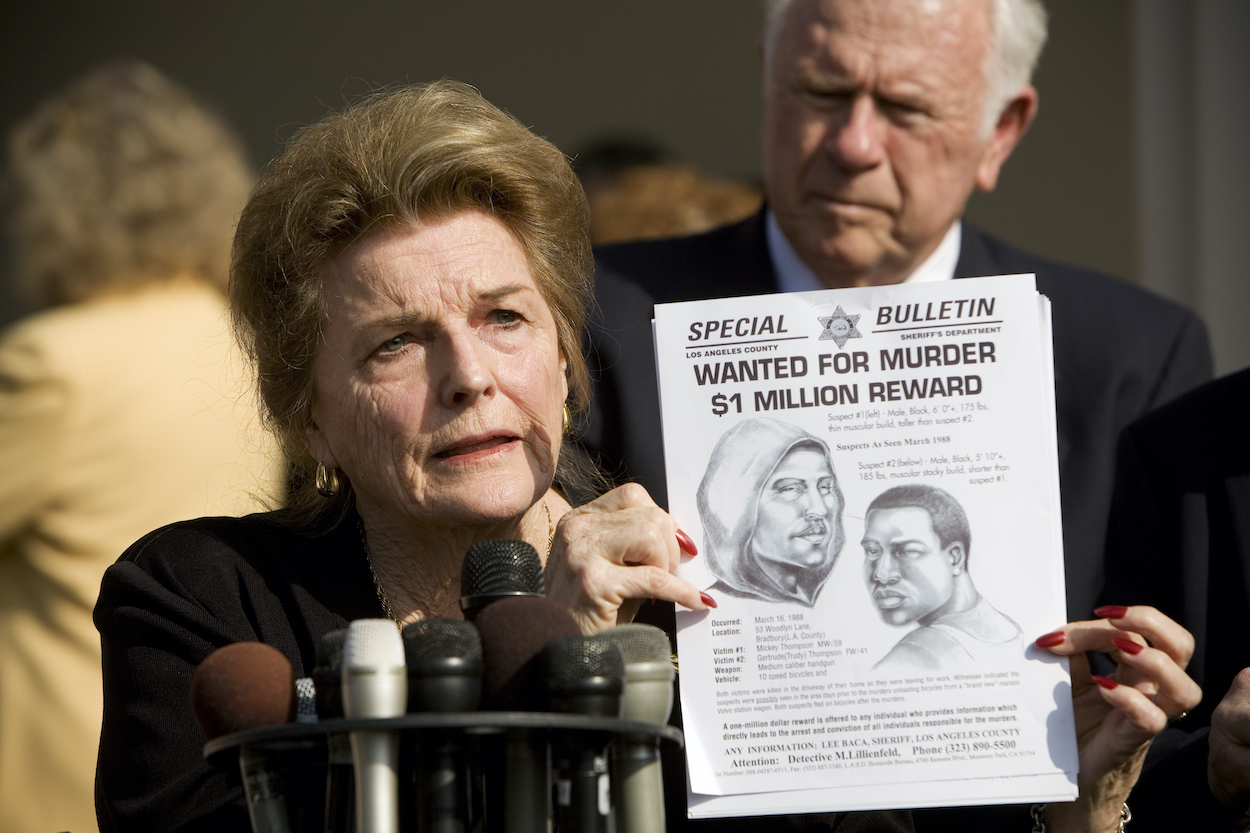 Not coincidentally, Thompson's former business partner, Michael Goodwin, fled the country after the murder and transferred hundreds of thousands of dollars into an off-shore banking account in the Caribbean. He spent more than 10 years evading the law overseas, but in 2001 he mysteriously returned to California and was arrested for the murders.
During trial, 15 witnesses testified that Goodwin made death threats toward Thompson. Another witness claimed he saw Goodwin watching Thompson's house from his car in the weeks leading up to the murder. In 2007, 19 years after the killings, Goodwin was found guilty of two counts of murder and sentenced to life in prison.
Goodwin will never see freedom again, but the two strangers he hired to kill Thompson and his wife were never identified.