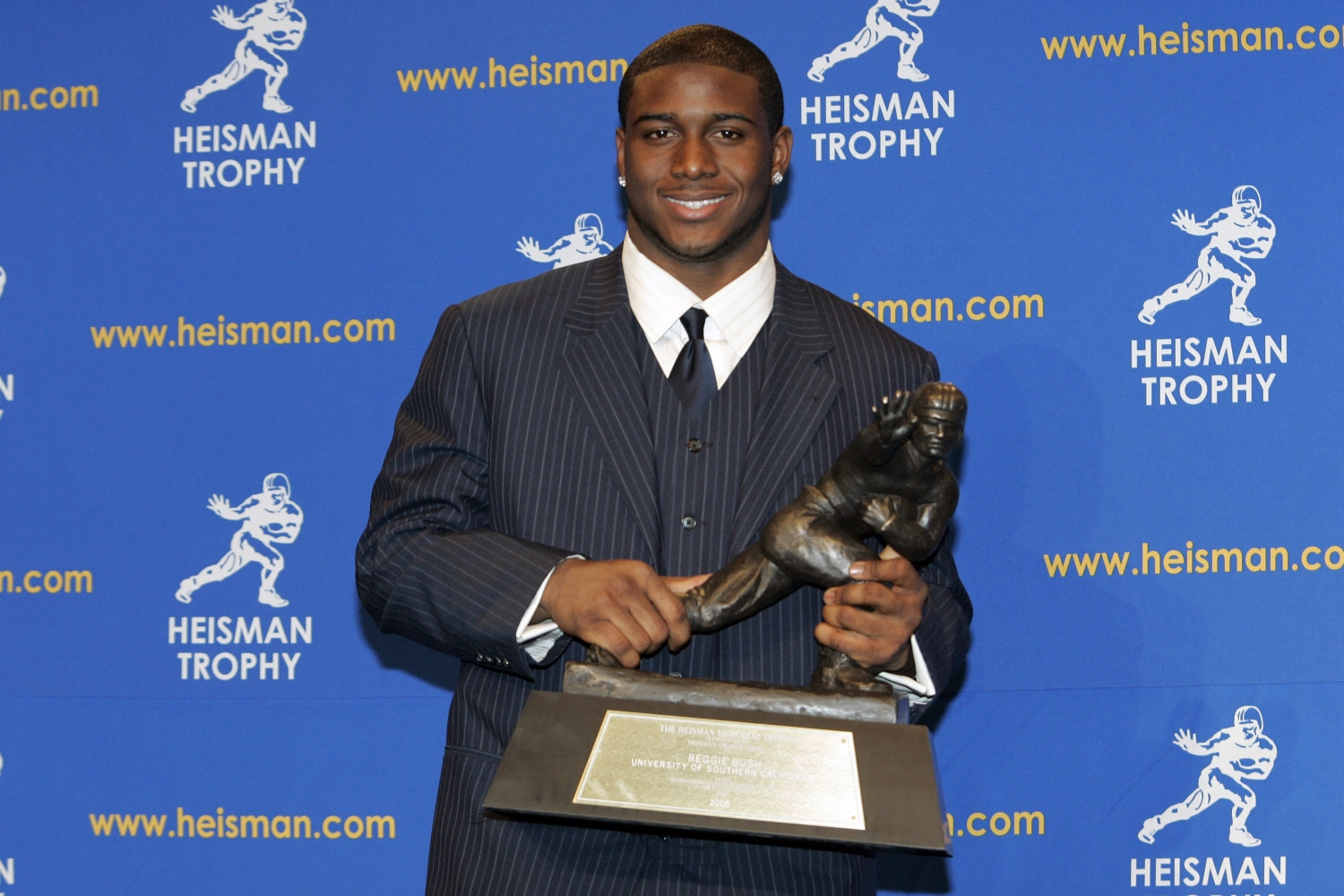 Reggie Bush's Chances of Reclaiming His Stolen Heisman Trophy Have Officially Gone Up
Will Reggie Bush get his Heisman Trophy returned to him? While nobody knows for sure, the chances of that happening have officially gone up.
Anyone who watched college football during the early 2000s can attest to Reggie Bush's dominance. A dynamic playmaker at USC, the dual-threat running back earned the 2005 Heisman Trophy by making future NFL defenders look thoroughly overmatched.
Unfortunately for Bush, his trophy got taken away, and his reputation as one of the most electrifying stars in college football history took a substantial hit. But with the rules changing about amateur athletes earning money, could the retired NFL running back finally recover what's rightfully his?
That depends on how the NCAA views the situation. However, the chances of Bush getting back his trophy have officially gone up. And when you take a step back and look at the history of the most prestigious award in college football, it's clear he isn't the only recognizable name who should have a Heisman Trophy at home.
Reggie Bush did everything right on the field to earn the 2005 Heisman Trophy
Trojans fans saw flashes of greatness from Bush during his first two seasons on campus.
Then he went nuclear.
Already viewed as one of the most dangerous threats with the ball in his hands in the country, Bush completed blew people away with his brilliant display of playmaking prowess during his final year at USC. In addition to handling kickoff and punt return duties, the California native carried the offense, too. Bush recorded 1,740 rushing yards and 17 touchdowns on 200 carries and caught 37 passes for 478 yards and two touchdowns.
Still, he faced tough competition for the 2005 Heisman Trophy. Texas Longhorns quarterback Vince Young represented a major threat to Bush's chances of claiming the sport's most coveted award. Plus, his own teammate, Matt Leinart, also garnered support during the voting process.
Ultimately, though, Bush emerged on top.
And it wasn't even close.
The two-time consensus All-American received 784 first-place votes. Meanwhile, Young finished as the runner-up after totaling just 79. Leinart came in third after earning 18 first-place votes.
The former USC star's chances of reclaiming what's rightfully his have officially gone up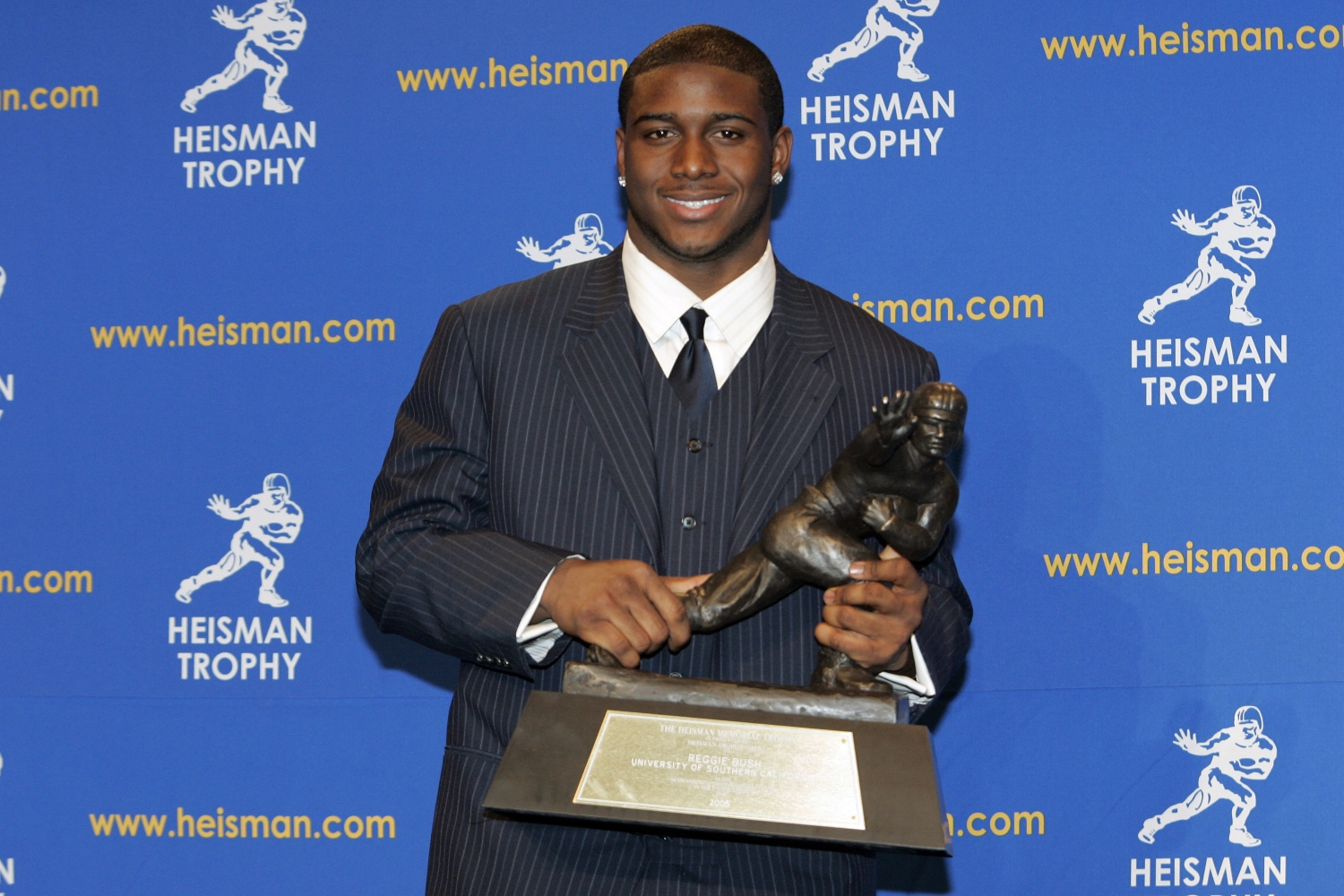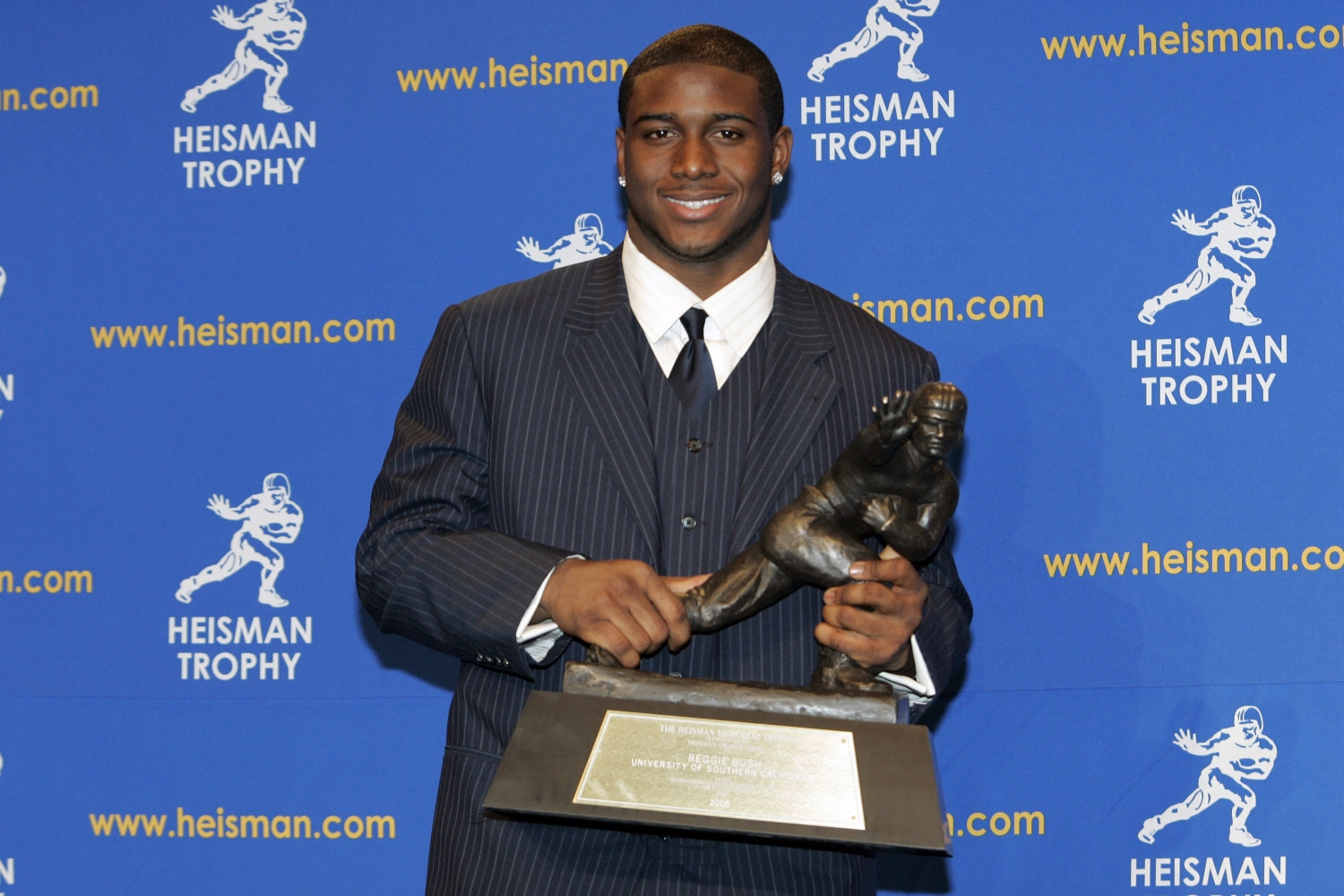 Bush's involvement in one of the biggest scandals in college football history cost him his trophy, his records, and his reputation. After an investigation determined he and his family members received impermissible benefits during his days as a student-athlete, Bush had to return his Heisman, and USC faced sanctions that included a two-year postseason ban.
But with college athletes able to profit off their names, images, and likenesses moving forward, fans have spoken up on Bush's behalf. After all, he did everything right on the field to beat out every other contender in the 2005 Heisman race.
Luckily for Bush, his chances of getting his trophy back have gone up. However, only time will tell, if the other party involved in the decision-making process steps up to the plate.
The Heisman Trophy Trust released a statement on Friday about the NCAA's recent decision to allow student-athletes to control their NIL rights. It specifically addressed the controversial topic of Bush's Heisman saga.
"The on-field accomplishments of Reggie Bush during the 2005 season at USC were remarkable and remain in the memories of all college football fans that had the privilege of witnessing him in action," the statement read.
After explaining that Bush isn't eligible for the award because his 2005 season records remain vacated by the NCAA, the Heisman Trophy Trust made it clear that it has no problem giving it back to him in the future.
"Should the NCAA reinstate Bush's 2005 status, the Heisman Trust looks forward to welcoming him back to the Heisman family," the statement read.
Bush isn't the only college football legend who deserves to have a Heisman Trophy at home
Will the NCAA do right by Bush and make sure he gets the recognition he deserves?
Based on the governing body's history of handling business, it's hard to have faith in that happening. The situation seems entirely unfair, as the violations committed by Bush didn't have any impact on the on-field product. His play spoke for itself, and it clearly captured enough attention to command almost 800 first-place votes. If the NCAA wants to score some points with fans, it should figure out a way to rectify the Bush situation.
Ironically, the 36-year-old isn't the only former collegiate star who should have a big problem with not having a Heisman Trophy to display for friends and family.
Former Florida State receiver Peter Warrick looked poised to win the coveted award before he got suspended during the 1999 season over a $21 clothing scandal.
In 2008, Tim Tebow actually garnered more first-place votes than Sam Bradford, but he finished third in the final voting. Of course, Tebow won the ultimate prize by leading the Florida Gators to a 24-14 victory in the BCS National Championship against the Bradford-led Oklahoma Sooners.
Just don't expect him and Urban Meyer to make that same type of magic happen in Jacksonville.