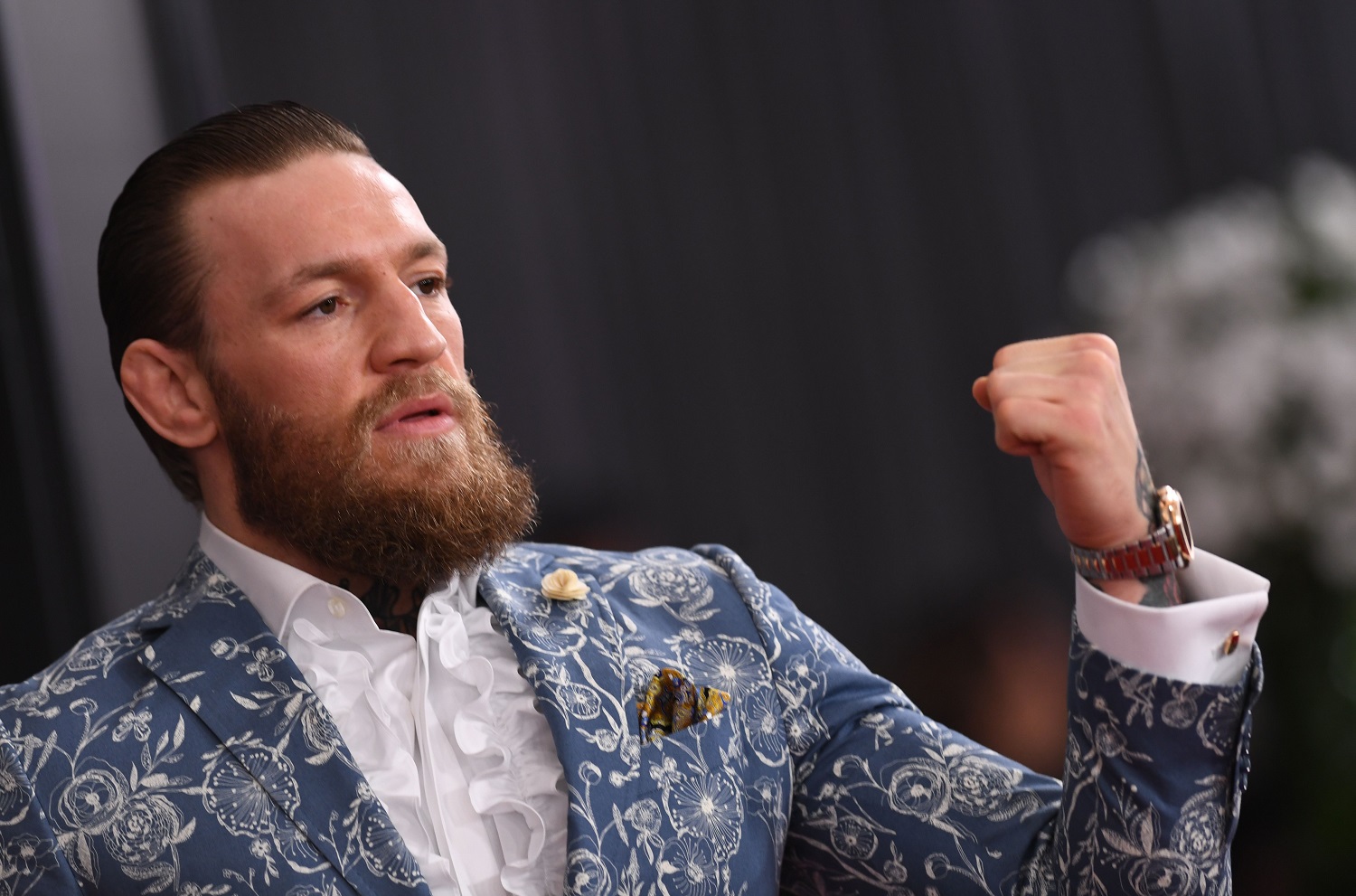 'Retired' Conor McGregor Accepts a Challenge From Diego Sanchez But Then Says He's Boxing Manny Pacquiao
Former two-division UFC champ Conor McGregor took to Twitter on Friday to accept a challenge from Diego Sanchez before saying he's boxing Manny Pacquiao.
For someone who claims to be retired, Conor McGregor sure seems ready to fight. The former two-division UFC champ was a busy bee on Twitter on Friday, first accepting a challenge from welterweight contender Diego Sanchez before making a blockbuster announcement that he'll be boxing Manny Pacquiao in the Middle East.
While a fight against Sanchez in UFC seems unlikely, a bout against Pacquiao could actually happen. Let's dive into all of the madness that came about earlier today.
Conor McGregor 'retired' back in June after UFC 250
First off, let's discuss how Conor McGregor is supposed to be retired. After "retiring" for the first time in 2016 and then again in 2019, McGregor returned to UFC back in January and disposed of Donald Cerrone in 40 seconds.
Close to five months later, McGregor announced his retirement for the third time just minutes after the conclusion of UFC 250, a fantastic event that had nothing to do with him. But this is Conor McGregor and he needed to make sure that everyone hadn't forgotten about him.
For good reason, not many people bought into the retirement announcement and McGregor's name has been linked to numerous opponents over the last few months. Rumors of a second boxing match with Floyd Mayweather swirled around for a bit, as did rumors of a UFC bout with Tony Ferguson, Anderson Silva, or Khamzat Chimaev. None of those obviously came to fruition but Conor McGregor stirred the pot on Friday, first accepting a challenge from Diego Sanchez.
The 'Notorious' one accepted a challenge from Diego Sanchez
Ahead of his fight at UFC 253 this weekend against Jake Matthews, welterweight contender Diego Sanchez told the media that he has four fights left on his contract and that once he got past Matthews that he wanted to face some legends. He indicated that he'd love to fight both Nick and Nate Diaz and closed things by saying that he wants his fourth and final fight to be with Conor McGregor, which is certainly an easy way to get some attention.
McGregor, never one to stay silent on…well, anything…took to Twitter early Friday afternoon to respond (tweet seen above).
"To Diego Sanchez… I seen your recent comments about your final bout and I am in! After you fought Pereira, I had requested for myself and you to compete in Dublin. This was back in February when I was working on opposition for my season, pre covid. Good luck this weekend!"

Conor McGregor
McGregor included some screenshots of an alleged conversation between himself and Dana White discussing a fight with Sanchez, which was quickly shut down. While it's highly unlikely that this fight ever happens (with no offense to Diego Sanchez, he's just not a big enough draw), it's interesting (but not at all shocking) to note that Conor McGregor, despite being "retired" from UFC, has not withdrawn from the USADA drug testing pool.
Conor McGregor says he's boxing Manny Pacquiao in the Middle East
Less than half an hour after saying he would fight Diego Sanchez, Conor McGregor made a much bigger announcement by telling the world that he would be squaring off with eight-division world champion Manny Pacquiao in the Middle East, which naturally sent Twitter into a frenzy.
We've heard rumors of this fight before but this actually could be a real thing this time around. McGregor's manager, Audie Attar, told ESPN on Friday that there have been serious discussions of a fight between McGregor and Pacquiao, a bout that Attar says could take place in late December or early January and that the Middle East has been one of a few locations discussed to host the event.
Attar went on to say that UFC is completely on board with this, which makes sense as the promotion made a ton of money by co-promoting McGregor's fight with Floyd Mayweather in 2017. This fight sounds even more legitimate due to the fact that Manny Pacquiao Promotions president Sean Gibbons chimed in as well.
"The Senator Manny Pacquiao has always been up for new challenges. Conor McGregor showed in his fight with Floyd Mayweather he has the skills to fight with the best boxers in the world, and considering that they are both global icons and in the global landscape we live in today would be a tremendous event."

Manny Pacquiao Promotions president Sean Gibbons
Attar continued by saying that Conor McGregor would first fight Manny Pacquiao and then return to UFC in 2021.
So much for retirement.