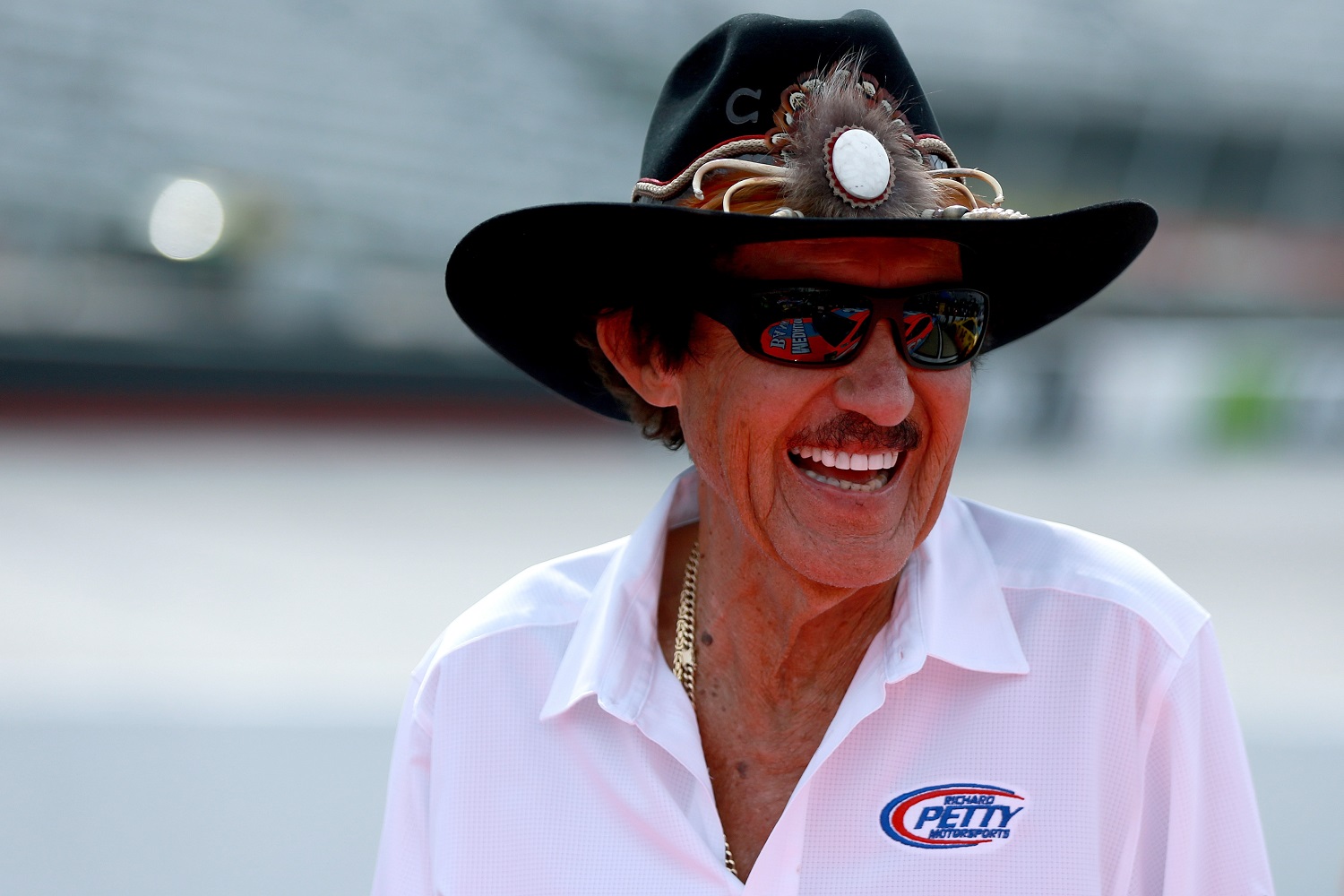 Richard Petty Broke His Neck and Didn't Know It: 'Your Body Can Only Hurt 1 Place at a Time'
Richard Petty knew he'd broken his neck at Pocono in 1980, but the man known at tracks as 'The King' didn't realize that wasn't a first for his NASCAR racing career.
There were a good number of seasons when it may have seemed as though every NASCAR Cup Series race finished with the No. 43 car parked in victory lane or at least placing in the top five. Richard Petty won 200 of 1,184 career starts and scored top-fives in another 355, a phenomenal rate of success.
But there were also 349 times when the No. 43 was no longer running by the time some other car crossed the finish line first. A driver posting that many DNFs is going to have some wrecks on his record. One of Petty's most memorable came midway through the 1988 Daytona 500, when his Pontiac went airborne and into the fence, rolling end over end. The car was already destroyed by the time it returned to the track, only to be hit by another car.
Linda Petty remembers walking into the infirmary after that crash. A clergyman assured her that her husband was OK and that there was nothing to worry about.
"There was a closed-circuit TV and all I could see on that screen was that car up on the fence," she said. "And I thought, 'They are lying to me. He'd dead. He's got to be dead.'"
Richard Petty was 50 years old at the time and just starting the fourth of eight straight winless seasons that would conclude his career. That day in Daytona remains one of the crashes that his fans remember because of how serious it looked and how minor his injuries were.
At the other extreme, Petty incurred some serious injuries in other wrecks without realizing the extent. Speaking with Graham Bensinger in 2016, Petty talked about wrecking at Pocono in 1980.
Petty was competitive that day until an incident about a third of the way through the race. It was a bad crash, with the car plowing into the catch fence.
"Dale Inman, the crew chief, runs down there and wants know what's going on," Petty recalled. "I said I think I broke my neck but don't know. So, they took me to a little hospital down somewhere there in Pennsylvania."
Petty and his wife were waiting in the examination room when the emergency ward doctor came in and held an X-ray up against the light.
"He said, 'When did you have your neck broke before?' Petty said. "I said I didn't know I broke it before."
The X-ray showed a cracked vertebra with calcium around it, indicating it had healed.
"I said, 'Well, I probably broke it sometime when I broke something else, and it hurt worse. Your body can only hurt one place at a time.'"

Richard Petty
Doctors fitted Petty with a neck brace and discharged him from the hospital that week. A few days later, he started the race at Talladega in order to log credit for the points in the standings, then handed off to a relief driver. Less than a month after that, Petty was driving entire races again. Repeated late-race engine woes kept him out of the top 10 the rest of the way, but Petty still finished the season fourth in points.
That was the mindset back then as Petty battled the likes of Dale Earnhardt, Darrell Waltrip, Bobby Allison, and Cale Yarborough. The cars lacked the current safety features, but the shops built them like tanks. Drivers took to the track feeling relatively safe regardless of how bad the bruises were from the last time out.
"The strongest thing a person has is his mind, and it's just it's a mindset deal," Petty explained to Bensinger. "No matter how bad you was hurt, your job was getting into that race car and do the best you could with it. So, between the obligations you had to you and your family and the people that you work with, in your mind you just went and done it."
Even when you had no idea what you'd done to your neck the week before.
Like Sportscasting on Facebook. Follow us on Twitter @sportscasting19.