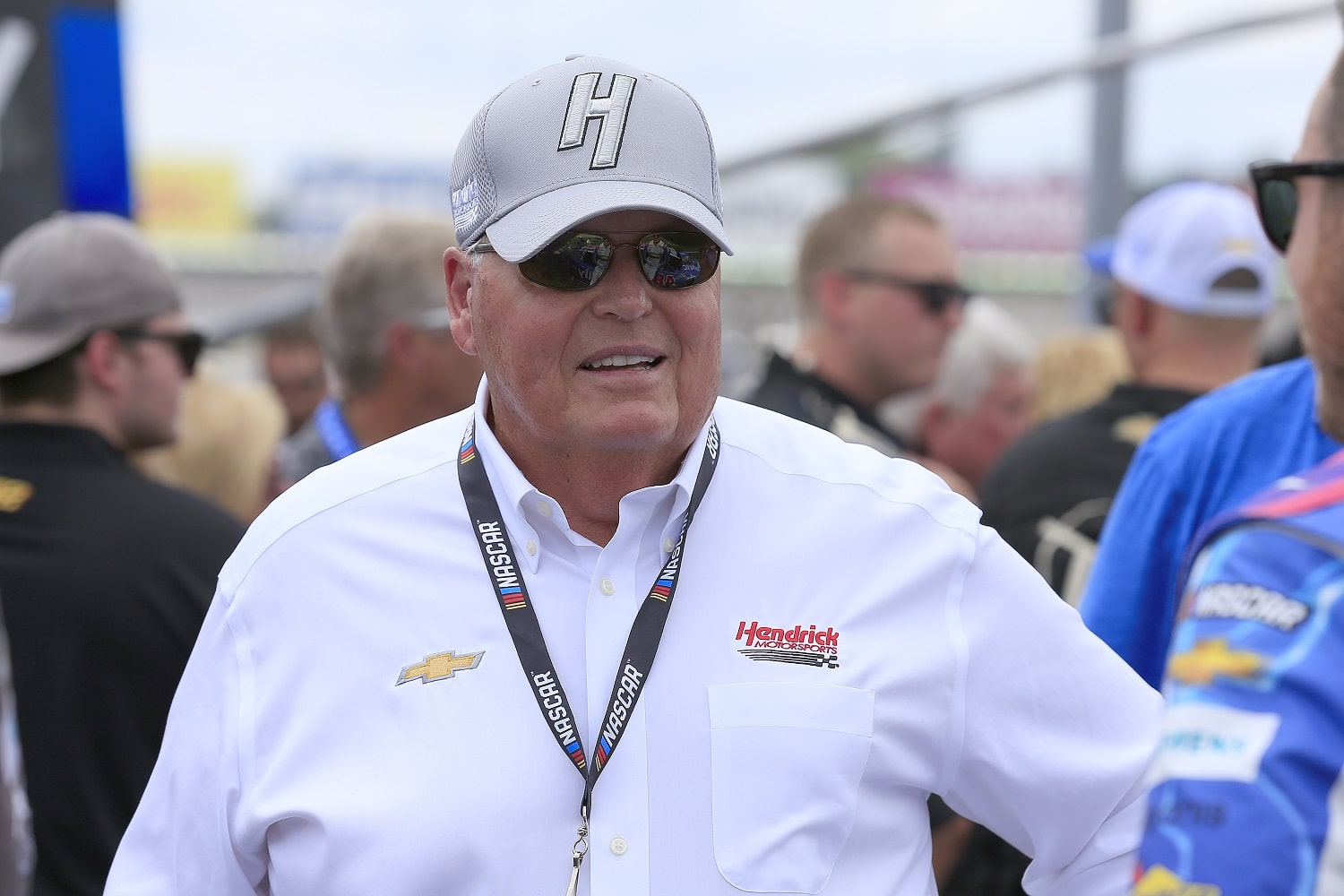 Rick Hendrick's Congratulatory Note Was Nice, but It Was Late and Didn't Cover All the Bases
Rick Hendrick was a bit late and maybe a little forgetful in acknowledging recent work by Petty GMS that benefitted the Hendrick Motorsports empire.
There's a rivalry there, to be sure. Given their many years in NASCAR, however, it's safe to assume Rick Hendrick and Richard Petty have developed a friendship, too. And, as the men behind the two winningest teams in Cup Series history, their opinions carry some weight when they're in a room with their peers.
So, Hendrick's gesture this week toward the Petty GMS team was nice, but it was lacking a bit if you consider the owners' time together and the actual value of Erik Jones' ongoing assistance.
Rick Hendrick sent the Petty GMS garage a snack basket and a nice card
Petty GMS, the current iteration of the Cup Series team that Lee Petty and son Richard Petty built into a NASCAR powerhouse, posted a picture of a card that Hendrick Motorsports czar Rick Hendrick sent over this week in acknowledgment of recent developments.
"Congratulations on your win in Darlington and thanks for the push in Talladega!" the card read. It was accompanied by a basket of fruit and packaged snacks for the guys in the garage and the driver's room to share.
The Darlington reference was an acknowledgment of Erik Jones' victory in the Cook Out Southern 500. The Talladega reference was regarding Jones lining the No. 43 Chevy up behind Chase Elliott and giving the No. 9 Chevy a big push with the white flag out to secure the victory last weekend.
That victory came with automatic advancement into the Cup Series semifinal round, a valuable card to be holding in a topsy-turvy playoff season. With the pressure off, Elliott can gun for stage wins and then the race victory on Sunday on the Charlotte Roval without having to worry about advancing.
'Always class from Mr. H, very cool'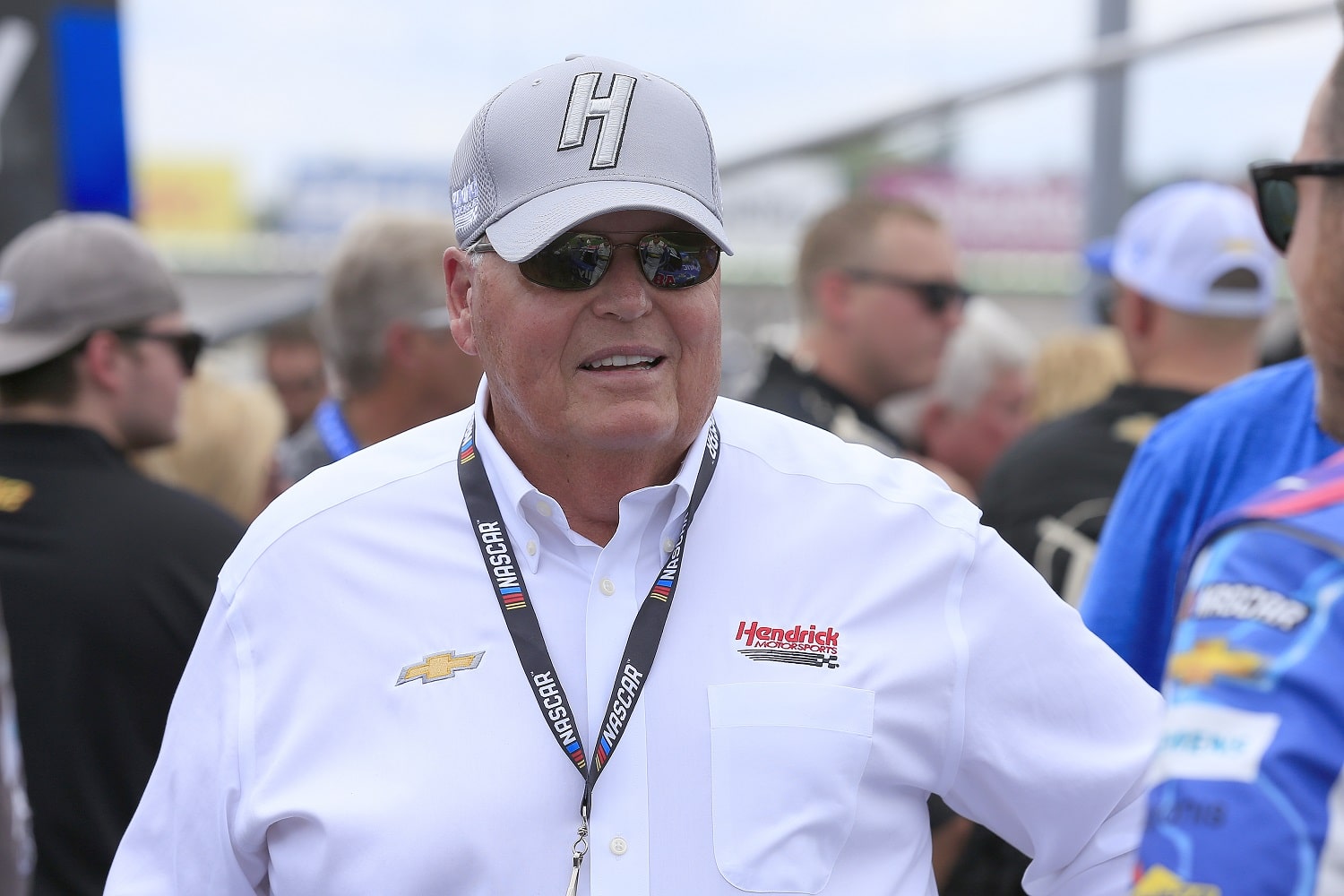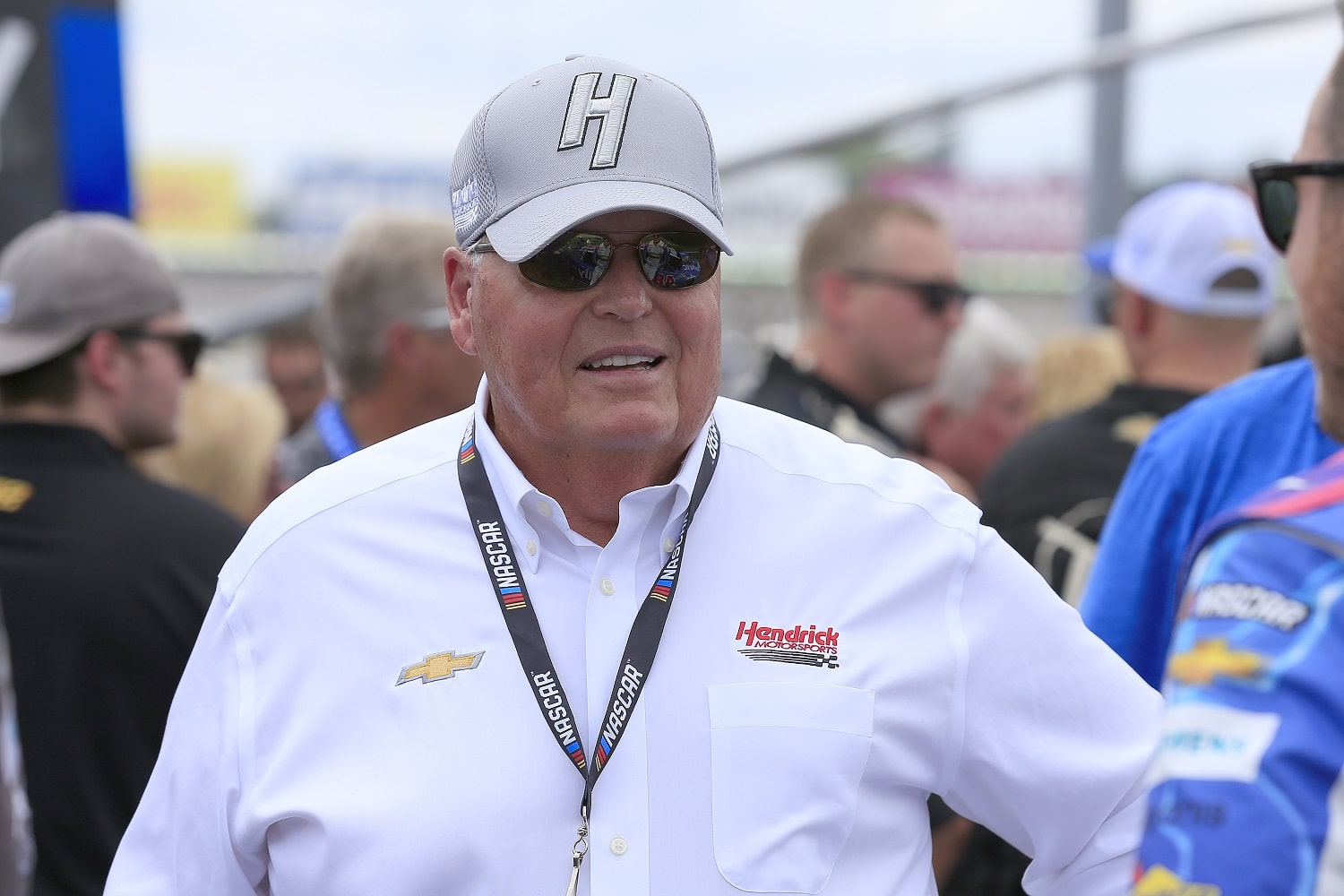 The tweet from Petty GMS included an acknowledgment of Rick Hendrick: "Always class from Mr. H, very cool."
It's easy for Hendrick to do the little things. He owns the winningest Cup Series team ever, with Chase Elliott's triumph at Talladega last weekend bringing the total to 290. To do so, Hendrick has poured a lot of money into his organization.
Kyle Larson is the short-timer in the four-man HMS driver lineup, currently wrapping up his second season. But Hendrick and Hall of Famer Jeff Gordon have locked Larson, William Byron, and Elliott into long-term contracts over the course of the past year, with Alex Bowman presumably next.
That sort of continuity contributes to the success, and Elliott, Larson, and Byron are all still alive in the playoffs. You've got to be in it to win it, and Elliott won the 2020 title; Larson is the defending champion.
A couple of points to consider about Rick Hendrick's card and gift
A few commentators on social media noted the fact that Rick Hendrick's congratulatory nod to Erik Jones was a bit belated. Jones' Darlington victory, breaking a long dry spell for Richard Petty's organization, came a month ago.
As for the thank you to Jones for providing the push that helped Elliott win at Talladega, that wasn't exactly a first. Two months earlier, Jones lined up behind Elliott on the outside row for the final restart in Atlanta.
Just like last weekend at Talladega, Jones supplied the push that helped Elliott overtake leader Corey LaJoie. When LaJoie wrecked in a last-ditch bid to recapture the lead, Elliott took the checkered flag under the caution.
To the best of our knowledge, Hendrick neglected to send out a gift basket for that one.
Like Sportscasting on Facebook. Follow us on Twitter @sportscasting19 and subscribe to our YouTube channel.
Got a question or observation about racing? Sportscasting's John Moriello does a mailbag column each Friday. Write to him at [email protected].