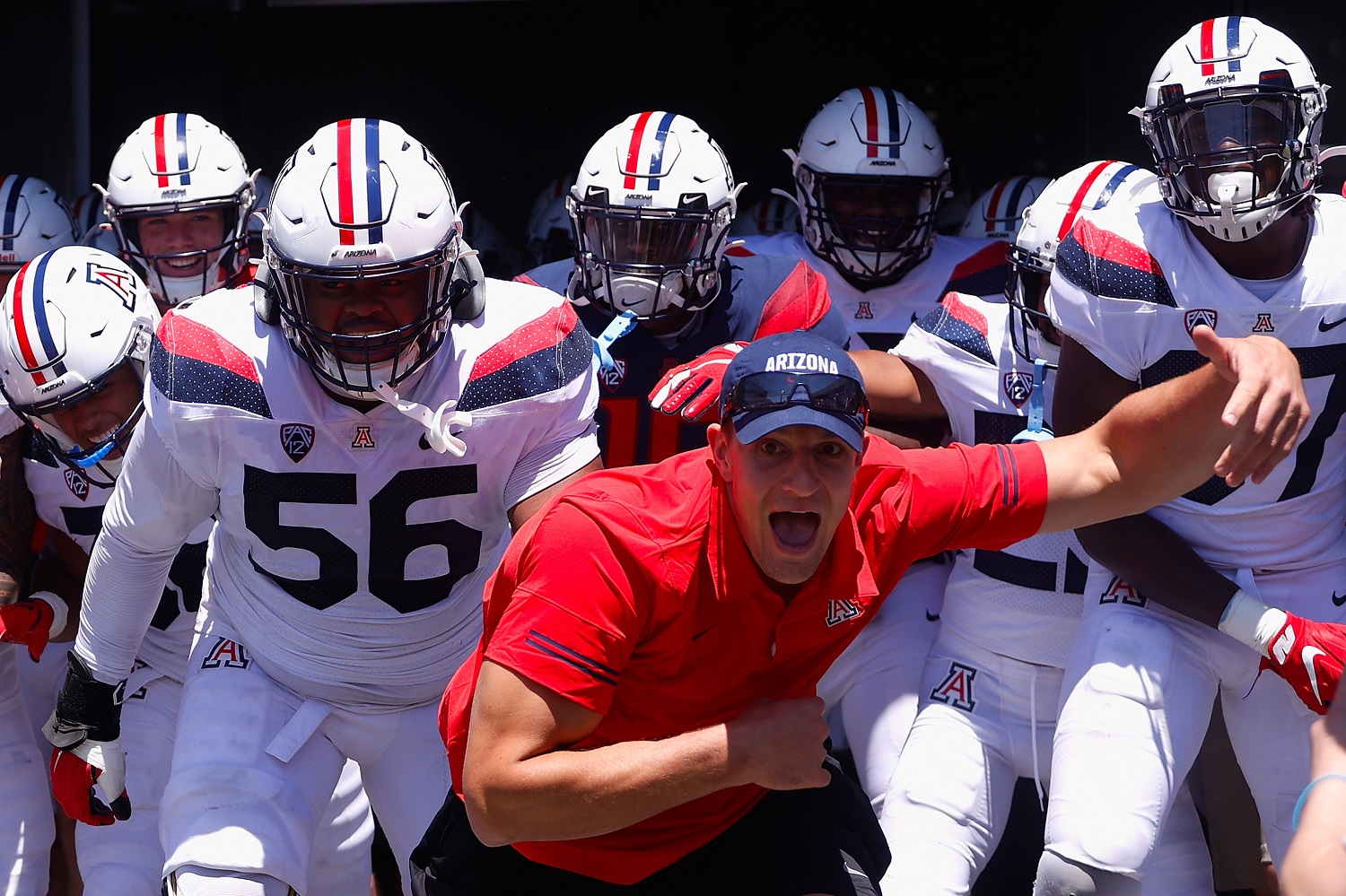 Rob Gronkowski's Last College Catch Broke a Guinness World Record
Tampa Bay Buccaneers tight end Rob Gronkowski returned to the University of Arizona campus for a scrimmage and broke a Guinness World Record while there.
You cannot stop Rob Gronkowski, you can only hope to contain him. Well, that's not actually true. The Tampa Bay Buccaneers tight end's appetite for adventure knows no bounds, so containing him is also out of the question.
Gronkowski's latest adventure is straight out of the please-don't-try-this-at-home playbook and has earned him a Guinness World Record. In other words, it was just another day at the office for the ever-lovable Gronk.
Rob Gronkowski is heading for the Pro Football Hall of Fame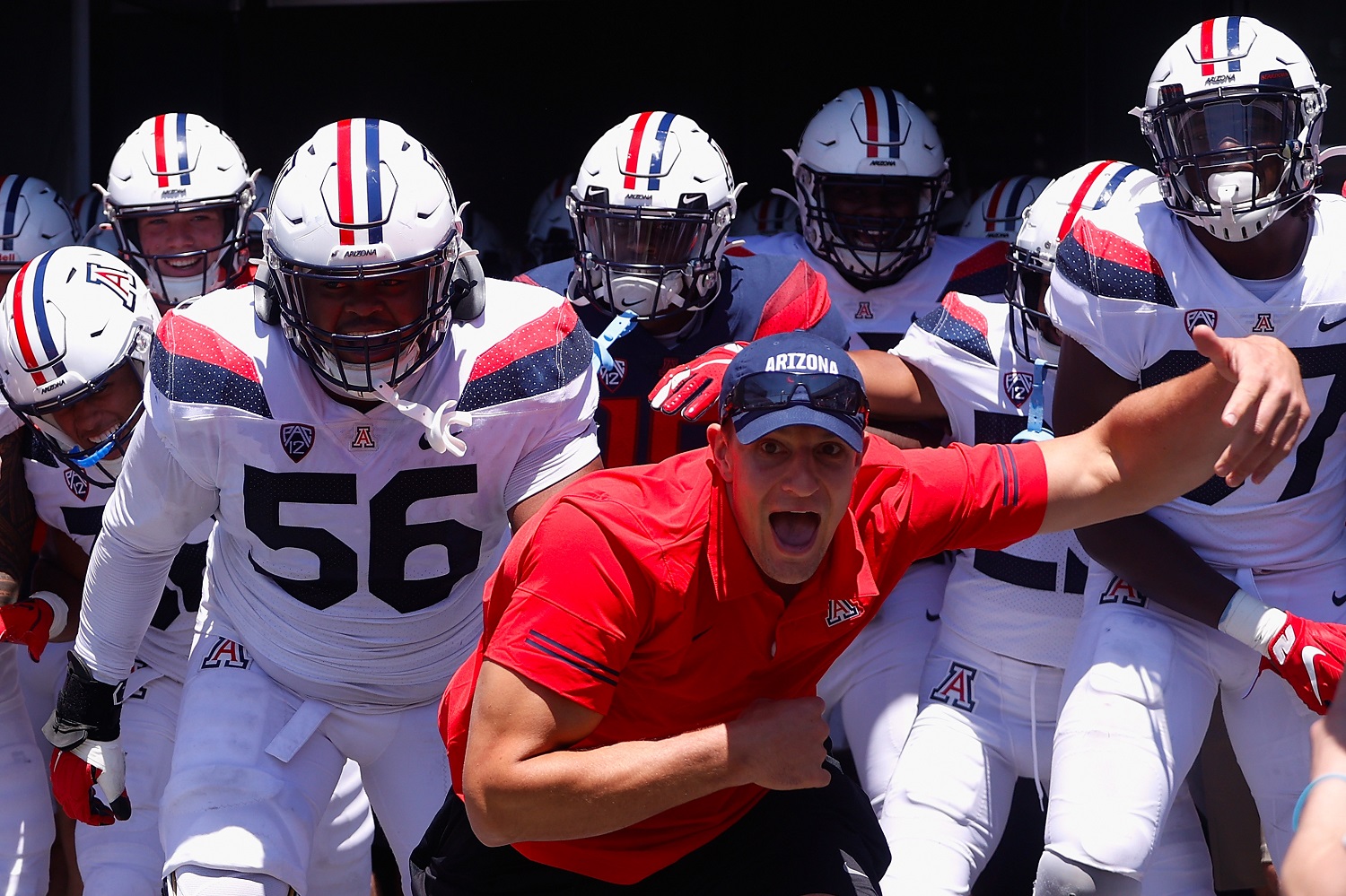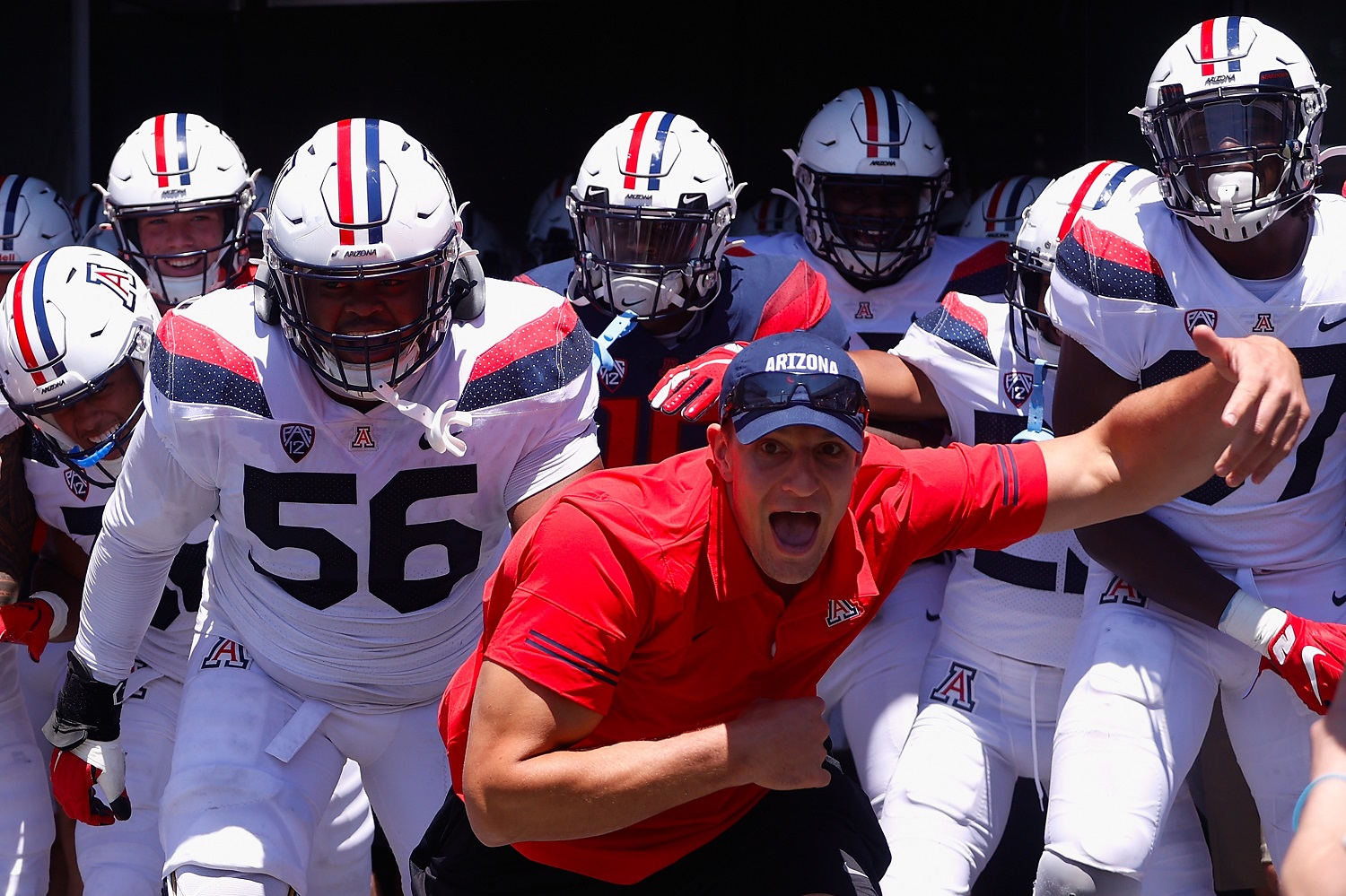 It's fairly certain that Rob Gronkowski will land in the Pro Football Hall of Fame after he retires – permanently this time – from the NFL. Although his best days are behind him, Gronkowski has earned first-team All-Pro status four times in 10 seasons and gone to five Pro Bowls.
Gronkowski has made 871 receptions in 131 regular-season games, hauling in 86 touchdowns as Tom Brady's most reliable target. He has also piled up 144 catches and 14 touchdowns in the postseason, playing for three Super Bowl champions along the way.
Somewhat underrated is the fact that Gronk has gone about his business mostly without controversy other than roughing up Buffalo Bills rookie Tre'Davious White after an interception in a 2017 game. That drew a personal foul and left the cornerback with a concussion, earning Gronkowski a one-game suspension from the league office.
Still, Gronkowski is popular with fans and owns a "larger-than-life personality," according to some. That means he engages in mischief of the harmless variety.
The NFL great went back to school over the weekend
Before joining the New England Patriots as a second-round selection in the 2010 NFL draft, Rob Gronkowski was on his way to becoming one of the all-time greats for the University of Arizona Wildcats.
Gronkowski made an immediate impression as an 18-year-old freshman by catching 28 passes for 525 yards and half a dozen touchdowns, setting a school yardage mark for tight ends. Despite missing the first three games of his sophomore season, Gronkowski finished with 47 catches and 10 TDs in 10 contests to land on the AP All-America third team.
Little did he know, though, that the victory over Brigham Young in the Las Vegas Bowl to conclude the 2008 season would be his farewell appearance for the Wildcats. Gronkowski sat out the 2009 season following back surgery and opted to declare for the ensuing NFL draft.
Rob Gronkowski's last college catch broke a Guinness World Record
Rob Gronkowski returned to the University of Arizona campus last weekend for the first time in more than a decade. He was invited to join former New England Patriots teammate Tedy Bruschi as honorary coaches for the Wildcats' annual spring game on Saturday.
First, though, Gronk had to break the Guinness World Record for the highest altitude catch of an American football. As part of the festivities the night before the scrimmage, the school arranged to fly a helicopter over the stadium and drop footballs to midfield.
Donning shoulder pads and a helmet while also wearing his No. 48 jersey, Gronkowski somehow managed to catch a ball dropped from a height of 600 feet. That bettered the mark of 563 feet by Tyler Toney of Dude Perfect fame in 2017 at Texas Christian University.
After Gronk succeeded on the third attempt, he delivered a trademark spike as Wildcats players rushed to mob him.
Gronk's feat was impressive, even for an elite pro athlete. According to the awesome Splat Calculator, a football dropped from 600 feet reaches the ground in just 6.11 seconds and hits a peak speed of 131 mph. That's more than twice as fast as a hard horizontal throw by an NFL quarterback, and Gronk had to do it while looking straight up and adjusting for a slight wind.
Like Sportscasting on Facebook. Follow us on Twitter @sportscasting19.