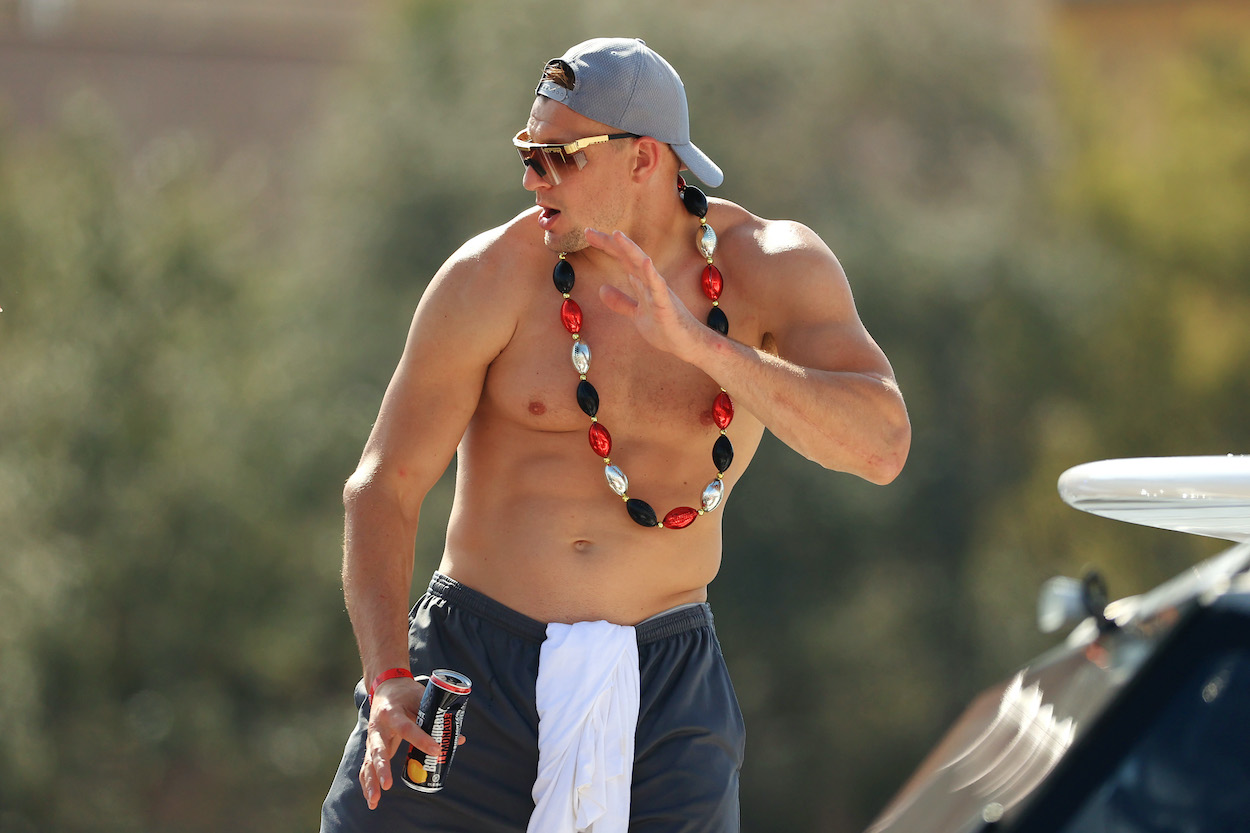 Rob Gronkowski's New Online Hobby Just Added $1.8 Million to His Bank Account in 1 Weekend
Rob Gronkowski has become the first NFL player to dive into NFTs, and he won't be the last after raking in $1.8 million over the weekend.
Forget football. Rob Gronkowski has a promising future in the budding business of NFTs.
Over the weekend, the Tampa Bay Buccaneers tight end banked an incredible $1.8 million worth of the cryptocurrency, Ether (ETH), by selling an exclusive NFT trading card collection on OpenSea. Gronkowski became the first professional athlete in the U.S. to sell his own NFT card collection, and judging by the overwhelming success he saw out of the gate, he won't be the last.
Rob Gronkowski becomes first U.S. pro athlete to launch exclusive NFT trading card collection
The NFT world might be a confusing one to some, but it's shaping up to become the future of sports collectibles. NBA Top Shot ignited the craze last October, and the fast-growing digital asset generated more than $230 million in gross sales over the first five months of its existence.
Now, NFTs are taking over the digital asset game. So, what exactly are they?
An NFT, or non-fungible token, is a unique digital file that exists on a blockchain and can be exchanged for cryptocurrency. Recently, famous Wisconsin artist, Beeple, sold an NFT version of his masterpiece "Everydays: The First 5,000 Days" for an absurd $69.3 million. Yeah, it's no joke.
Over the weekend, Rob Gronkowski made history by becoming the first professional athlete in the U.S. to commission and sell his own series of NFT trading cards. His "Championship Series" NFT collection commemorates the greatest moments from his four Super Bowl victories.
"With the rapid success of NFT's across platforms like NBA Top Shot and OpenSea, I wanted to take the business into my own hands and be the first professional athlete to launch my own NFT collection," Gronkowski said in a statement last week. "Now, fans will be able to get a piece of the action and share these iconic Super Bowl moments with me in this all new digital format with my Championship Series NFT."
Rob Gronkowski's new hobby just added $1.8 million to his bank account
If you think NFTs are just pointless fads in the sports collectibles world, think again. Gronkowski's collection of NFT trading cards sold out in just one weekend and reeled in more than $1.8 million in primary sales on OpenSea, according to Brian Quarmby of Cointelegraph.
The exclusive series included one card for each of Gronkowski's four Super Bowl wins, as well as one unique token called the "GRONK Career Highlight Refractor Card" that features all four images from the other cards and is complete with Gronk's signature. The winning bidder of the exclusive NFT paid more than $430,000 in Ether for the card, a chance to meet Gronkowski, two Buccaneers game tickets for 2021, and VIP tickets to the tight end's next beach party event.
Patrick Mahomes is joining Gronk in the NFT game
Gronkowski may be the first NFL player to dip his foot in the NFT waters, but he won't be the last. In fact, the NFL's biggest star is already following Gronk into the digital asset world.
Patrick Mahomes will be unveiling his six-piece collection of NFTs called "The Museum of Mahomes" on Wednesday, March 17 through MakersPlace.
"I'm looking to break boundaries and make history on and off the field," Mahomes told CNBC. "That's the great thing about being an athlete these days, you have so many outlets and opportunities to expand your brand and make an impact."
If Gronkowski's collection garnered $1.8 million, just imagine what Mahomes' NFT series is going to reel in.