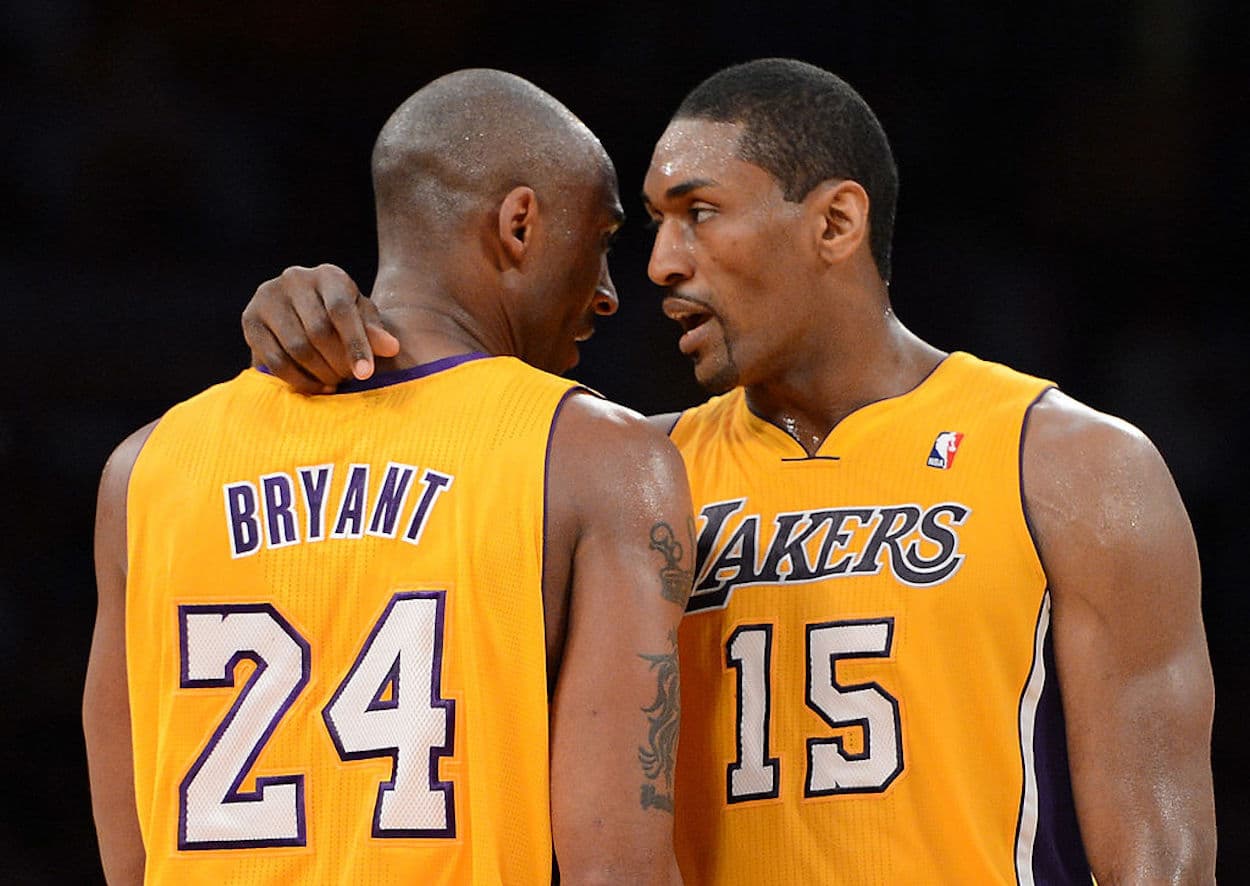 Ron Artest Clears the Air About Meeting Kobe Bryant in the Shower After a Crushing Lakers Loss
Ron Artest recently confirmed that he did meet Kobe Bryant in the shower once, but the conversation didn't go as you might have thought.
In the era of player empowerment, there's nothing unusual about two guys meeting up to discuss teaming up to chase an NBA championship. While Kobe Bryant possessed plenty of talent, stories suggested that he wasn't above receiving a pitch or two. One of those, it seemed, came in unusual circumstances.
As the story went, Ron Artest (as he was then known) watched the Lakers suffer a crushing defeat in the NBA Finals before entering the locker room. He told Phil Jackson that he could help the team win a championship, then found Kobe Bryant in the shower and made the same pitch. Then, after a season with the Houston Rockets, he headed to Hollywood and joined the team.
During a recent appearance on the I Am Athlete podcast, though, the forward clarified his story. While he did find Kobe in the shower that night, there was no recruiting pitch.
Ron Artest tells the story of meeting with a defeated Kobe Bryant in the shower
As mentioned above, there's a story in NBA lore that Ron Artest joined the Lakers after making a pitch to Kobe Bryant in the shower. While that seems to at least partially stem from an old Phil Jackson interview (h/t SB Nation), it seems things got embellished over the years.
"That story got twisted," Artest explained on the I Am Athlete podcast. "I'mma tell you the story.
"They lose by 30, Game 6 against the Celtics in Boston [during the 2008 NBA Finals]. I'm at that game. I'm playing with the Sacramento Kings at the time, but Lamar [Odom] is playing, also. So I'm here to see Lamar and Kobe, one of my favorite players. Right?"
Even though the game ended poorly for Los Angeles, Artest still made his way into the locker room. There, he exchanged some words with Phil Jackson and, eventually, Bryant.
"I say what's up to Lamar," the forward continued. "I see P.J. 'Hey, good job, P.J. Where Kobe at?' … We talked for a little bit, and then I see Brian Shaw, you know? Because I asked Phil, 'Where Kobe at?' and Phil was like, 'Somewhere back there.' I see Brian Shaw, and I'm like, 'Yo, where Kobe at? I want to say good game, I'm about to be out.' You know? He's like, 'He right there. He's in the shower."
While that might deter most people, Artest was there to speak with Kobe, no matter where he was.
"He was taking a shower, he's pissed," the then-Sacramento King recalled. "Only one in the shower. He's like this. Shower this way [in his face], and I'm over here [behind him.] His head is down like, you know what I mean? Just lost by 30, you know what I mean? So I tapped him on the shoulder. He just turned around with the ice grill, right? Like this. He was shocked, like, 'What?' … I said, 'Yo man, I just wanted to tell you good game, man. I'm proud of you, man.' And I just left."
While it would have been quite the story if Artest entered the locker room and told a naked, angry Kobe Bryant that he was ready to join the Lakers and get them over the hump, that's apparently not what happened. With that being said, though, imagining the forward, wearing his Kings jersey and nice shoes, entering the locker room to say two sentences to Kobe before hitting the club is arguably even more bizarre.
Like Sportscasting on Facebook. Follow us on Twitter @sportscasting19 and subscribe to our YouTube channel.