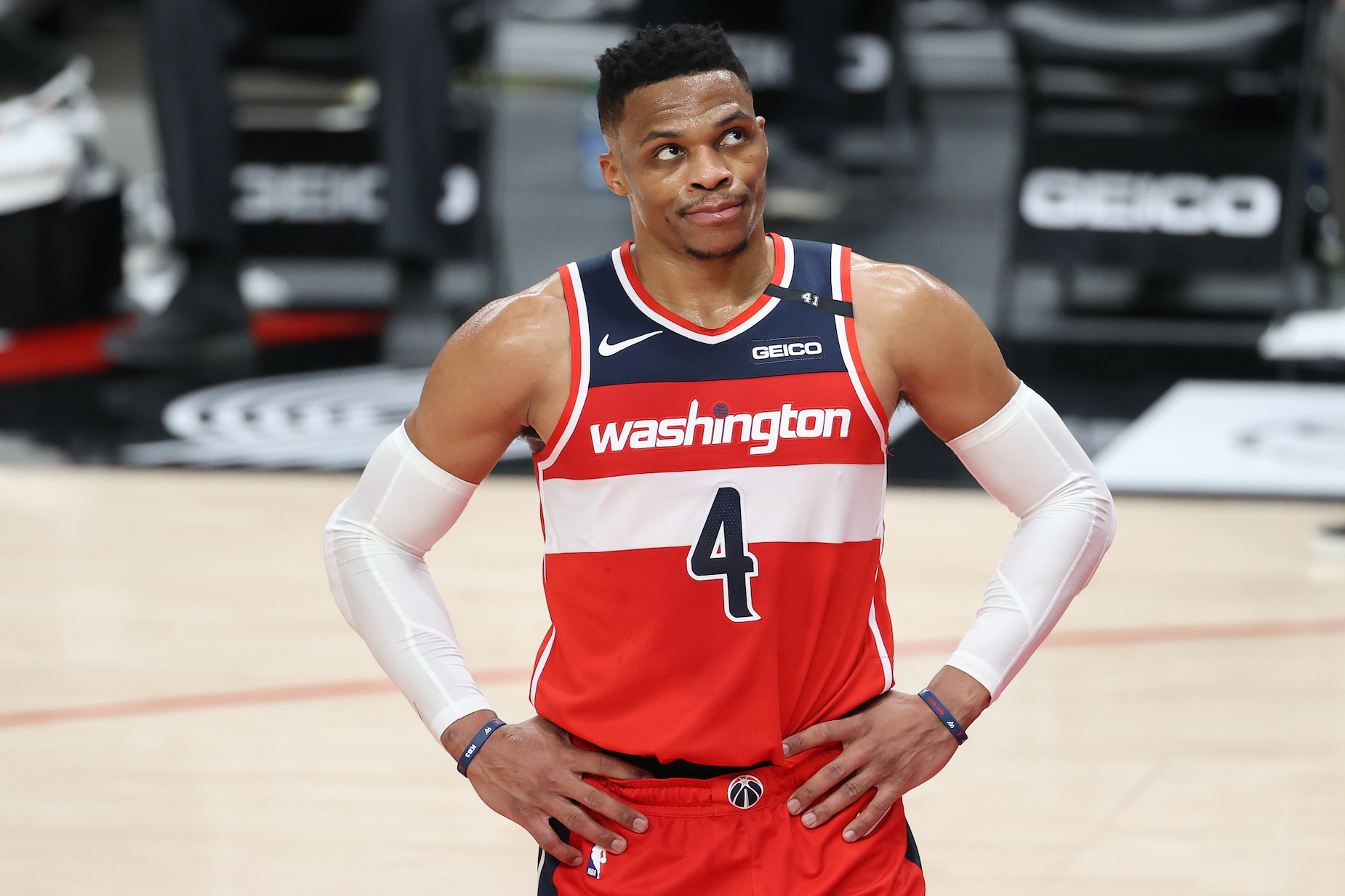 Russell Westbrook Is Worth $170 Million but Blew Off an Opportunity to Score a $750 Michael Jordan Autograph as a Child
While Russell Westbrook has found fame and fortune as an NBA star, he once passed up the chance to score a $750 Michael Jordan autograph.
In the modern NBA, few players are better pure scorers than Russell Westbrook. Since, at the end of the day, you win basketball games by scoring more points than the opposition, the Washington Wizards guard has taken home plenty of cash during his career. As a boy, however, he passed up the chance to score a collectible worth a cool $750.
When he was about 10 or 11 years old, Russell Westbrook attended a basketball camp and had a chance to meet Michael Jordan. When it came time to take a picture with His Airness, however, the young guard had something else on his mind.
Russell Westbrook is an undeniable NBA talent
If you ask some old-school basketball fans, the modern NBA has become all about individual players trying to strut their stuff on offense. Even if you believe that to be true, though, it shouldn't devalue Russell Westbrook's talent.
Although Westbrook didn't arrive in high school looking like a future NBA star, he pushed himself to the next level after a close friend tragically died during a pickup game. After that, the young guard buckled down, improved his game, and earned a scholarship to UCLA.
The guard spent two seasons with the Bruins—he began on the bench but seized a starting role with both hands as a sophomore—before entering into the 2008 NBA draft. Westbrook joined the Seattle SuperSonics as the fourth-overall pick and then moved south to Oklahoma City with the rebranded Thunder.
While he's changed teams a few times, moving from the Thunder to the Rockets before joining the Washington Wizards in December 2020, Westbrook has proven to be an incredible offensive talent. In addition to claiming two scoring titles and an NBA MVP crown, the guard is averaging 23.2 points, 7.2 rebounds, and 8.4 assists per game for his career.
Even if you believe that defense wins championships, it's tough to argue with those numbers.
Russell Westbrook passed up a Michael Jordan autograph because he was too busy playing basketball
These days, Russell Westbrook's net worth means he could buy virtually any piece of memorabilia his heart could desire. As a boy, however, he passed up on a chance to meet Michael Jordan and score an autograph from His Airness.
As Westbrook explained during an interview with Jimmy Fallon, he attended a Michael Jordan basketball camp as a boy. While each camper would get a chance to meet MJ, Russell had something else on his mind.
"When my team was up to get a basketball signed, my parents gave me a basketball to get signed," Westbrook recalled. "I don't know why, what I was thinking, but when it was my team's, my time to go, I was in the middle of a game. I was already playing, I was playing pickup… with other kids."
Despite his coach's urging, Westbrook wouldn't leave his game behind. When the day was over, he headed back home with neither an autographed basketball nor a picture. "At the time, it ain't click to me," the guard explained.
According to PSA Grading and Authentication Services, a Michael Jordan autograph on a basketball is worth about $750.
The guard has built up a net worth of approximately $170 million
These days, however, Russell Westbrook probably doesn't miss that $750 basketball. If anything, the guard has enough money to purchase Michael Jordan memorabilia to his heart content.
Based on Spotrac's contract records, Westbook will have earned a bit more than $244 million by the end of the 2020-21 campaign. Of that salary, $166 million was paid out by the Oklahoma City Thunder; the Houston Rockets coughed up $38 million, and the Washington Wizards are picking up the tab from here on out.
As you'd expect from those sizable sums, Russell Westbrook's net worth is also pretty impressive. The guard is estimated to have a $170 million fortune, which should only continue to grow as his NBA career continues.
If nothing else, he can afford to buy a Michael Jordan autographed basketball and make up for his childhood mistake.
Stats courtesy of Basketball-Reference