Russell Wilson May Soon Receive a Much-Needed Gift From the Seahawks
Russell Wilson has led the Seattle Seahawks to the playoffs in eight of his first nine seasons with the team. However, the future Pro Football Hall of Famer only has one Super Bowl ring to show for it. And after raising doubts about his future with the franchise this offseason, Wilson may not have many chances left to bring the Lombardi Trophy back to Seattle.
Luckily for the superstar quarterback, the Seahawks could soon give him a much-needed gift that would eliminate at least one potential problem for the reigning NFC West champions.
But even if general manager John Schneider takes care of a critical piece of business on Wilson's behalf, Pete Carroll's team could still be in trouble.
Russell Wilson is running out of time to bring the Lombardi Trophy back to Seattle
The Seahawks haven't come close to capturing a second Super Bowl title with Wilson as their starting quarterback in recent years. Part of that has to do with the decline of a defense that once ranked as the best in the NFL. Of course, it's also fair to point out Seattle's continued struggles along the offensive line as a reason for the team's persistent postseason shortcomings.
In fact, Wilson raised eyebrows in April by expressing his frustration over a lack of protection.
To make matters worse, the eight-time Pro Bowler gave Seahawks fans a scare by having his agent release a list of teams he'd be willing to play for. With Wilson only under contract through 2023, the possibility of him finishing his career outside of Seattle seems more realistic than ever before.
Naturally, that puts a ton of pressure on his shoulders heading into the 2021 season. While there's no doubt the 32-year-old is one of the best at his position. Wilson's resume would look far more impressive with another Super Bowl title on it.
But if he can't make that happen this year, he may never get another chance to do so in a Seahawks uniform.
Wilson could soon receive a much-needed gift from the Seahawks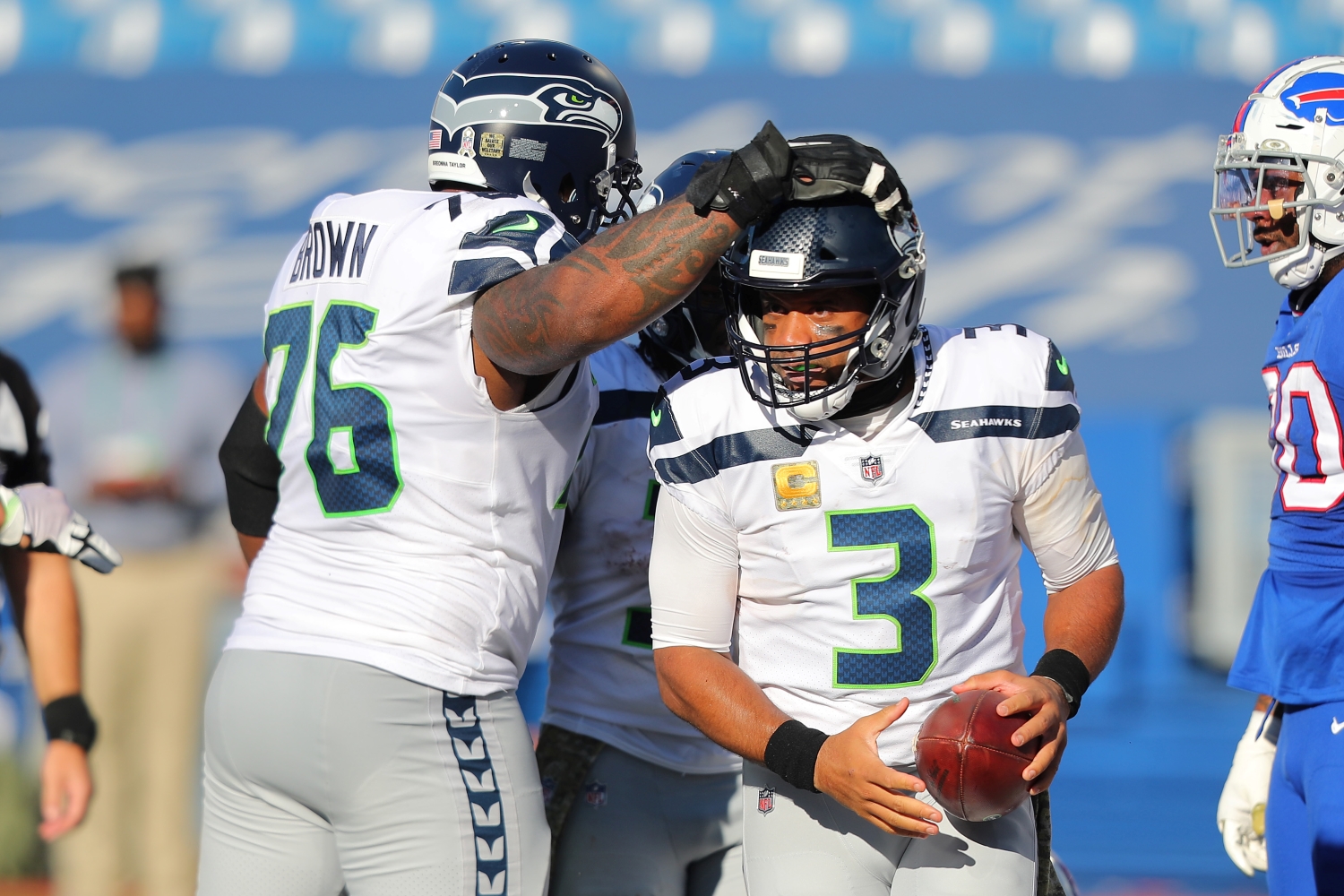 Seattle took care of an important piece of business by signing Jamal Adams to a record-setting contract extension. The talented safety may struggle in coverage, but he certainly gives Seahawks defensive coordinator Ken Norton Jr. a valuable, versatile chess piece to employ against opposing offenses.
Getting a deal done with Adams finally brought an end to a situation that got dragged out for months. However, the front office has yet to reach a resolution with another star who wants to get paid.
Luckily for Wilson, he may soon receive a much-needed gift from the Seahawks that would shore up one of the most important positions on the field.
According to NFL Network reporter Mike Garafolo, there has been "some engagement" by the front office in recent days to attempt to work things out with left tackle Duane Brown. The 35-year-old will become a free agent after the season and wants a new deal. Although his age might be a cause for concern, the longtime Houston Texans standout still played at a high level in 2020 and easily ranks as the Seahawks' best offensive linemen.
Wilson desperately needs Brown to protect his blind side, so Seattle needs to do everything possible to get the four-time Pro Bowler back on board before Week 1 arrives. Giving an aging player more guaranteed money isn't the most sound business strategy, but the Seahawks simply have too much at stake to go into the year with anyone but Brown at left tackle.
The Duane Brown dilemma should serve as a stark reminder about why it's critical to draft and develop offensive linemen
Seahawks' rank in pass block grade during Russell Wilson's career, starting with 2012:

19
30
25
30
32 (!!)
30
18
30
20

If you're scoring at home, that's FIVE seasons with a bottom-3 offensive line.

Russell Wilson absolutely has the right to be frustrated.

— Computer Cowboy (@benbbaldwin) February 9, 2021
The Seahawks have a top-five quarterback, arguably the best wide receiver duo in the league, and a solid stable of running backs. Yet it's impossible to put them ahead of the Green Bay Packers and the Tampa Bay Buccaneers at this juncture.
Why's that the case?
Besides the fact they have a suspect defense, the Seahawks seem destined to have problems along the offensive line. In fact, even if they convince Duane Brown to come back to work, they still look undermanned.
And nobody deserves more blame for Wilson's less-than-stellar protection squad than John Schneider.
For a general manager who built a legendary defense largely through the draft, he has neglected the offensive line for years. Seattle has only spent four top-100 picks on a guard, tackle, or center since Wilson arrived. As a result, the dynamic dual-threat signal-caller has been forced to play behind a unit that's often relied on late-round picks and veteran castoffs.
Needless to say, that's not the ideal way to set your franchise quarterback up for success.
And given their current personnel, don't be surprised if the Seahawks continue to have issues protecting their most important player.
If that happens, though, nobody should be shocked if Russell Wilson trade rumors start heating up once the 2021 season concludes.
All statistics courtesy of Pro Football Reference.