A Forgotten Member of the Patriots' Disappointing 2019 Draft Class is Finally Emerging at the Right Time for Bill Belichick
Think Bill Belichick has a few regrets about how he handled the 2019 NFL Draft?
Even though he had opportunities to set the New England Patriots up for sustained success, he made a few questionable decisions that have backfired, including the oft-criticized N'Keal Harry pick.
Luckily for Belichick, a forgotten member of New England's disappointing 2019 draft class is finally emerging at exactly the right time.
New England's 2019 draft class hasn't come close to living up to expectations
Let's just say Belichick probably wishes he did things differently during the 2019 draft. Armed with the final pick of the first round, he infamously selected Harry over DK Metcalf, A.J. Brown, and Deebo Samuel. Instead of solidifying the receiver position, Belichick opened himself to criticism by ignoring his scouts and placing his faith in a player who always seemed like a poor fit for the Patriots' offense.
Harry's durability issues have limited him to only 45 receptions for 414 yards and four touchdowns in 21 games. And even if he makes a full recovery from his recent shoulder injury, there's little reason to believe he will ever justify his draft pedigree.
While the Harry pick remains arguably the biggest miss on Belichick's resume, the Patriots didn't exactly knock it out of the park with the rest of their selections. Joejuan Williams joined the team as a highly-hyped second-round pick. However, after spending most his first two seasons on the sidelines, the 6-foot-3, 212-pound defensive back faces an uncertain future in Foxborough. Third-rounder Chase Winovich also doesn't have a clear-cut role at this juncture. The outspoken hybrid outside linebacker/defensive end could get traded before the season begins.
Meanwhile, Jarrett Stidham quickly went from being a potential franchise quarterback to falling completely out of the picture. With Mac Jones already threatening to steal Cam Newton's job, it's abundantly clear Stidham won't be the leader of New England's offense in the post-TB12 era.
Luckily for Belichick, third-rounder Damien Harris looks capable of becoming one of the NFL's best all-around running backs. Plus, he found an All-Pro punter in the form of fifth-round pick Jake Bailey. And it seems like another member of an otherwise disappointing draft class is on the verge of becoming a key contributor sooner than later.
Talented offensive tackle Yodny Cajuste is finally emerging at the right time for Bill Belichick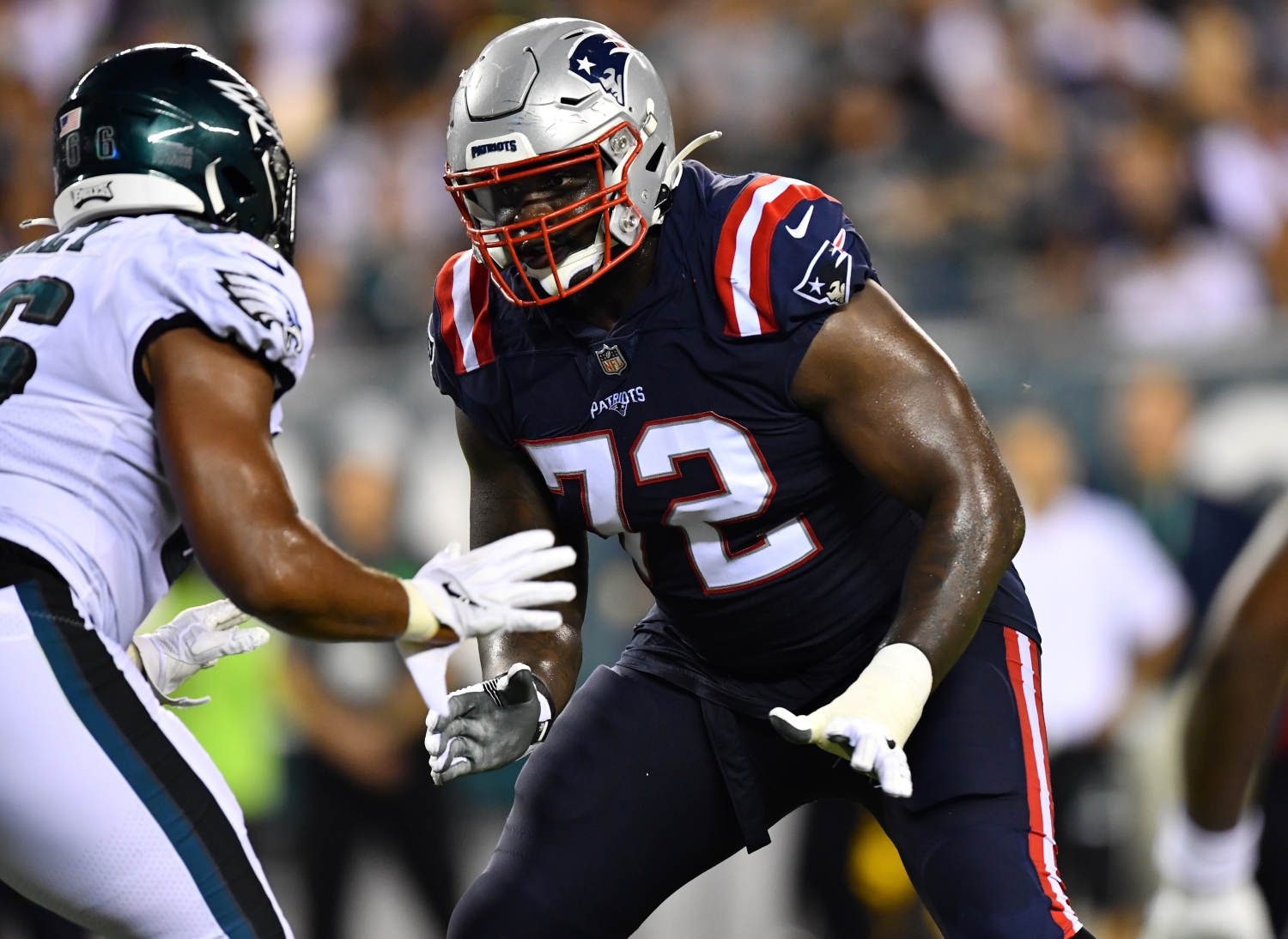 From Matt Light to Sebastian Vollmer to Nate Solder, the Patriots have an impressive track record of finding quality tackles via the draft. After taking Isaiah Wynn with the 23rd overall pick in 2018, Belichick used a 2019 third-round selection on another talented lineman with significant upside: Yodny Cajuste.
Unfortunately for the Patriots, the former West Virginia star hasn't provided any return on their investment. Cajuste missed his entire rookie season after undergoing surgery on his quad. The 6-foot-5, 310-pound tackle did not play a single down in 2020 because of a knee injury.
Despite entering the offseason with little buzz, Cajuste has gone from being a forgotten man to an important piece of the Patriots' offensive line puzzle.
And his timing couldn't be more perfect.
New England should have one of the league's top tackle tandems in 2021. However, both Wynn and Trent Brown come with injury concerns. Plus, the latter will become a free agent after the season. Needless to say, Belichick doesn't have any clear-cut answers about the long-term status of either the left or right tackle positions.
Thankfully for the Patriots, Cajuste is finally healthy and starting to show why he became a third-round pick. The 25-year-old put together a dominant effort in New England's 35-0 preseason victory against the Philadelphia Eagles. His size, power, and movement skills stood out, and he showed the ability to keep pass rushers at bay with sound technique.
Given his strong summer, Cajuste seems like a strong candidate to be the team's No. 3 tackle. And it wouldn't be a surprise if he gets pressed into starting duties at some point based on the durability concerns that come with Wynn and Brown.
But the physically imposing tackle isn't the only young player on the roster who should see an expanded role in 2021.
Cajuste headlines an intriguing list of young Patriots players who could become long-term fixtures in Foxborough
It took longer than expected, but Yodny Cajuste is clearly heading in the right direction. In fact, the Patriots have several recent early-round picks who look poised to play key roles this season.
On offense, Harris headlines a deep running back group that also includes James White, J.J. Taylor, and exciting rookie Rhamondre Stevenson. If the offensive line plays up to expectations, the Patriots should have a top-five rushing attack spearheaded by the 2019 third-rounder out of Alabama.
Speaking of former Crimson Tide stars, Mac Jones could win New England's starting quarterback job. Even if he has to bide his time behind Cam Newton, there's little doubt the pro-ready signal-caller will take over at some point this season.
On the defensive side of the ball, it's hard not get to excited about the dynamic duo of safety Kyle Dugger and linebacker Josh Uche. Both players arrived as second-round picks a year ago and have elite athleticism for their respective positions. Expect Dugger and Uche to see a large uptick in snaps as they establish themselves as long-term building blocks.
Ultimately, Bill Belichick made some brutal mistakes in the draft in recent years, but the Patriots have at least a few young players worth getting excited about.
All statistics courtesy of Pro Football Reference.