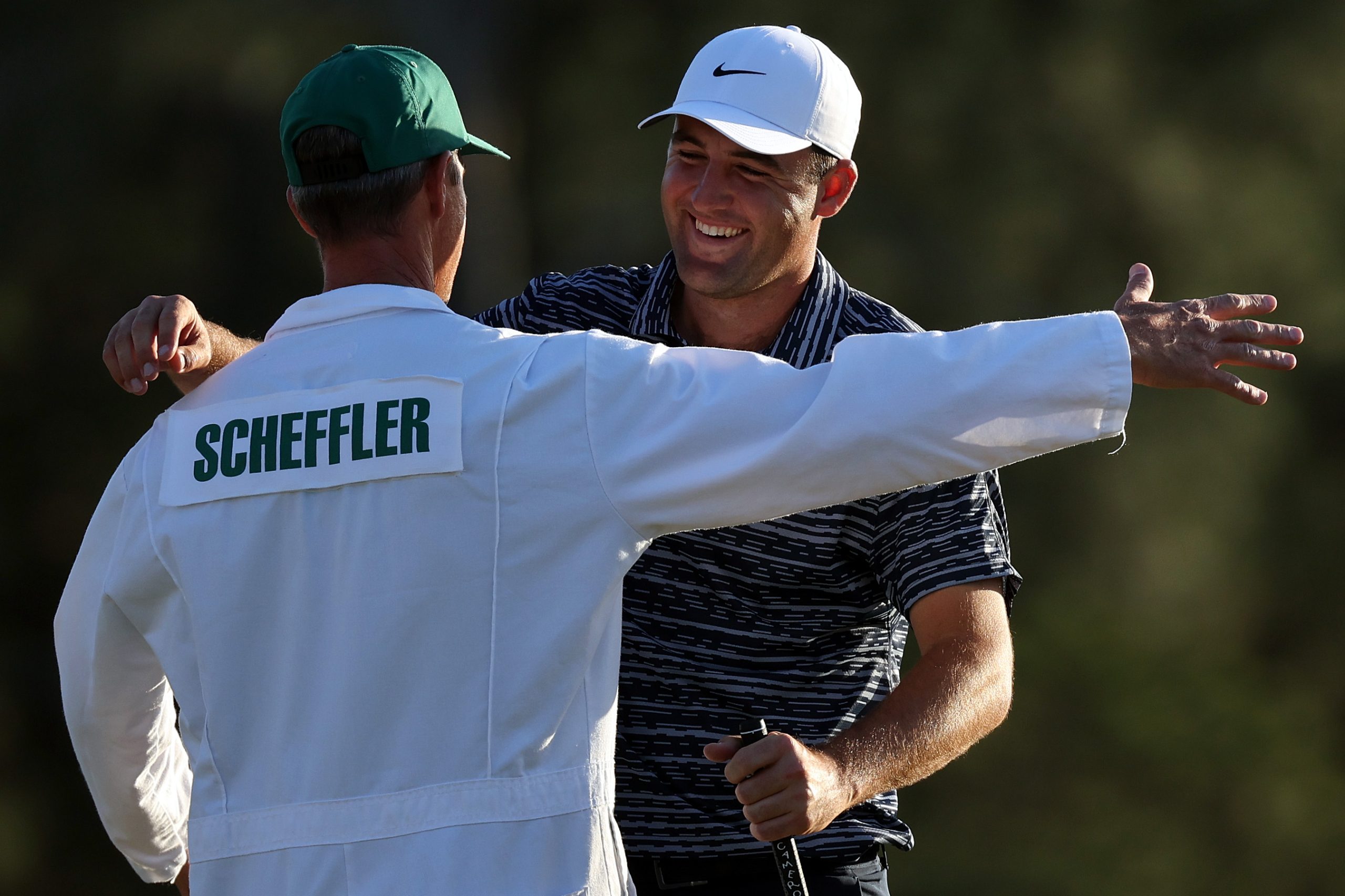 Scottie Scheffler 'Cried Like a Baby' the Morning of His Masters Triumph: 'I Don't Think I'm Ready for This'
Scottie Scheffler was stressed out beyond belief on Sunday morning, but he didn't show it on the golf course.
If you watched Scottie Scheffler plod around Augusta National Golf Club on Sunday and expertly close out the 2022 Masters Tournament for his first career major championship, you never would've thought any doubt ever crept into his mind. The 25-year-old controlled his emotions all day, played smart, mistake-free golf, and didn't crack until the final putt dropped on 18.
But as Scheffler admitted after putting on his new green jacket, he was a nervous wreck the morning of his Sunday tee time. He "cried like a baby" as fear and doubt started to consume him, and if it wasn't for his wife, Meredith, Scheffler might not be a Masters champion today.
Scottie Scheffler "cried like a baby" before the final round of The Masters
Scheffler went to sleep on Saturday night with the green jacket halfway around his shoulders. Cameron Smith trailed him by three strokes, and Sungjae Im was still barely in the hunt at five shots off the lead, but no one else in the field was within six heading into the final round.
The Masters was Scheffler's to lose.
But sleeping with a lead on the PGA Tour is never an easy task, especially in Augusta, Georgia. When Scheffler awoke hours before his final-round tee time, the pressure finally hit him.
"I cried like a baby this morning," he candidly told reporters in his post-tournament press conference. "I was so stressed out. I didn't know what to do. I was sitting there telling [my wife] Meredith, 'I don't think I'm ready for this. I'm not ready, I don't feel like I'm ready for this kind of stuff, and I just felt overwhelmed.'"
Thankfully for Scheffler, he has a wife who knew exactly what to say.
"She told me, 'Who are you to say that you are not ready? Who am I to say that I know what's best for my life?'" Scheffler said. "So what we talked about is that God is in control and that the Lord is leading me, and if today is my time, it's my time. And if I shot 82 today, somehow I was going to use it for His glory.
"Gosh, it was a long morning."
But once Scheffler arrived at the grounds of Augusta National, it was game on.
Fighting through to nerves to win his first major
Scheffler may have gone through a moment of weakness before the most nerve-racking tee time he's ever had, but he shook off the fear and played the round of his life on the biggest stage in golf.
After pulling his first tee shot into the left trees, the Texan grinded out a clutch par that gave him the confidence to start attacking Augusta National. He watched Smith make two birdies out of the gate to cut his lead to one, but he answered in emphatic fashion with a chip-in birdie on the third hole to steal his three-shot cushion back.
Five more pars and another birdie on 7 resulted in a 2-under par 34 on the front-9.
After his first bogey of the day on 10, Scheffler rebounded again with three straight pars and birdies on 14 and 15 to stretch his lead to five. From there, it was a mere formality. Scheffler finished with a final-round 71 to win the 2022 Masters by three strokes. He made four birdies and only one bogey on Sunday if you take out his uncharacteristic four-putt on 18 when the tournament was already won.
If Scheffler had never told the world about his nervous morning, no one would've guessed he ever doubted himself for one second.
A career-defining win for Scheffler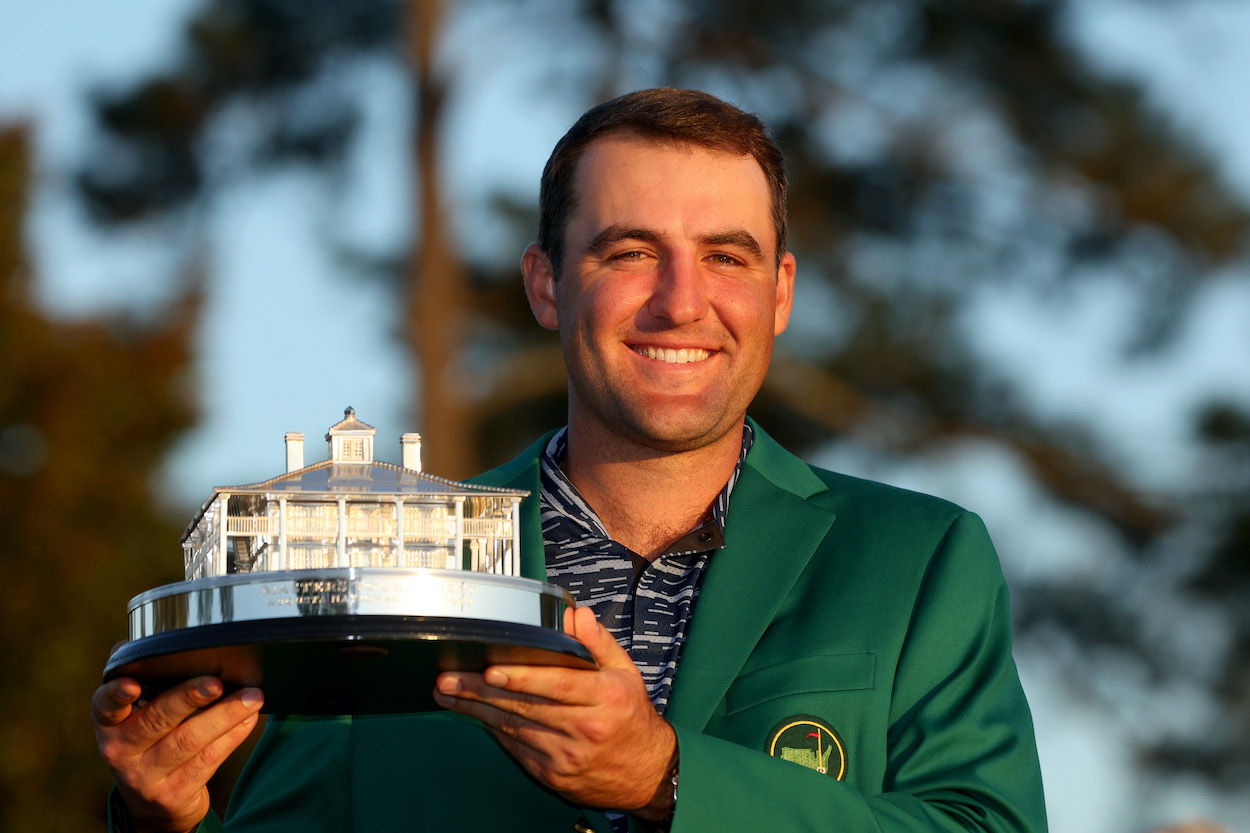 Scheffler had already won three of his previous five starts on the PGA Tour to become the No. 1 player in the world, but all of that pales in comparison to becoming a Masters champion for the first time.
"If you're going to choose a golf tournament to win, this would be the tournament I would want to win," he said. "You don't know how many chances you're going to get. And so having a chance, you know, I think I had a five-shot lead on Friday and then a three-shot lead going into today, I don't know if you get better opportunities than that. You don't want to waste them."
He didn't, and he'll forever be known as a Masters champion because of it.
Like Sportscasting on Facebook. Follow us on Twitter @sportscasting19.