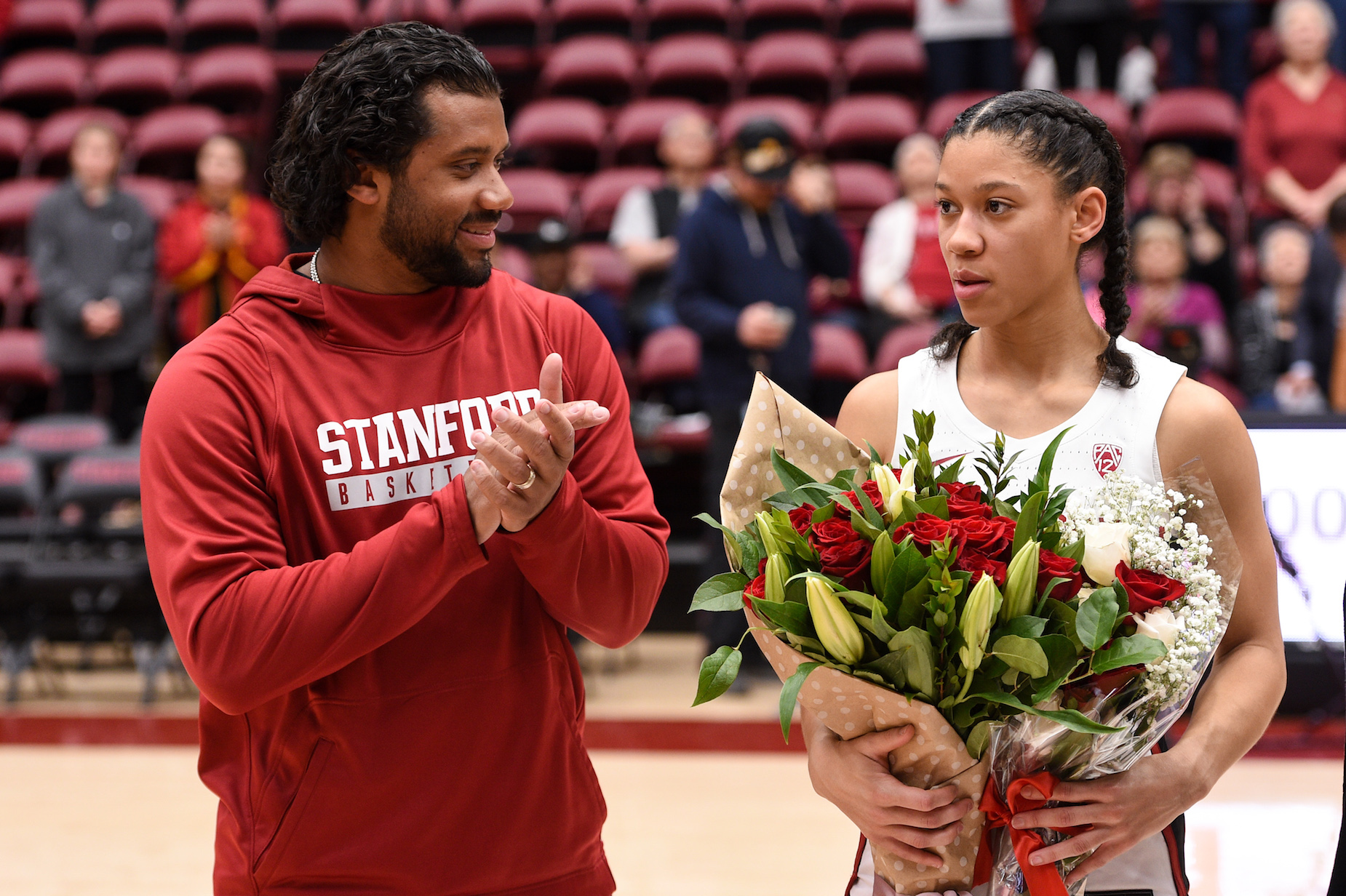 Seatle Seahawks QB Russell Wilson Isn't Even the Best Athlete in His Own Family
While Seattle Seahawks quarterback Russell Wilson is an NFL star, he might not be the best athlete in the entire Wilson family.
Even if he hasn't received a single NFL MVP vote in his entire career, it's safe to say that Russell Wilson is an incredible athlete. During his time in the Pacific Northwest, the Seattle Seahawks quarterback has proven himself to be a legitimate star; he also was quite the talent on the baseball diamond before settling on football. Athletic talent, it seems, runs in the Wilson family.
Believe it or not, Russell Wilson might not even be the best athlete in his own family. That honor may go to his sister, Anna.
Russell Wilson is one of the NFL's brightest stars
When you think about elite quarterbacks, the likes of Tom Brady, Patrick Mahomes, and Aaron Rodgers probably come to mind. Russell Wilson, however, deserves to be placed alongside any of the top signal-callers.
Wilson played both football and baseball in college but ultimately decided to leave the diamond behind. In retrospect, it's safe to say that decision paid off.
After finishing his NCAA career at Wisconsin, Wilson entered the 2012 NFL draft. Despite his resume, however, the quarterback slipped into the third round due to concerns over his size. The Seattle Seahawks ultimately snagged Wilson, bringing him to the Pacific Northwest to compete with Matt Flynn for the starting job.
Wilson, of course, won that quarterback battle, and the rest is history. He's entering his ninth season with the Seahawks and boasts an impeccable resume; the signal-caller has thrown for more than 31,000 yards, completed almost 250 touchdown passes, and lifted the Lombardi Trophy. Even without a single NFL MVP vote, that's still an impressive list of accomplishments.
Russell Wilson's family is full of athletes
If you've ever watched a Seattle Seahawks game, you know that Russell Wilson is an incredible athlete. That talent, it seems, runs in the family.
As explained by Michael Phillips of the Richmond Post-Dispatch, Russell's father, Harrison Wilson III, was a talented athlete in his own right. He played football and baseball at Dartmouth College and even spent an NFL preseason with the San Diego Chargers. A professional career, however, never materialized.
Russell's brother, Harrison IV, also spent some time on the gridiron. "He played at the University of Richmond and works for a medical device manufacturer in Chicago," according to Phillips but still served a valuable role in Russell's development. As a boy, Harry needed to practice catching passes; his younger brother was drafted as their backyard quarterback, setting the stage for his NFL career
Anna Wilson, however, may be the best athlete of the bunch
The best athlete in the family, however, doesn't ply her trade on the gridiron. That honor belongs to Anna, Russell Wilson's basketball-playing sister.
"There is a tinge of awe in everything Anna Wilson's older brother says about her, and frankly it doesn't make any sense," Jake Thomases wrote in a 2013 ESPN story. "He calls her more driven than any athlete he has ever seen, which can't possibly be true, considering whom he has been around. He told Anna's basketball coach she's the best athlete in the family, and it comes across as laughable." The Seattle Seahawks quarterback, however, believes it, and he's not alone.
The same sentiments also appeared in Phillips' story, this time coming from Ben Wilson, Russell's uncle. He "refers to [Anna] as the family's best athlete."
Assuming college basketball resumes this season, Anna will be suiting up for her fifth season with the Stanford Cardinal. While her NCAA career hasn't exactly taken off from a statistical perspective, Russell Wilson thinks pretty highly of her talent.