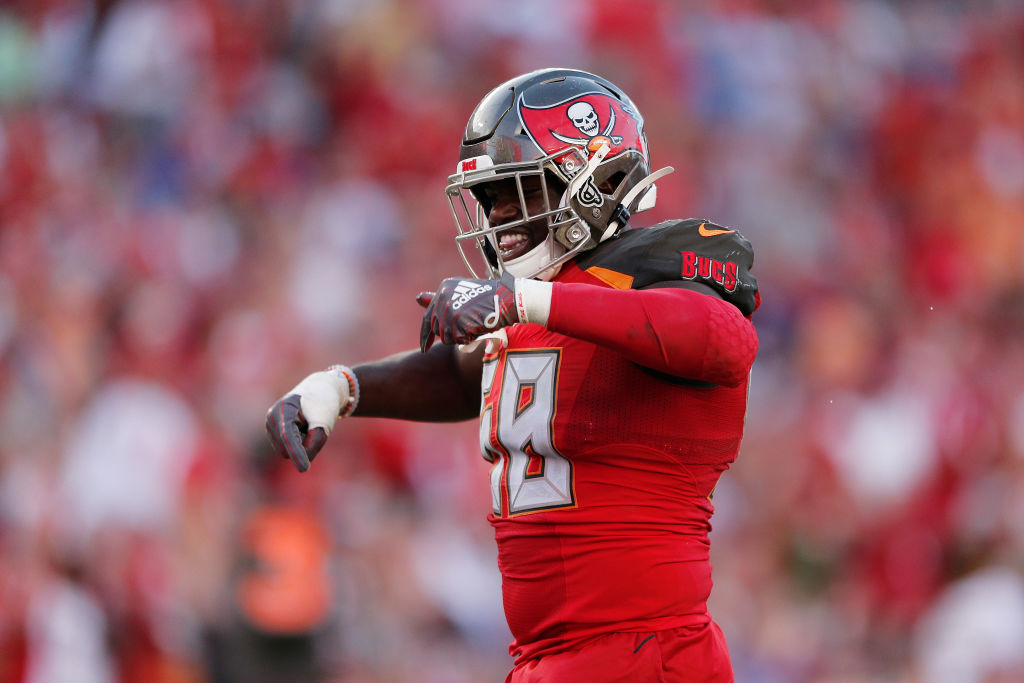 Shaquil Barrett's $4 Million Bet on Himself Will Make Him Rich in Free Agency
Shaquille Barrett played the 2019 season on a $4 million deal. He led the league in sacks and is now poised to break the bank in free agency.
Shaquil Barrett barely registered a blip on the free agency radar in 2019. It's safe to say his experience will be a little different next week.
The NFL's reigning sack leader faced the unknown free-agent waters just a year ago. After flashing pass-rushing chops in a part-time role in Denver, he eventually settled for a one-year, $4 million deal in Tampa.
There will be no settling this time around.
Barrett's breakout campaign puts him in position to land a life-changing contract that should make him one of the league's highest-paid edge rushers. A year ago, that would have been just a dream.
Shaquil Barrett never got a starting opportunity in Denver
Rushing the passer has always been Barrett's calling card. Yet, despite registering 12 sacks as a senior, he went undrafted out of Colorado State in 2014. The Broncos signed the 6-foot-2, 250-pounder as a developmental project behind incumbent starters Von Miller and DeMarcus Ware. The All-Pro duo brought the Broncos a championship in 2015 before Ware retired a year later.
Meanwhile, Broncos GM John Elway spent a number of early draft picks on edge rushers, including 2015 first-rounder Shane Ray, 2017 second-rounder DeMarcus Walker and 2018 first-rounder Bradley Chubb. Ray never built off a strong second season and didn't earn a contract. Walker has just six career sacks, and Chubb missed nearly the entire 2019 season with a partially torn ACL.
Even though he recorded 5.5 sacks in that Super Bowl season in a limited role, Barrett still failed to earn a full-time starting job. By the time he wrapped up his final season in Denver, Barrett had started just 15 games and played an average of 44 percent of the defensive snaps.
Buccaneers scored best bargain of free agency with Shaquil Barrett
Facing a weak free-agent market, Barrett found a taker in the Buccaneers. For the paltry sum of $4 million—at least in NFL standards—Tampa found the answer to its pass-rush problems.
Showcasing tremendous closing speed and burst off the edge, Barrett wasted no time making an immediate impact. He earned Player of the Month honors after leading the NFL with nine sacks in September. Not bad for a guy who got paid less than three kickers last year.
Barrett wasn't just a flash in the pan. His consistent dominance extended into the second half of the season. From November on, the first-time Pro Bowler recorded 9.5 sacks, including three in the season finale against Atlanta. The defensive end duo of Barrett and Jason Pierre-Paul (8.5 sacks) helped the Buccaneers finish with 47 sacks—the team's highest total since 2000.
NFL's sack leader will break the bank in free agency
Whether he stays in Tampa or signs elsewhere, Barrett will have a tremendous market for his services. His $4 million deal from last year will look like a tip compared to the type of money he's expected to draw on the open market.
At just 27 years old, Barrett is just entering the prime of his career. A four- or five-year deal shouldn't scare teams off, as he should be able to play out the contract.
Gauging the market for his services, the breakout star should target more than $18 million per season. The market could be crowded, though, as Jadeveon Clowney, Arik Armstead, Robert Quinn, Yannick Ngakoue and Dante Fowler could all be unrestricted free agents.
Wherever he ends up, Barrett proved himself worthy of a long-term deal. He bet big and he won.
We'll just have to wait till next week to see Barrett's payoff.