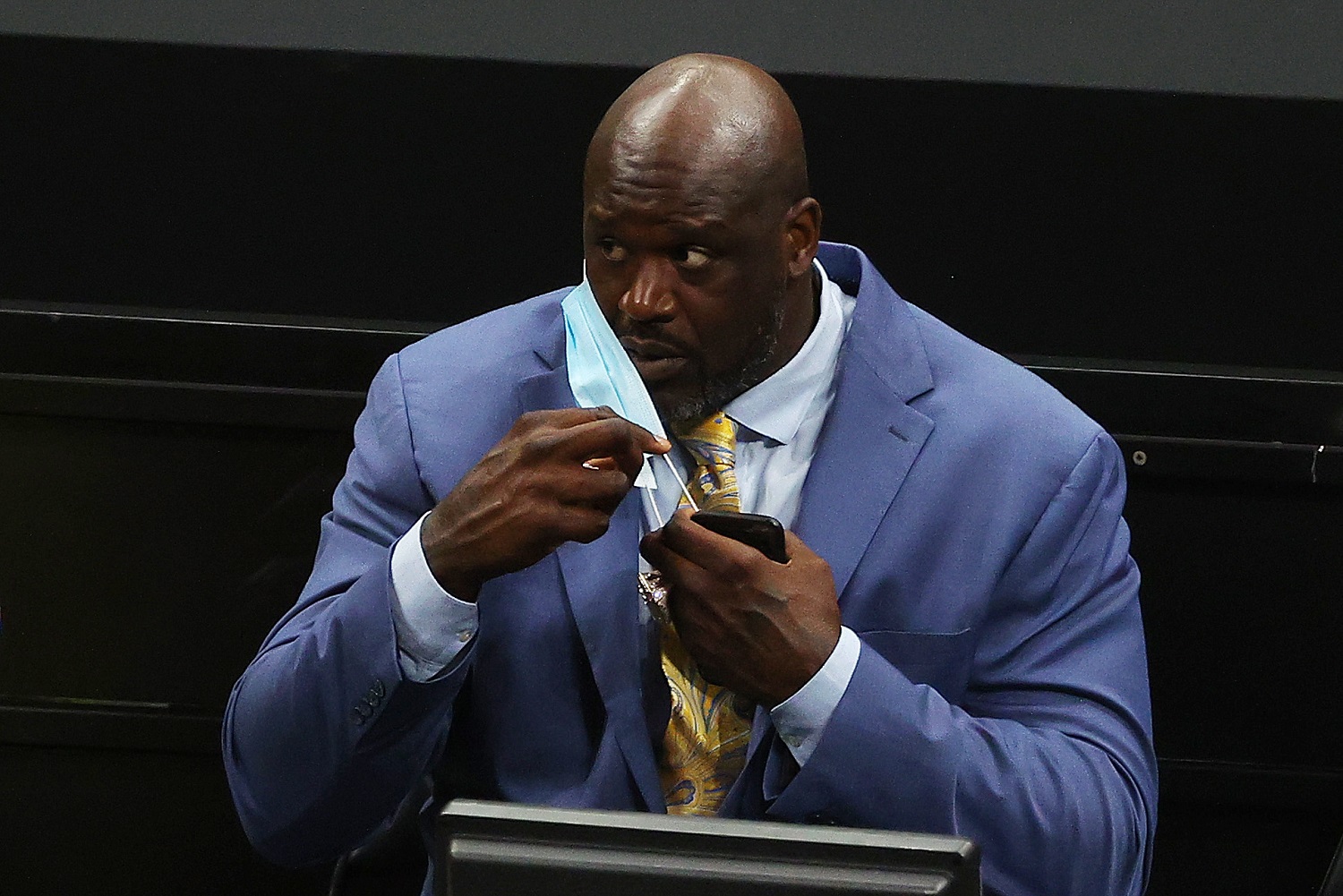 Shaquille O'Neal Faces up to How Quickly He Can Lose His Job: 'Times Are Different'
'Times are different. You can't say things like you used to say,' TNT basketball analyst Shaquille O'Neal says while reflecting upon his broadcasting role.
Shaquille O'Neal is still 7-foot-1 and in the vicinity of his playing weight of 325 pounds, give or take 20. Given that, he is literally the least likely personality in sports broadcasting to be pushed out the door.
That doesn't mean it's impossible, however. Whether it's on or off the air, hosts, play-by-play announcers, and analysts sometimes say things they end up regretting.
For all the sparring he does with fellow NBA analyst Charles Barkley, Shaq has yet to torpedo his broadcasting career. But he knows that he works in an era in which one slip of the tongue can be one too many.
It's not just sports figures who have to worry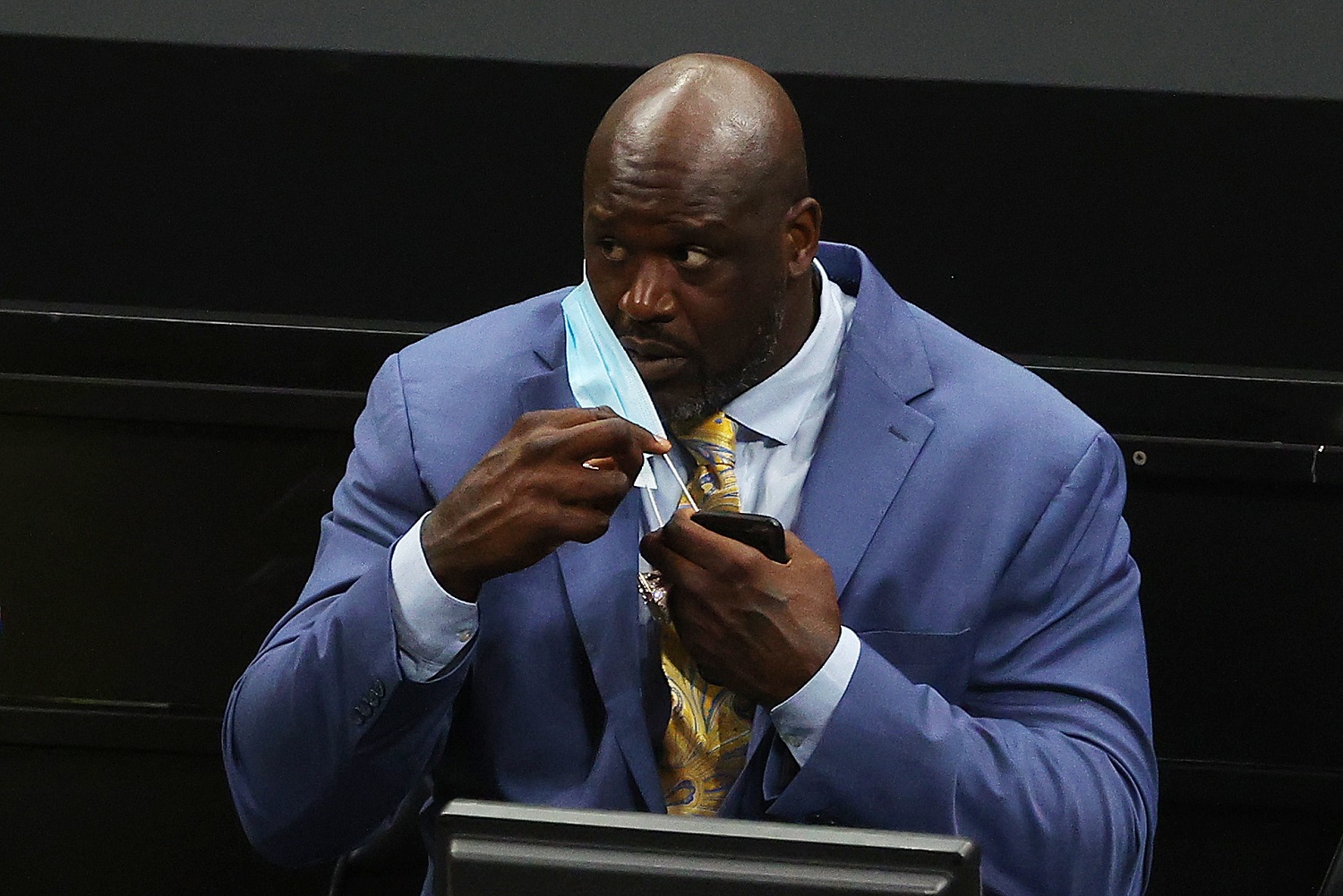 "Cancel culture" has become part of the lexicon. It resurfaced recently when Mike Richards stepped down from a very brief tenure as the new permanent host of Jeopardy! after old comments resurfaced. The news cycle had barely died down when the Wall Street Journal reported on Friday that the show's producers had previously backed away from all-time champion Ken Jennings because of concerns with his social media history.
Also this week, ESPN dropped Rachel Nichols from covering the NBA and canceled her weekday show, The Jump, Sports Business News reported. In July, the New York Times reported on comments that Nichols made nearly a year earlier about fellow NBA analyst and host Maria Taylor in a private phone conversation. The racial aspect of her comments, combined with her criticism of ESPN's diversity practices, finally doomed Nichols long after the network knew what transpired.
Nichols reportedly will not return to the air despite having more than a year left on her contract.
Shaquille O'Neal recognizes the danger
O'Neal made more than $290 million playing basketball. Along the way, he began building an impressive business empire thanks to endorsements and investments, and his net worth is $400 million. His most visible job in his post-playing days career is as an NBA analyst for TNT alongside Barkley, Kenny Smith, and Ernie Johnson.
The shows are unscripted and opinionated, two potential landmines even for lifelong on-air personalities. Shaq balances that understanding against being himself. He can be gregarious and, especially around Barkley, a bit childish. But he knows he sometimes strays into dangerous territory.
"I try to tell people that I'm a real model instead of a role model," he said on the Full Send Podcast. "Everybody makes mistakes. When I make a mistake, I want to learn from my mistake. I probably won't make a purposeful mistake, I may make an accidental mistake, but I just try to be as respectful and righteous as I can.
"Times are different. You can't say things like you used to say. And I'm all about people and respecting people. So, I just try to respect people as much as possible. But it ain't something I worry about because I'm a good guy."
Charles Barkley will eventually be Shaquille O'Neal's undoing
Johnson is the moderator, and Davis is usually the reasoned, thoughtful voice as the TNT studio crew breaks down the action at halftime and after games. If there's arguing, it's most likely between O'Neal and Barkley.
The barbs they threw at each other during the recent NBA Eastern Conference finals (click on the video above) were typical of how a difference of opinion between the two can turn personal. What started as criticism of the Milwaukee Bucks' defense deteriorated into O'Neal telling Barkley he knows nothing about defense.
Barkley responded by saying O'Neal couldn't play defense.
"You were the worst big-man defender in the history of basketball, other than Brook Lopez in Game 1," Barkley told O'Neal.
The debate calmed down from there. However, it's not difficult to envision one of them getting fed up someday and uttering an F-bomb. It might not get them canceled, but Shaq was correct to point out that times are different.
Like Sportscasting on Facebook. Follow us on Twitter @sportscasting19.