Shaquille O'Neal's Feet Are So Big He Once Put His Small Shoes in Hot Water to Make Them Grow: 'Those Were the Last Time I Had a Pair of Jordans'
NBA legend Shaquille O'Neal is a large human. He stands at over 7 feet tall, and he weighed over 300 pounds during his playing days.
But while O'Neal's size helped make him the basketball icon he is today, it also led to the former Los Angeles Lakers star struggling to find the right shoes when he was growing up. In fact, Shaq even tried putting his leather shoes in water at one point, hoping it would help them grow.
Shaquille O'Neal's shoe size is massive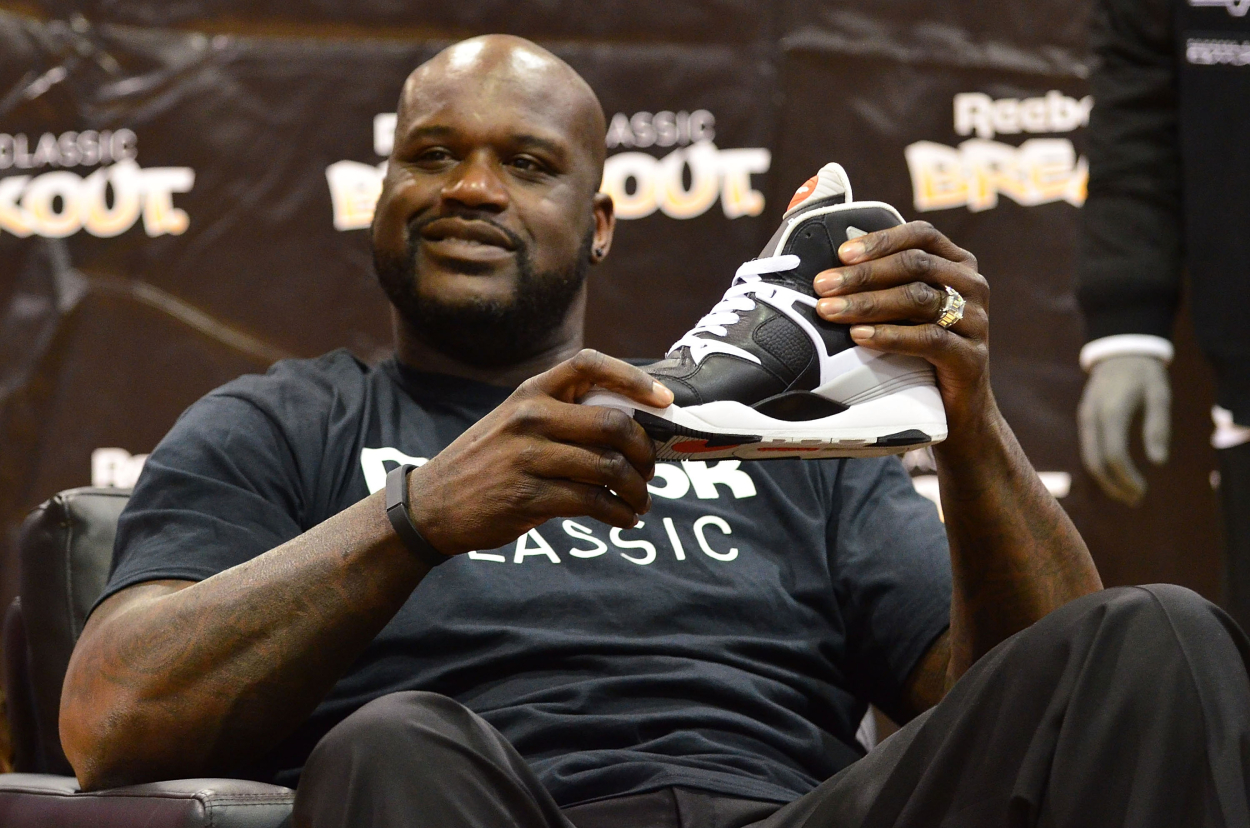 Like his height and muscle-filled frame, Shaq's shoes are huge. The 15-time All-Star wears a size 22.
But while he didn't have to worry about finding sneakers that fit him throughout his NBA career, O'Neal did as a kid. And he later helped a 13-year-old buy size-18 kicks because of it.
"Mom couldn't afford shoes. The kid had big feet," O'Neal said to WGCL-TV in 2019 after buying the kid 10 pairs of shoes, per the Los Angeles Times. "That used to be me, my mom, and my dad."
Since his parents couldn't afford to buy him the coolest sneakers when he was younger, Shaq said he at one point had to "cut grass, walk dogs, [and] babysit" for money so that he could buy some Air Jordans.
However, the cash still couldn't get him what he wanted.
Shaq put his Air Jordans in hot water
Despite having enough money, O'Neal quickly learned that it wouldn't be enough, as there weren't any shoes in his size (he wore 15s at the time).
"I tried them on, and I stretched them, and I was walking to school, and they was just hurting," he said to Complex. "Those were the last time I had a pair of Jordans. … I have corns now because of those shoes."
So, since O'Neal was, obviously, in some pain, he tried a different trick to get his shoes to fit.
"For us, it's an old tradition that if you put hot water in leather, you can stretch them," he added. "My great-grandmother and my grandmother told me that. Sometimes it worked, sometimes it didn't. And my Jordans, it didn't work. I actually played in them, too. I played a whole season in them, and my feet are terrible."
That's definitely a shame and sounds pretty painful. But it all worked out for Shaq in the end.
Shaquille O'Neal later released his own shoes
Once Shaq became a wealthy basketball player, he never had to worry about having enough money for shoes again. He even signed an endorsement deal with Reebok early in his career and released his own signature sneaker.
But the Hall of Famer eventually walked away from the athletic brand when a woman complained about his kicks not being affordable. So, O'Neal then created his own Shaq brand, which Walmart began selling for kids at a much cheaper price.
"I went to my favorite store, Walmart, and we did a deal," he said on the Full Send Podcast, per Yahoo. "I was in all stores and my price point for the shoes was $29-$19 and since then we sold over 400 million pairs."
O'Neal, however, is still currently tied to Reebok, as Authentic Brands Group, a company he owns shares in, bought it earlier this year. But his shoes are still affordable for young kids to this day.
Too bad his sneakers weren't available when he was younger, though, or he wouldn't have had to put his Jordans in water. But at least tall kids today can now rely on the big man.