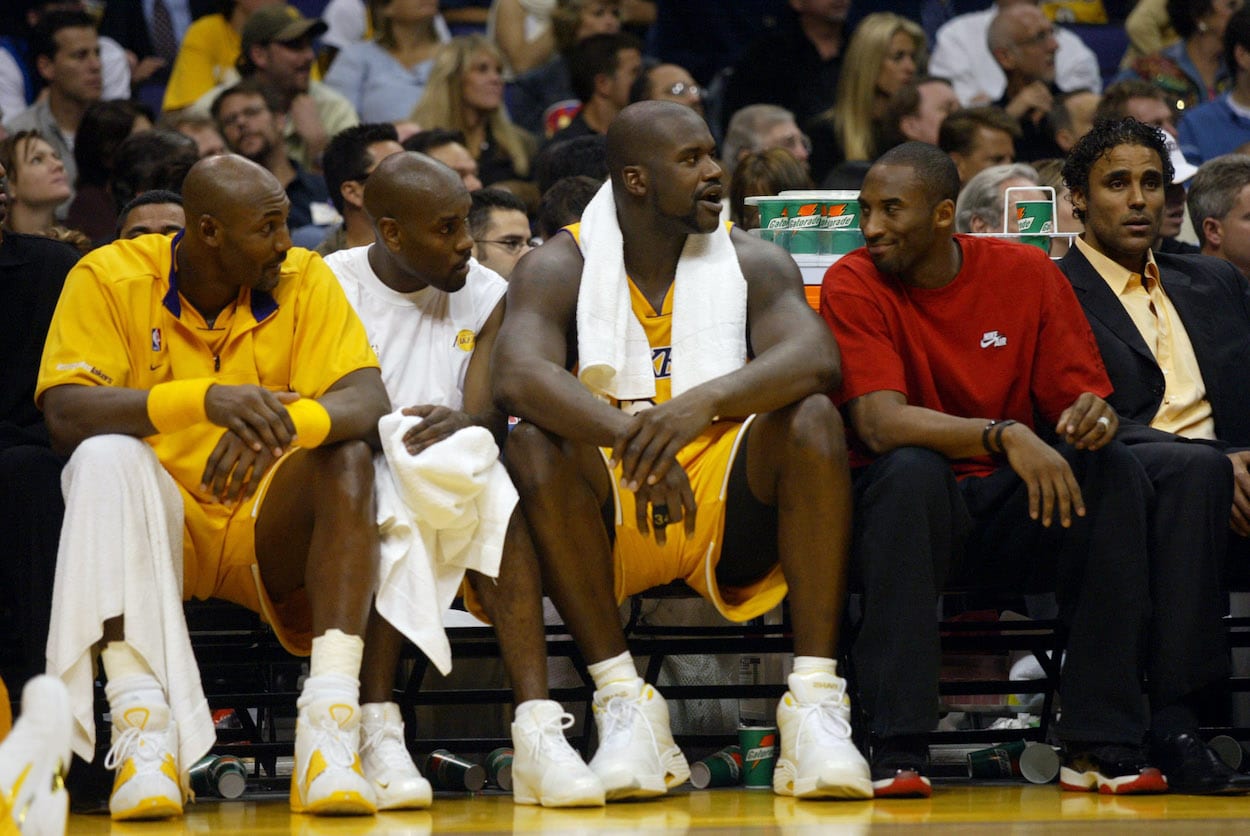 Shaquille O'Neal and Kobe Bryant Almost Came to Blows in 2003, and 3 NBA Legends Had 'To Serve as Potential Muscle, Should It Come to That'
Shaquille O'Neal and Kobe Bryant almost came to blows back in 2003, and three superstar teammates were called on to calm Shaq down.
The Shaquille O'Neal vs. Kobe Bryant feud on the Los Angeles Lakers is well-documented. While the team was winning back-to-back-to-back NBA championships in the early 2000s, the two superstars didn't get along. What you may not know, though, is that one day in the 2004 preseason, things got so bad that Karl Malone, Horace Grant, and Gary Payton had "to serve as potential muscle" in case Shaq and Kobe came to blows.
The pinnacle of the Shaq vs. Kobe feud came in 2003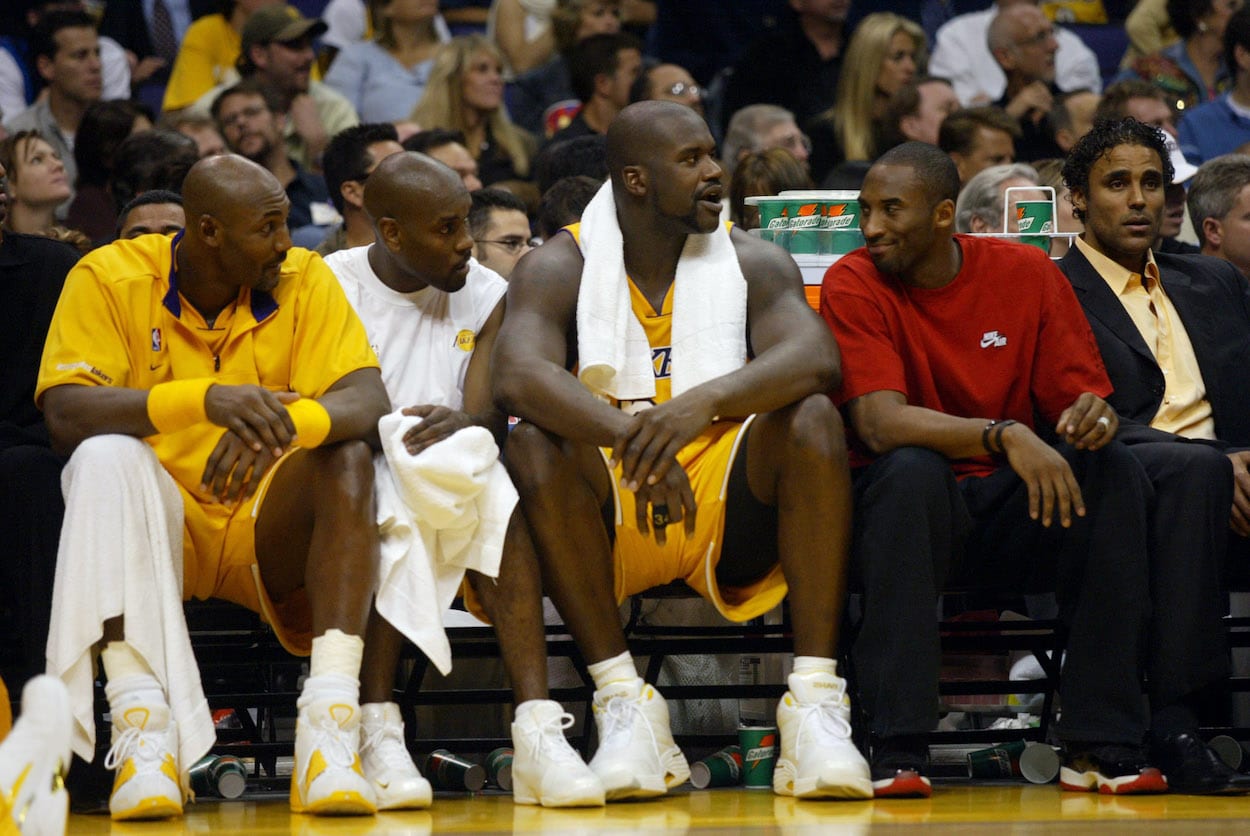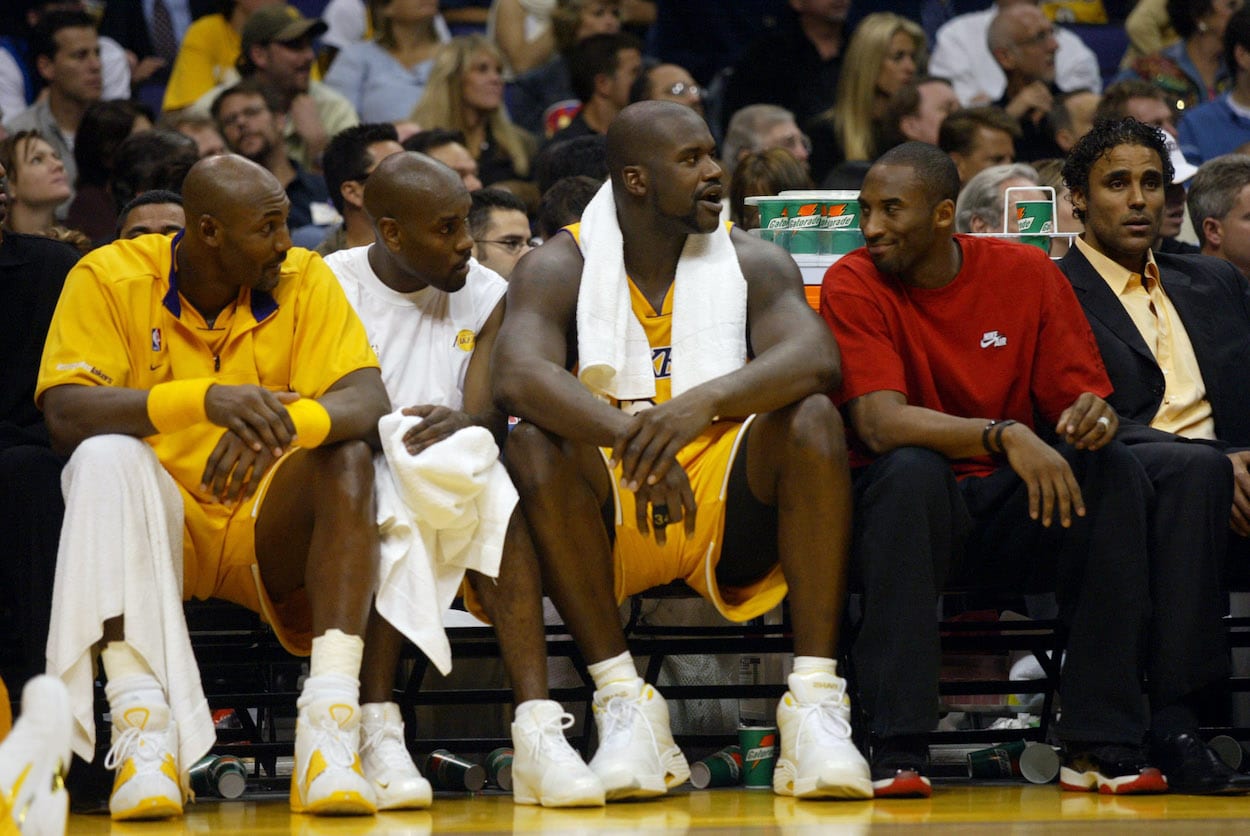 Shaquille O'Neal and Kobe Bryant teamed up in the late 1990s and became the most devastating duo in basketball history. Despite an NBA championship run lasting three seasons, from 1999-2002, the two superstars never truly got along off the court.
In the summer of 1996, the LA Lakers signed 24-year-old Orlando Magic superstar Shaquille O'Neal to a seven-year, $120 million free-agent contract. The franchise also traded incumbent center Vlade Divac to the Charlotte Hornets for the rights to the No. 13 pick in the 1996 NBA draft, Lower Marion (PA) High School's Kobe Bryant.
Shaq was the larger-than-life superstar who loved making commercials, filming movies, and recording rap albums as much as playing basketball.
Kobe was the precocious teenager who seemingly only cared about one thing: Becoming the greatest basketball player of all time.
On the court, they dominated. Off the court, they clashed. Things between the two were never great, but the relationship took a turn for the worse in 2003. That's when Bryant faced sexual assault charges in Eagle, Colorado. And he reportedly dragged O'Neal's name into the case when talking to the police.
By the 2003 offseason, LA was a season removed from its three-peat, and the Kobe/Shaq relationship was broken beyond repair. As longtime NBA insider Jackie MacMullan shared on her Icons Club podcast, Shaq and Kobe spent that summer going to "their favorite writers in the LA press and sniped about each other."
On the eve of the season, Kobe gave an explosive interview criticizing Shaq to Jim Gray, and things got worse from there.
Shaquille O'Neal and Kobe Bryant almost came to blows in 2003, and 3 NBA legends were there to step in
As the 2003-04 season was about to begin, Kobe Bryant sat down with ESPN's Jim Gray. In the interview, the 18-time All-Star absolutely trashed Shaquille O'Neal.
"This is [Shaq's] team, so it's time for him to act like it," Bryant told Gray. "That means no more coming into camp fat and out of shape, when your team is relying on your leadership on and off the court. It also means no more blaming others for our team's failure, or blaming staff members for not overdramatizing your injuries so that you avoid blame for your lack of conditioning."
Kobe also said that he may leave the Lakers as a free agent during the following offseason and, if he did, "a major reason for that will be Shaq's childlike selfishness and jealousy."
That's when the 2003-04 LA Lakers almost imploded.
Jackie MacMullan shares a story on Icons Club from retired player (and at that time Lakers scout) Brian Shaw. One day after that explosive interview, Lakers player Devean George called Shaw. He said Shaw "was urgently needed back in Los Angeles because Shaq told George he was going to kill Kobe."
The Lakers surmised that Shaw, who was close with Shaq, might be able to talk some sense into him. … When [Shaw arrived at the Lakers' practice facility], Shaq was already there, and he was agitated. … Shaw convinced him to wait in the theater where the team watched film. Then he urged Karl Malone, Gary Payton, and Horace Grant to join Shaq there to de-escalate the situation and to serve as potential muscle, should it come to that.

Jackie MacMullan on the Shaquille O'Neal vs. Kobe Bryant feud
Shaw was able to "intercept" Bryant before he walked inside the facility and told him the situation. Bryant sarcastically said to Shaw, "Oh, I'm scared!"
Shaw responded, "I think, in this instance, maybe you should be scared."
Cooler heads ultimately prevailed, and "the two superstars vented at one another about their difference for hours" and came to "a tenuous truce" for the season.
No physical fight occurred, but the Lakers 2000s dynasty was dead.
The LA Lakers couldn't win a fourth NBA title in 2003-04 
The 2003-04 LA Lakers were one of the first title-chasing NBA superteams.
In the 2003 offseason, the team added two title-less legends in Karl Malone and Gary Payton and veteran Horace Grant, who hadn't won a championship since leaving Michael Jordan's Chicago Bulls in 1994.
Despite adding this talent to Shaquille O'Neal and Kobe Bryant (along with a strong cast of role players like Devean George, Rick Fox, and Derek Fisher), the Lakers failed in the end.
The team rolled through the regular season, going 56-26 and finishing third in the Western Conference. The Lakers then beat the Houston Rockets (4-1), San Antonio Spurs (4-2), and Minnesota Timberwolves (4-2) to make the 2004 NBA Finals.
There, the Shaq and Kobe dynasty officially ended when the Detroit Pistons took the series four games to one.  
The next season Phil Jackson was out (but would return a season later), Bryant got a big extension, and the team traded O'Neal to the Miami Heat.
All stats courtesy of Basketball Reference