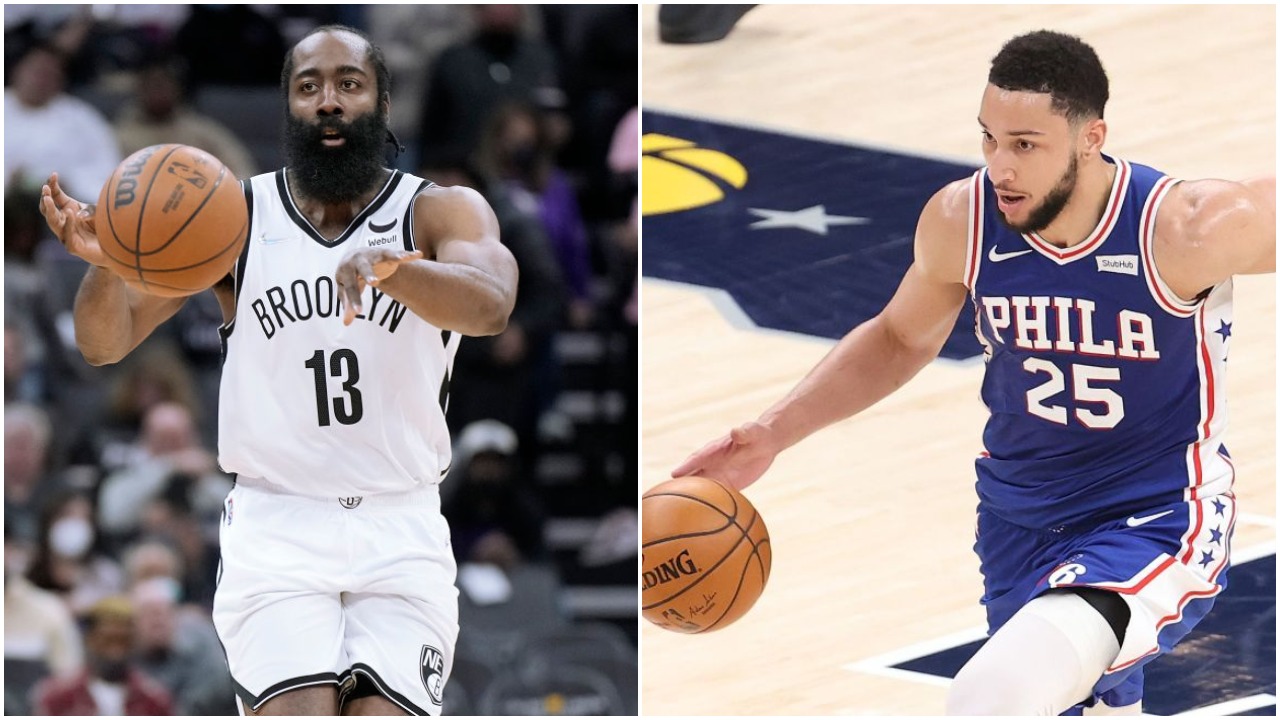 Sportscasting's NBA Trade Deadline Superlatives
With the 2022 NBA Trade Deadline in the books, our basketball writers broke down the best and worst of the Association's big day.
While it might not have the same appeal as a soaring slam dunk or a make-or-break possession, the trade deadline still holds a special place on just about every NBA fan's calendar. On that day, anything is possible. If your team is a contender, the perfect player is suddenly within reach. If you're floundering at the bottom of the standings, the perfect opportunity to kick-start the rebuild is right there. In reality, though, things don't always work out perfectly.
With the 2022 NBA Trade Deadline officially consigned to the history books, our basketball writers came together to provide their best — and worst — moments from the big day. As you'll see, not every moment was worthy of praise.
Biggest steal of the 2022 NBA Trade Deadline: Kristaps Porzingis
Kristaps Porzingis is owed nearly $70 million over the course of the next two seasons. How is that a steal for the Washington Wizards? Actually, it's an immense bargain.
For starters, Porzingis is having a quietly underrated season. He has the highest player efficiency rating (PER) and has really made gains as a post scorer. The three-point percentage is woeful, and the Latvian big man is a poor rebounder for a 7-footer. Still, The Unicorn's upside as an athletic, floor-spacing big makes him an interesting piece in a suddenly monstrous Wizards frontcourt group that includes Daniel Gafford and Thomas Bryant, with Kyle Kuzma and Rui Hachimura on the wings. It's a model that sort of resembles the Cleveland Cavaliers' ultra-big lineups, with Bradley Beal eventually returning as the primary playmaker.
But the most important element for Washington is what they gave up. Spencer Dinwiddie never fit with the Wizards. Washington sheds at least $28 million in future salary by trading him. Additionally, the Wizards finally rid themselves of the $33 million (minimum) remaining on Davis Bertans' hideous contract.
Oh, and Washington also got a second-round pick. That's decent business. — Martin Fenn
Riskiest deal of the 2022 NBA Trade Deadline: Swapping James Harden for Ben Simmons
How could there be a riskier deal than what Philly and Brooklyn cooked up? 
The 76ers (and Daryl Morey) are thrilled to have Harden coming aboard. But there is hardly a guarantee the ball-dominant guard will seamlessly mesh with MVP front-runner Joel Embiid. Not to mention, the three-time scoring champ could be in line for a massive $223 million max extension this summer, which would net him $61.6 million in his age-37 season.
Oh, and the Sixers also traded an elite shooter in Seth Curry, a quality big in Andre Drummond, and two first-round picks. No pressure!
Of course, the Nets are making a massive gamble of their own too. It was arguably a greater risk holding onto Harden in hopes he wouldn't leave in free agency. But Brooklyn now has to navigate around the mercurial Ben Simmons. Aside from how he will fit with his new club, the three-time All-Star more-or-less ran away from criticism in Philadelphia. Spoiler alert: The media in NYC isn't going to be a spring meadow.
Plus, with Simmons joining Kyrie Irving in Brooklyn's backcourt, the Nets now possess both of the 2021-22 season's biggest headaches. Good luck, Kevin Durant.
There were a couple of other risky deals this week, namely CJ McCollum to the Pelicans and Kristaps Porzinigis to the Wizards. But the Harden-Simmons blockbuster between division rivals is easily one of the riskiest trades the league has seen in quite some time. — Tim van Straten
Biggest Mistake of the 2022 NBA Trade Deadline: Sacramento trading Tyrese Haliburton for Domantas Sabonis
The Sacramento Kings finally got a draft pick right when they stole Tyrese Haliburton from the 2020 class. The Iowa State product immediately injected some rare optimism into a franchise that has been lacking any semblance of promise for nearly two decades.
So, in typical Kings fashion, they traded him away not even two years later.
The haul? Domantas Sabonis, Justin Holiday, Jeremy Lamb, and a 2023 second-round pick. It's not an atrociously lopsided trade on the surface. Sabonis is an All-Star-caliber player, and at 25 years old, he'll be a solid centerpiece for years to come.
But letting go of an up-and-coming star for a win-now player when you might not even sniff the postseason this year is… puzzling. The Kings better hope Haliburton doesn't turn into the superstar he's capable of becoming, but knowing their luck, he'll be an All-NBA player in no time. — Jack Dougherty
GM who sat out the 2022 NBA Trade Deadline and shouldn't have: Rob Pelinka
It's understandable why Lakers general manager Rob Pelinka didn't make a move before the trade deadline. But the reason for it lands directly on Pelinka and his co-GM, LeBron James.
No one wanted the flotsam LA tried to pass off as trade capital. Russell Westbrook is a max player who is providing veteran's minimum production (maybe not entirely fair, but he's been really, really bad). Outside the mythical Laker Nation, few believe Talen Horton-Tucker to be anything other than a serviceable young rotation player.
LA is 26-30, ninth in the Western Conference. It is four games ahead of Portland in the three-legged race for the last three spots in the play-in tournament. That would be the Portland team that beat the Lakers on Feb. 9 with a rotation that may have included random people off the street.

James wanted to assemble the NBA's version of the Super Friends. It turns out they weren't that super. — Phil Watson
Most Desperate Overpay of the 2022 NBA Trade Deadline: The Philadelphia 76ers reaching for James Harden
This one is painfully obvious, at least for Sixers fans. Daryl Morey stuck to his guns, waited out Ben Simmons, and got exactly what he wanted all along in James Harden. He didn't have to give up Tyrese Maxey or Matisse Thybulle to do it, either. It's not a giant 'L' for Philly, but it's not a clear 'W' either.
In his desperation to land The Beard, Morey may have handed the Nets everything they need to win the Eastern Conference. Simmons is a better fit alongside Kevin Durant and Kyrie Irving and will do everything Harden couldn't (or wouldn't) as a third star. 
Andre Drummond fills a significant need on the cheap, and Seth Curry's floor spacing could sneakily be the most important part of the deal come playoff time.
And that's not even counting the two first-round picks Morey had to include as well. With Joel Embiid's injury history and the headlights of Harden's massive contract extension coming straight at him, those could be two picks Morey will sorely need — Andrew Hanlon
Biggest Loser of the 2022 NBA Trade Deadline: LeBron James
I planned on going with someone who got traded to a losing team or a horrible city, but the biggest loser here has to be LeBron James.
LeBron has had a tremendous season, averaging 29.1 points, but the Los Angeles Lakers are essentially wasting his success. Behind the struggling play of Russell Westbrook, LA is only 26-30 on the season. So, they absolutely needed to make a change at the deadline if they were hoping to go on any sort of run this year.
But they didn't. The Lakers didn't make a single move and will likely add a player or two in the buyout market.
That's ridiculous. James isn't getting any younger. He needs to spend however many years he has left competing for championships. The Lakers won't do that this year, though, so he's clearly the biggest loser.  — David Wysong
Biggest Winner of the 2022 NBA Trade Deadline: James Harden
As ugly as the situation was starting to get with the Brooklyn Nets, Harden wound up getting his way like he did with the Houston Rockets. 
The 10-time All-Star wound up where he wanted to be, albeit much sooner than free agency, but he's where he wanted to be all along. He will get the chance to assume the primary ball-handler role he thrived in with the Rockets, and in spots with the Nets. 
Meanwhile, he gets to play alongside arguably the league's best big man in Joel Embiid, who is putting up another MVP-caliber season. His arrival elevates Philadelphia further toward competing for an NBA title. 
Beyond that, the 76ers can now move forward to build the roster around their two stars for the foreseeable future. — Bob Garcia