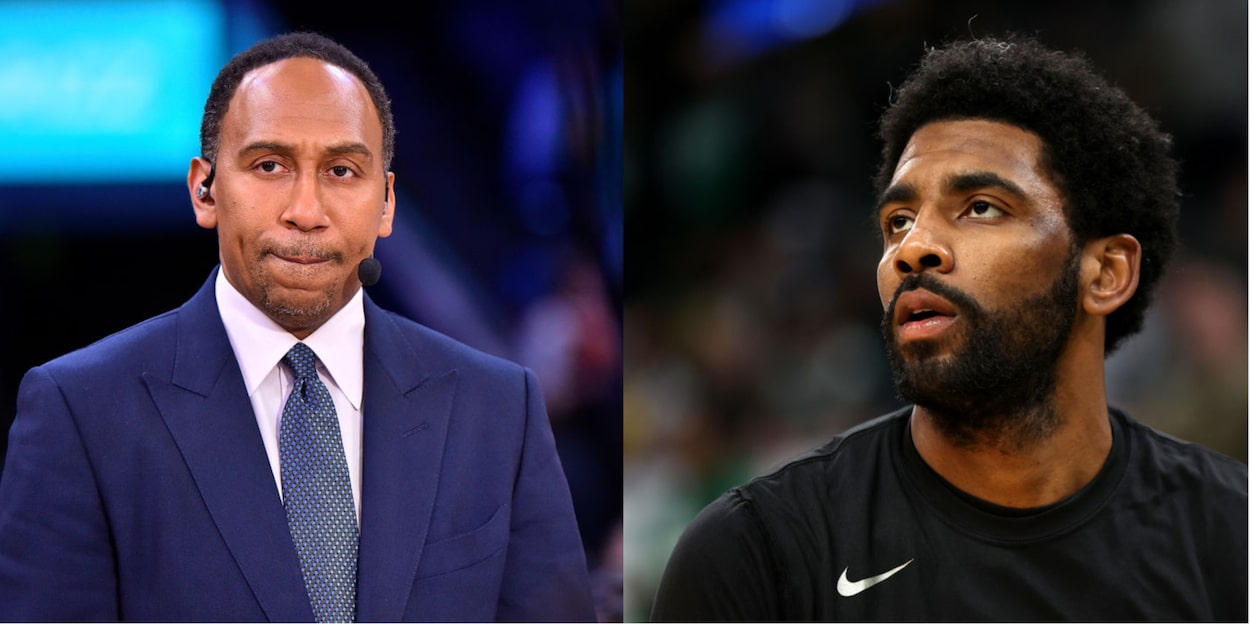 Stephen A. Smith Nails the Problem With Kyrie Irving's Behavior During a Twitter Exchange
Stephen A. Smith can be contraversial, but he's right on the money when it comes to assessing Kyrie Irving and his recent behavior.
When you hear the name Stephen A. Smith, you probably think about all the worst parts of sports media. The ESPN talking head is known for shouting, arguing, and firing off whatever hot take can grab the headlines. So, when he took aim at Kyrie Irving, NBA fans were probably expecting the worst.
While the two men have engaged in a war of words or, more accurately, tweets, this isn't your ordinary social media feud. Stephen A. might not always deserve the benefit of the doubt, but in this case, he's right on the money.
Stephen A. Smith and Kyrie Irving got into it on social media after the guard opted to stay in Brooklyn
Although it briefly looked like Kyrie Irving was ready to leave New York, the guard has picked up his option and joined the Brooklyn Nets for another year. As you might expect, Stephen A. Smith couldn't take that lying down.
On June 28, Smith posted a video on social media addressing Irving's decision. Without transcribing the entire clip, he suggested that the guard was going to have to buckle down and "show up to work" in order to have any success, whether that's in Brooklyn or elsewhere. He also suggested that, based on Irving's worldview, showing up to work for someone else makes him a "peon."
Kyrie then shot back, tagging the ESPN personality in a tweet. Again, I won't transcribe the entire thing, but it seemed to boil down to calling Stephen A. old and suggesting that he doesn't act his age.
We didn't have to wait long for a response. Smith shot back a screenshot of a note, saying that he wished Irving, among other things, would "stop hiding behind the public support you receive and fess up to the shenanigans you engage in."
At that point, the exchange stopped.
While Smith may be a hot take artist, he does get something about Irving right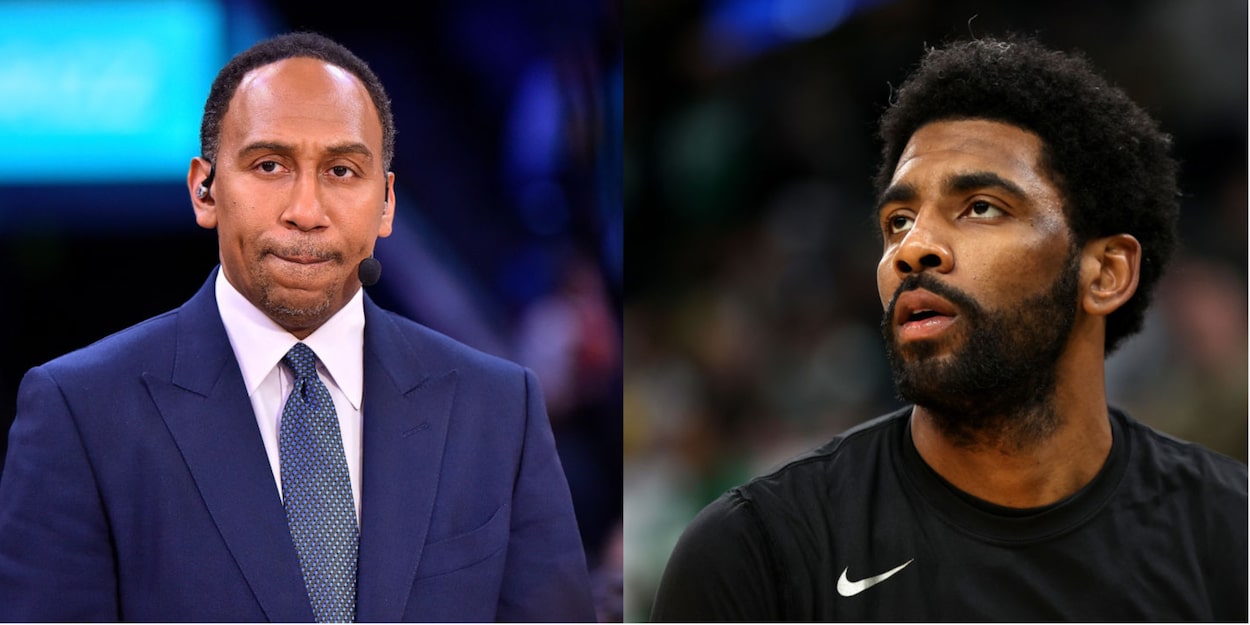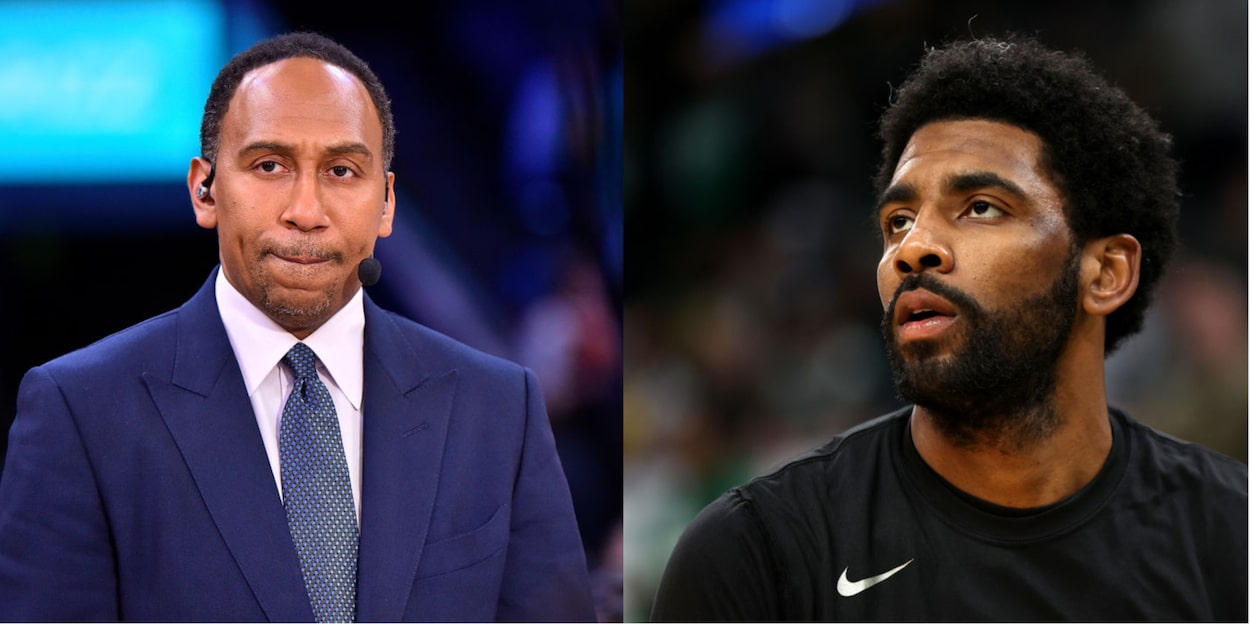 Normally, agreeing with Stephen A. Smith comes with certain risks. In this case, though, the ESPN analyst does make a valid point about Kyrie and his recent history.
While there's plenty of room to pick at Irving's behavior, most of the problems have boiled down to making questionable choices and then refusing to take accountability for whatever potential consequences arise. Although it's a benign example, let's flashback to the guard's infamous interest in the flat earth movement. When pressed about his beliefs by Sopan Dep during a New York Times interview, Kyrie seemed to suggest that he was more interested in enjoying the debate than anything else. Later that year, he apologized to science teachers and said he was sorry (h/t NBA.com), but that concession came with the caveat that he had learned to keep certain thoughts confined to "intimate conversations."
Moving forward chronologically, Irving pledged his future to the Boston Celtics, then left town as a free agent. He's since seemed unwilling to understand why that could have rubbed fans the wrong way.
On a more serious level, the guard also missed a good portion of the 2021-22 NBA season after refusing to be vaccinated against COVID-19. Not only did that behavior ring hollow as a star player — how can you expect others to sacrifice for the collective good when the top dog doesn't? — but Irving also suggested that his actions were connected to a collective struggle by those who had been affected by vaccine mandates. While it's possible that things happened outside the public eye, Kyrie didn't seem too dedicated to that cause, especially once he returned to the court.
While there are other examples, especially when it comes to social media, that's the pattern for Irving. He'll make a choice, and when potential consequences arrive, he backpedals. We never hear about how he made a choice and will accept the consequences of his actions; there's always a twist, an excuse, or a "but."
And it's already reached the point where that behavior has affected Irving's reputation. The guard is still incredibly talented, but his choices make it tough, if not impossible, to focus on basketball.
As Stephen A. Smith indirectly said, all those choices are Kyrie's to make. At the same time, though, part of being an adult, let alone a celebrity, means taking accountability for your own actions.
Until the guard changes, the narrative won't.
According to the Centers for Disease Control and Prevention (CDC), "More than 520 million doses of COVID-19 vaccine had been given in the United States from December 14, 2020, through January 10, 2022. … COVID-19 vaccines are safe and effective."