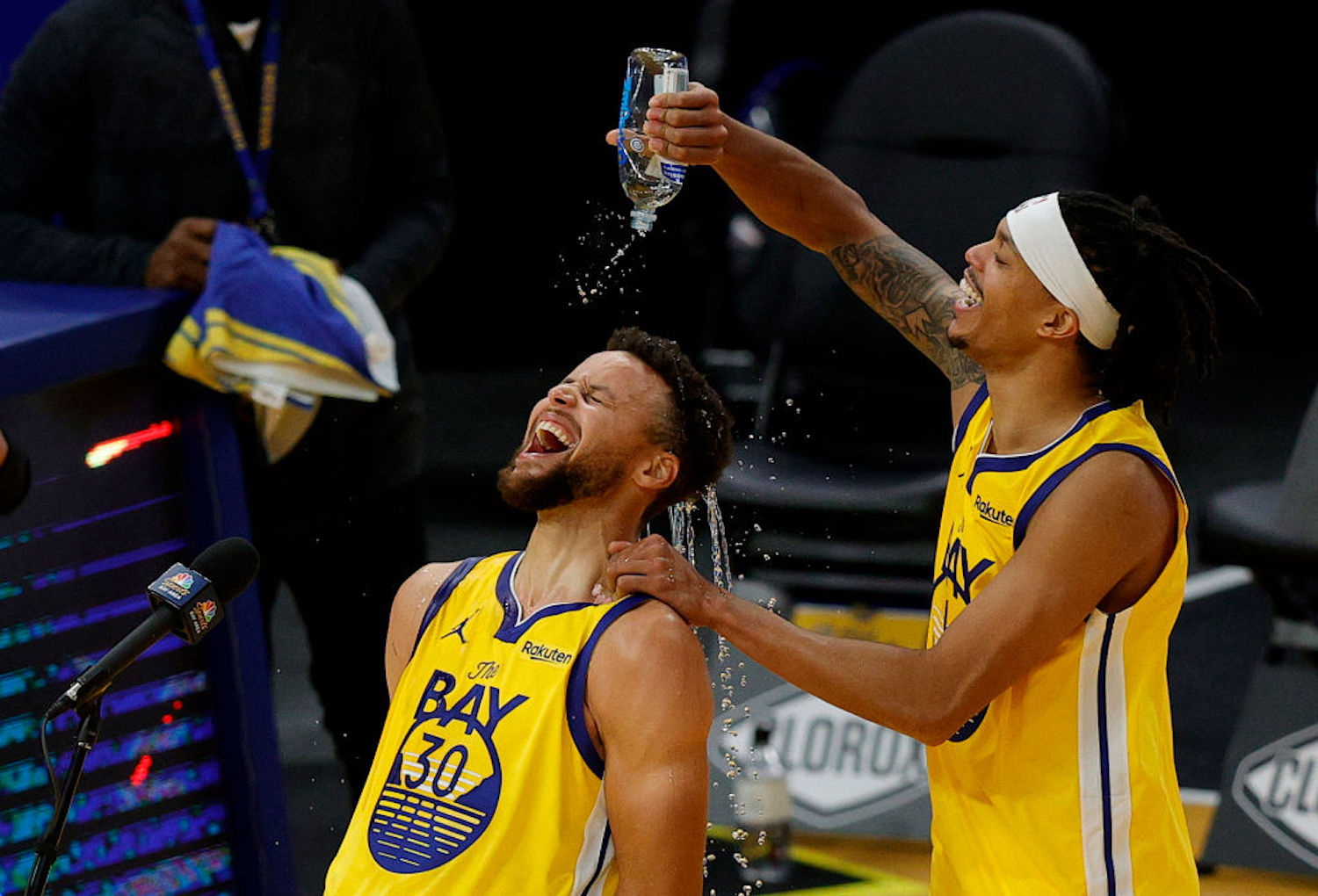 Stephen Curry Channels His Inner Michael Jordan After Silencing His Haters
After scoring a career-high 62 points in the Warriors' win on Sunday night, Stephen Curry quoted Michael Jordan to silence his haters.
Stephen Curry had a disappointing start to the 2020-21 season by his sky-high standards. The six-time All-Star averaged 26.4 points and 6.6 assists per contest through five games, but he only shot 42% from the field and an uncharacteristic 32.1% from deep. Well, so much for that.
After his cold start, Curry exploded for a career-high 62 points on 18-31 shooting and 8-16 from three in the Golden State Warriors' 137-122 win over the Portland Trail Blazers on Sunday night. Curry even channeled his inner Michael Jordan after the historic performance to silence his haters.
Stephen Curry had a rough start shooting the ball this season
Stephen Curry has shot over 47% from the floor and 43% from beyond the arc over the course of his career, so it's almost shocking when he has a single bad shooting night. So when Curry struggled to shoot the rock through the first five games of the season, fans and media pundits alike wondered what was wrong with the all-time great shooter.
Curry started the year going 7-21 from the field and 2-10 from deep against the Brooklyn Nets. He followed that performance up with another stinker — 6-17 overall and 2-10 from three again against the Milwaukee Bucks. Through the first five games of the season, Curry shot an abysmal 18-56 (32.1%) from deep.
NBA fans around the world collectively wondered if the 32-year-old sharpshooter coming off an injury was staring at the downside of his career, but Curry silenced the critics with a career outburst on Sunday.
Curry goes off for a career-high 62 points
Curry heard his haters loud and clear after a few off shooting nights to begin the season. On Sunday, he decided to remind the world why he's still the greatest shooter in NBA history.
Curry exploded for a career-high 62 points against the Trail Blazers. The Warriors guard shot 18-31 from the field and 8-16 from three in the 137-122 win. He also sunk 18 of his 19 free throws. Missing that single free throw might've been the most surprising moment of his night.
After his career performance, Curry is now averaging a league-high 32.3 points per game. He upped his 3-point shooting percentage to 36.1% with his eight makes on Sunday night. Don't be surprised if that keeps climbing in the coming weeks.
Stephen Curry channels his inner Michael Jordan to silence haters
Almost every basketball fan on earth watched The Last Dance when it first aired on ESPN last March, including Stephen Curry. After Sunday's game, Curry responded to his critics by channeling his inner Michael Jordan.
You know the Jordan meme, right? I take all that personally. I sensed the opportunity to kind of assert my will on the game early and try to create some energy, and you know, get off on the right foot. As crazy as it sounds after the game, all we really wanted to do was win the first quarter and take it from there. Obviously, that's what we did, and we continued the momentum. We have a winning spirit, we've just gotta figure out how to do it consistently, and against the good teams in the league, it's gonna test us.

Stephen Curry
Curry has the short-handed Warriors sitting at 3-3 through six games this season. If Golden State is going to make a playoff push in 2021, it'll have to be behind its all-time sniper.
All stats courtesy of Basketball Reference