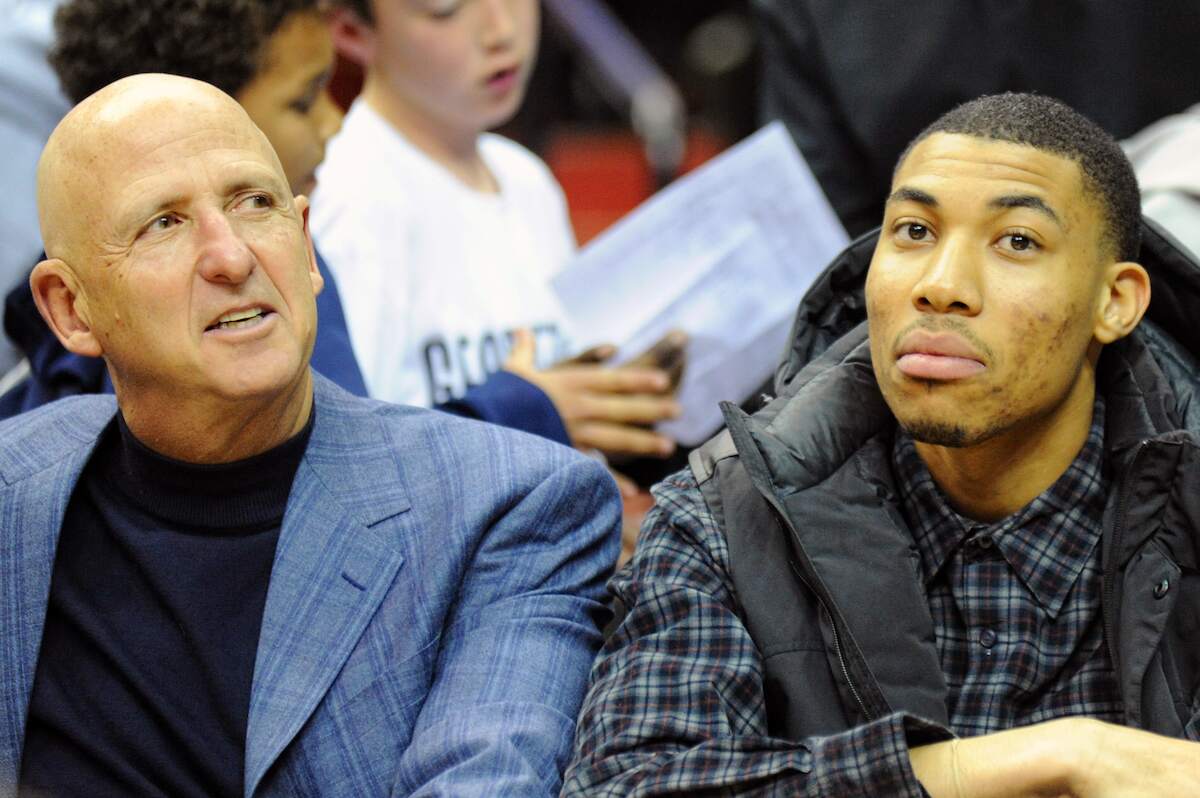 Super Agent David Falk's Most Famous Clients and Successful Deals Over the Years
After he signed Michael Jordan, David Falk built his career as an NBA super agent who signed Allen Iverson, Patrick Ewing, and many more.
Michael Jordan is the greatest basketball player of all time. Like any successful athlete, he had a whole team behind him on and off the court. Notably, his agent was David Falk, who's had a successful career representing some of the NBA's biggest stars.
Here's a look at Michael Jordan's agent, David Falk, the most famous clients he's represented, and the most successful deals he's helped ink over the years. 
David Falk NBA client list
The Daily Orange wrote about Falk's life, describing how his journey to becoming a super agent was a tough one. He was hired as an unpaid intern for ProServ, where his boss, Donald Dell, gave him the opportunity to negotiate a few deals. Falk was lucky as ProServ had connections to North Carolina schools and the ACC. That's where Jordan played during his college years.
Plus, Dell was a former tennis player, and he focused on deals related to tennis players. This gave Falk, who was a big basketball fan, a lot of leeway toward working with basketball players.
After he and Dell signed Jordan, it didn't take Falk long before he was able to create his own path. Jordan wanted Falk to be his personal agent in 1987. In 1992, Falk created his own company, which represented many more NBA players over the years:
Patrick Ewing
Mike Bibby
Alonzo Mourning
Dikembe Mutombo
John Stockton
Mitch Richmond
Monty Williams
Dominique Wilkins
Stephon Marbury
Moses Malone
Allen Iverson
Muggsy Bogues
Vin Baker
Charles Barkley
David Falk most successful deals
Of course, the biggest deals Falk inked were related to Jordan. The most famous contract the two were a part of was the Nike deal. At the time, Nike was a small-time brand. It's hard to believe now, but other companies were more popular when it came to basketball shoes. Falk had worked with other shoe brands. Due to Jordan's hype, he had a lot of demands from Nike. The company agreed, and the Air Jordan shoe brand continues to be a success to this day.
Falk's negotiations with the Bulls over Jordan's contract were also a big deal. Notably, he got Jordan a $30 million a year contract back in the '90s, which is equal to almost $56 million adjusted for inflation. The massive contracts he negotiated for Jordan also helped create the NBA's salary cap rules, which make it harder for players to get huge contracts like that.
Falk got other players paid, too. He negotiated Patrick Ewing a $3.3 million rookie year contract, which was huge for the time. Ewing went on to have a successful career, making over $100 million thanks to the deals Falk negotiated. He also made history in 1996 when he negotiated Alonzo Mourning's then-record contract of $105 million over seven years with the Miami Heat.
David Falk net worth
Sports agents usually take a cut from the contracts they negotiate, and Falk is no different. In general, he took home about 4% of any deal he negotiated. Thanks to the big contracts that he's signed over the years, Falk's net worth is estimated to be about $50 million.
Falk is still technically an agent, though he's more focused on teaching and consulting instead of being an agent. As such, his net worth can still grow. He's over 70 years old now, and like many rich folks, he has dabbled in philanthropy. He and his wife have donated millions to a variety of causes, usually related to schools and sports.