Terry Bradshaw Predicted Russell Wilson Will Be out in Seattle This Offseason Even Before the Seahawks' Crushing Week 16 Upset by the Chicago Bears: 'You Need to Get Rid of Him'
The Chicago Bears stunned the Seattle Seahawks 25-24 on a touchdown and two-point conversion with 1:01 left in their Week 16 game. This sunk Seattle to 5-10, tying them for the third-worst record in the NFC. After such a miserable season, FOX analyst Terry Bradshaw believes the team should part ways with franchise quarterback Russell Wilson. He practically guaranteed it would happen even before the shocking loss.
Russell Wilson hinted at leaving the Seattle Seahawks in the 2021 offseason, and the situation's only gotten worse
NFL analysts discussing Russell Wilson leaving the Seattle Seahawks isn't breaking any new ground. The Wilson/Seahawks divorce storyline was one of the biggest of the 2021 offseason, second only to the Aaron Rodgers/Green Bay Packers debacle.
Shortly after the Super Bowl, ESPN's NFL insider Adam Schefter reported that — in true Russell Wilson "professional nice guy" fashion — he "told the Seahawks he wants to play in Seattle but, if a trade were considered," there were only a small handful of teams he'd agree to play for.
The NFL draft, free agency, and training camp came and went without any movement on this front. Wilson started the 2021 season the way he started every game since his rookie year: under center for the Seahawks.
This season was different, though.
After suffering a thumb injury during a Week 5 loss to the Los Angeles Rams on Thursday Night Football, Wilson missed the first three games of his entire NFL career.
He returned to a 3-6 team and promptly lost the next three games and five of the next seven. With the heartbreaking defeat by the Chicago Bears on Sunday, Wilson and his Seahawks were eliminated from the playoffs. This marks just the second time in his career this has happened and the first time since 2017.
Years of focusing on the present and disregarding the future created a perennial playoff team, two Super Bowl appearances, and a Super Bowl win in 2013 for the organization. Now, the time has come to pay the piper.
Wilson leaving in the offseason should be an inevitability. Hall of Fame QB Terry Bradshaw said as much on Sunday, even before the passer's bad Week 16 loss.
Terry Bradshaw believes Wilson will leave Seattle in the 2022 offseason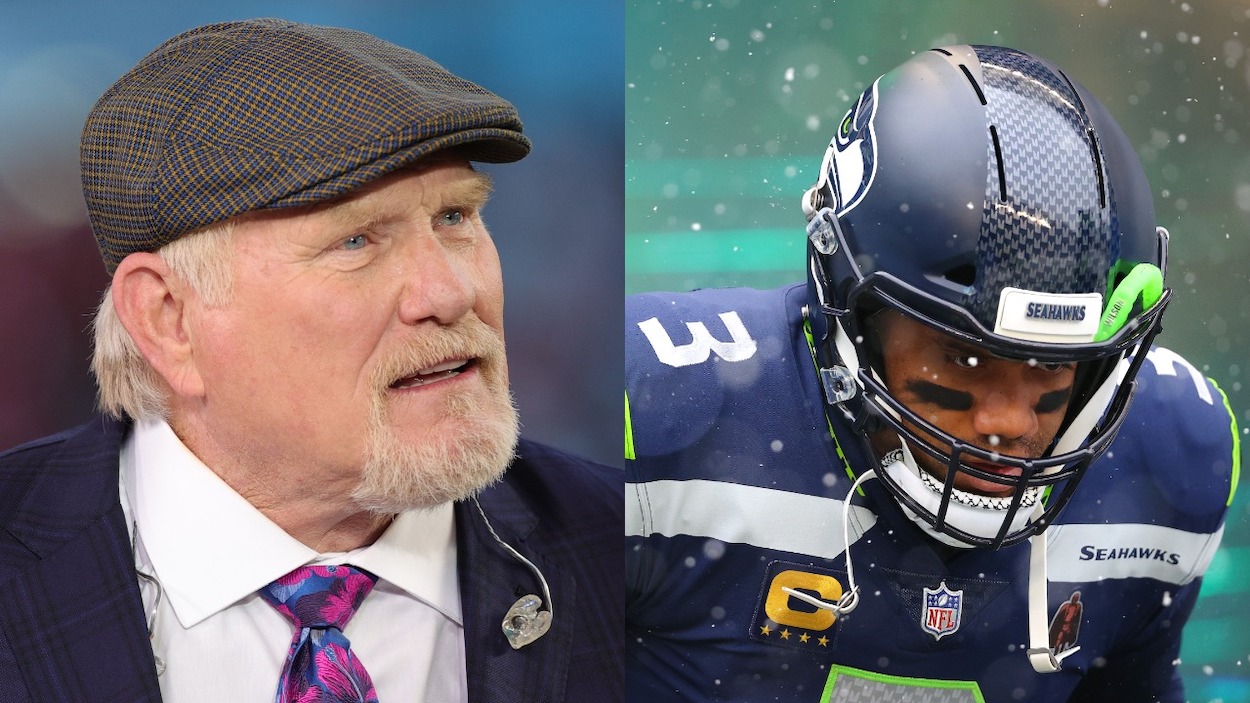 On the FOX NFL Sunday pregame show, the crew discussed the upcoming snow-filled game between the Seattle Seahawks and Chicago Bears.
Former Pittsburgh Steelers QB Terry Bradshaw focused on Russell Wilson's future in Seattle. He asked, rhetorically, "Why would you want to leave where people love you, and you've got a great team around you, and a great coach who loves you?"
He noted that all the talk of Wilson leaving stopped once the season started. However, now he finds himself asking: After the awful year in the Pacific Northwest, will Wilson be with the team in 2022?
Bradshaw decided on an answer with the help of an old quote from legendary Dallas Cowboys head coach and current FOX co-host Jimmy Johnson:
Now, I got to thinking. It's a bad year. [Wilson] still wants out. My gut feeling is — and I learned this from you, Jimmy. You always said, "If a player talks about retirement, he's retired." If a player talks about "I want out of here. I want to be traded," you need to get rid of him. … I got a feeling this offseason he'll find a new home.

Terry Bradshaw on Russell Wilson
Johnson chimed in that the Seahawks will "get a bunch of picks for him," which will ease the blow and help the franchise rebuild.
Last offseason's semi-request was a half-hearted attempt on Wilson's part to get off a sinking ship. However, the QB moving this offseason now seems like an inevitability because it will benefit both parties.
The only real question now becomes: Where will Wilson end up in 2022?
Where will the Seahawks signal-caller end up in 2022?
Adam Schefter's initial report named four teams that Wilson would consider waiving his no-trade clause to play for. This list included the Dallas Cowboys, New Orleans Saints, Las Vegas Raiders, and Chicago Bears.
Just over 10 months later, the NFL quarterback landscape has changed.
The Dallas Cowboys are the No. 2 team in the NFC, and while inconsistent at times, Dak Prescott has returned to franchise-QB form. Plus, his $160 million offseason extension marries him to Dallas for the next several years.
The Chicago Bears are also likely out of the Wilson sweepstakes. The team traded up in the 2021 NFL Draft to take Ohio State's Justin Fields, just four years after trading up to pick Mitchell Trubisky. Giving up on Fields after a dozen or fewer starts is something not even the Bears would do. (Right?)
That leaves the Raiders and Saints from Wilson's initial list.
After the historically tumultuous 2021 season in Sin City, there are a lot of unknowns about the Raiders right now. No one can know what the next coaching will staff do. Will they pursue Wilson, keep Derek Carr, or go for whatever might be behind Door No. 3?
It's too early to tell, so speculating on Wilson to Las Vegas doesn't make sense right now.
That leaves the Saints, which would be a good fit. The team offers an improved defense, decent offensive weapons (upgraded to "very good" if Michael Thomas comes back), and experienced offensive guru Sean Payton.
Sports talk host Jordan Schultz recently tweeted that he believes Wilson has added the New York Giants and Denver Broncos to his list. These teams would make sense, as they both have strong defensive units and young, talented skill-position players on offense.
While a new destination could always arise (Miami Dolphins? Philadelphia Eagles? Pittsburgh Steelers?), it seems most likely Wilson will end up in New York, Denver, or New Orleans this offseason.
What seems nearly certain, though, is that Wilson will play his last game as a Seattle Seahawk in Week 18 of the 2021 season. That's when the team travels to Arizona to take on the Cardinals.
All stats courtesy of Pro Football Reference