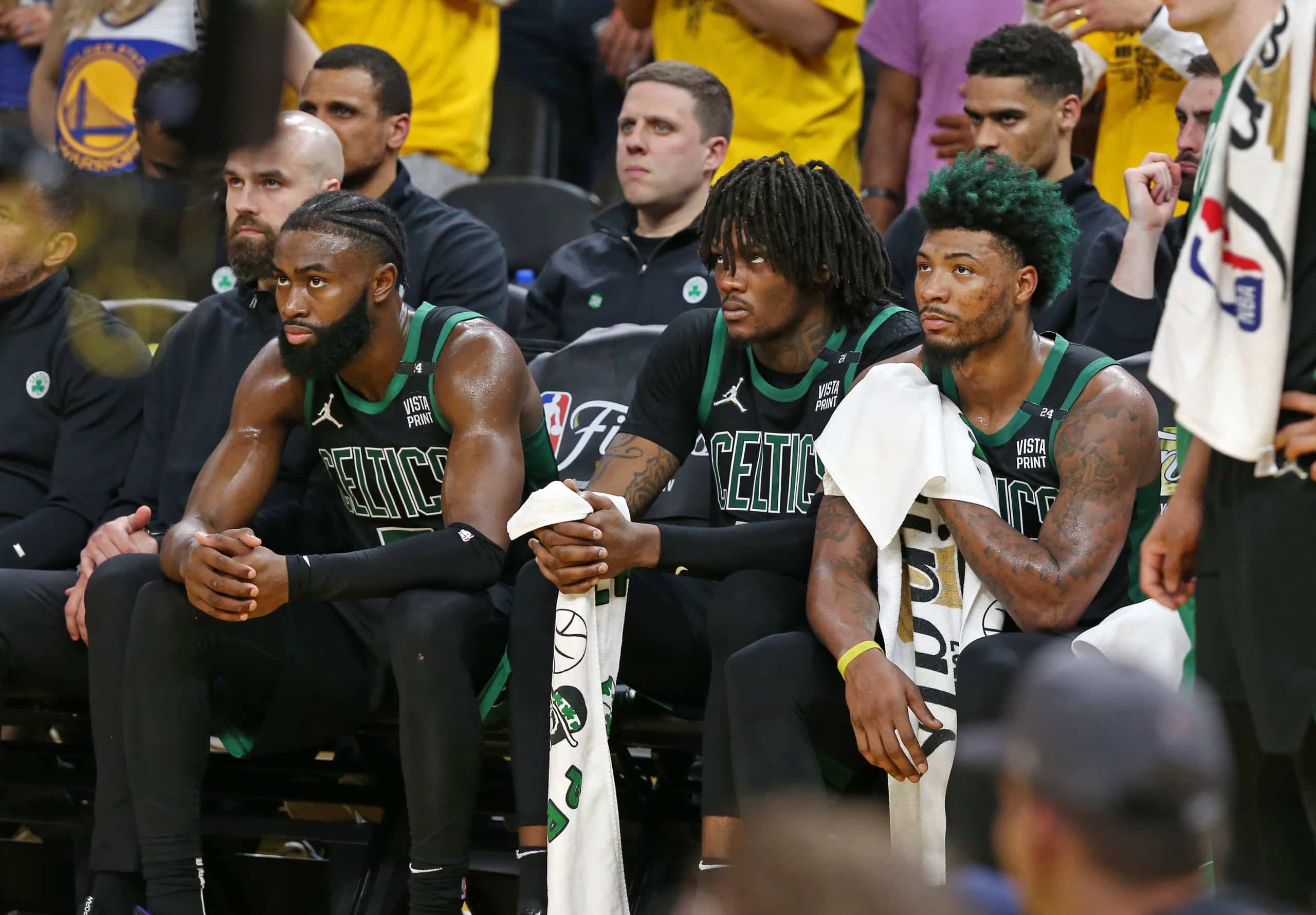 The Boston Celtics Should've Taken Bill Russell up on His Offer
The Boston Celtics have a tough time putting together 48 good minutes of basketball.
The Boston Celtics keep making things hard on themselves. Just when you think they've found it and they're going to pull away for a victory, they wilt.
Turnovers, poor shooting, and lack of a player to take over a game have proved costly for Boston, which heads home for Game 6 down 3-2 after Monday's 104-94 loss to the Golden State Warriors. The Celtics have come a long way since the beginning of the season. Halfway through the year, nobody believed an appearance in the 2022 NBA Finals was possible, but here they are.
The Celtics lost back-to-back games for the first time since March. They probably should have taken up the offer by legendary center Bill Russell before Monday's big game.
The Boston Celtics have a hard time getting out of their own way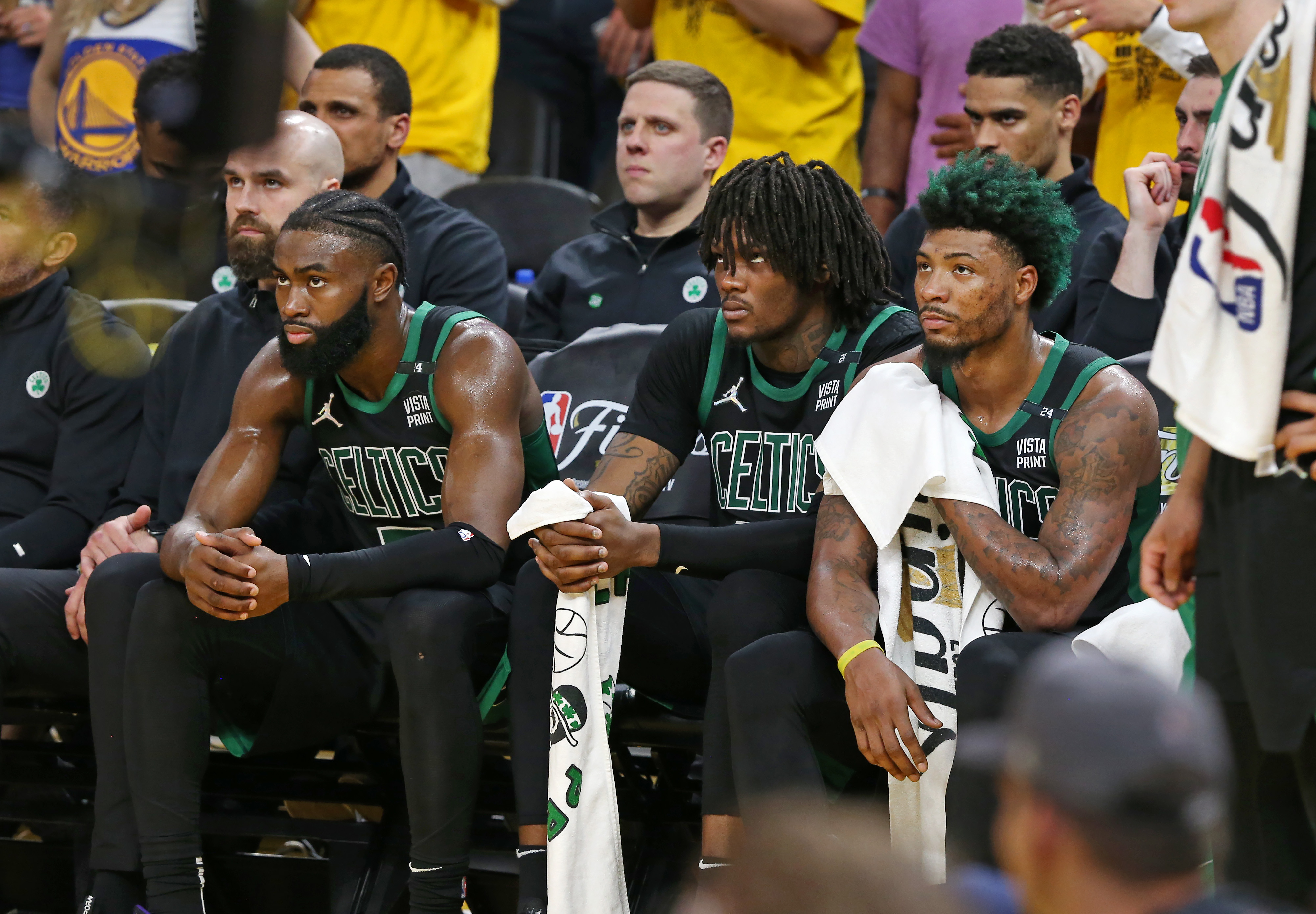 Consistency has been the Celtics' biggest problem this postseason. They've been better on the road than at home. Jayson Tatum has been too erratic to be the team's go-to guy in the clutch. He and Jaylen Brown have turned the ball over far too often to generate any consistency on offense.
Still, the Celtics can hoist their 19th championship banner with two more wins. They host the Warriors in Game 6 on Thursday night.
The Celtics stole homecourt advantage from the Warriors by winning Game 1 with an impressive fourth-quarter showing. Boston outscored Golden State 40-16 in the final 12 minutes after the Warriors outscored the Celtics38-24 in the third quarter.
The Celtics headed home with the series tied at a game apiece and took care of business at TD Garden, winning 116-100. They had a golden opportunity to take control of the series but were outscored 28-19 in the fourth quarter. Tatum scored one basket despite playing the entire quarter. Stephen Curry put the Warriors on his back and finished with 43 points.
In Game 5, the Celtics dug an early hole, falling behind by 16 points. They briefly led in the third quarter before faltering again in the fourth. They have struggled to put together four good quarters of basketball. They'll need to do that in Games 6 and 7 if they want to be crowned champions.
The Celtics should have taken Bill Russell up on his offer
The Celtics need stability. They need someone they can rely on. The Warriors have Curry, a player who will come through in the clutch. When a big basket is needed, Curry is there.
The Celtics don't have that.
Many believe Tatum is their superstar. He's not. He's their most talented player but hasn't hit superstar level yet. He can rack up points, but he can also give them right back with turnovers and poor shooting. He shot four airballs in the loss Sunday night.
Larry Bird was clutch for the Celtics. Rarely, if ever, did he have a 10-point game in the postseason. Tatum has two and a 12-point outing in this postseason alone.
Bill Russell was clutch. He didn't have the offensive numbers of a Bird or Tatum, but he came up big when it counted most. Russell was also a winner. He collected 11 championship rings as a player with the Celtics.
The 88-year-old Russell took to Twitter before Game 5 decked out in his No. 6 Celtics jersey. He said he was ready if needed.
"Game 5 I'm here for it!" he wrote. "Let's go @celtics #BleedGreen just in case you need a back up."
Boston certainly could have used him as their go-to guy Monday night.
Like Sportscasting on Facebook. Follow us on Twitter @sportscasting19 and subscribe to our YouTube channel.