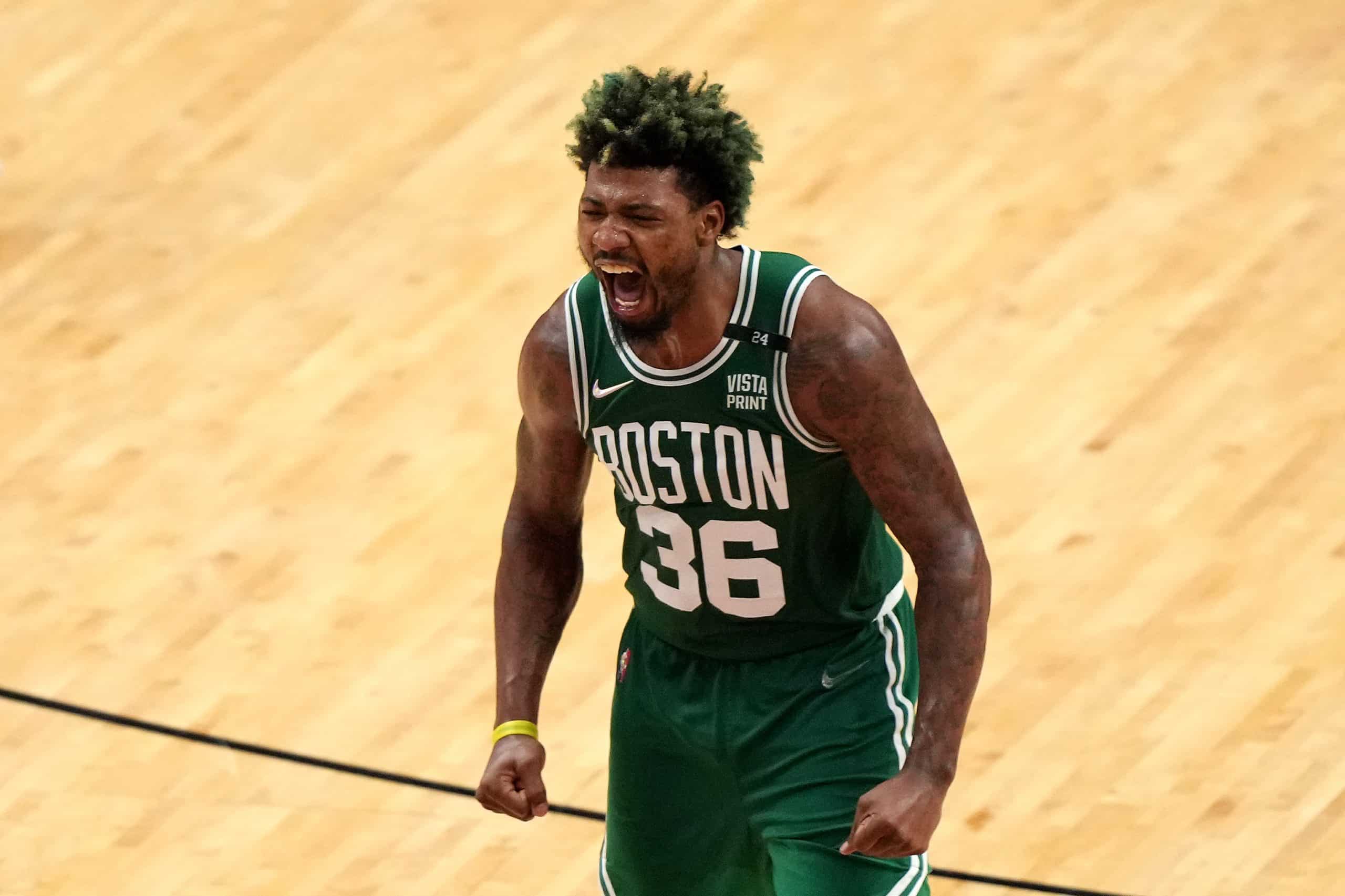 Marcus Smart Drawing Inspiration From Boston Celtics Legend Bill Russell
Marcus Smart has taken the advice of Boston Celtics legend Bill Russell.
The Boston Celtics needed a jolt after blowing a Game 1 lead with an ugly third quarter against the Miami Heat on Tuesday. Playing without two starters in Marcus Smart and Al Horford in that series opener, the Celtics started well but crumbled after halftime before losing 118-107.
Smart and Horford returned for Game 2 and made a world of difference. The two veterans settled the team down as Boston got even in the series with a convincing 127-102 win. While Jayson Tatum may get most of the headlines for Boston, it's Smart who drives the team. The NBA's Defensive Player of the Year is the engine that never stops, and he's drawing inspiration from Celtics legend Bill Russell.
Marcus Smart is the driving force behind the Boston Celtics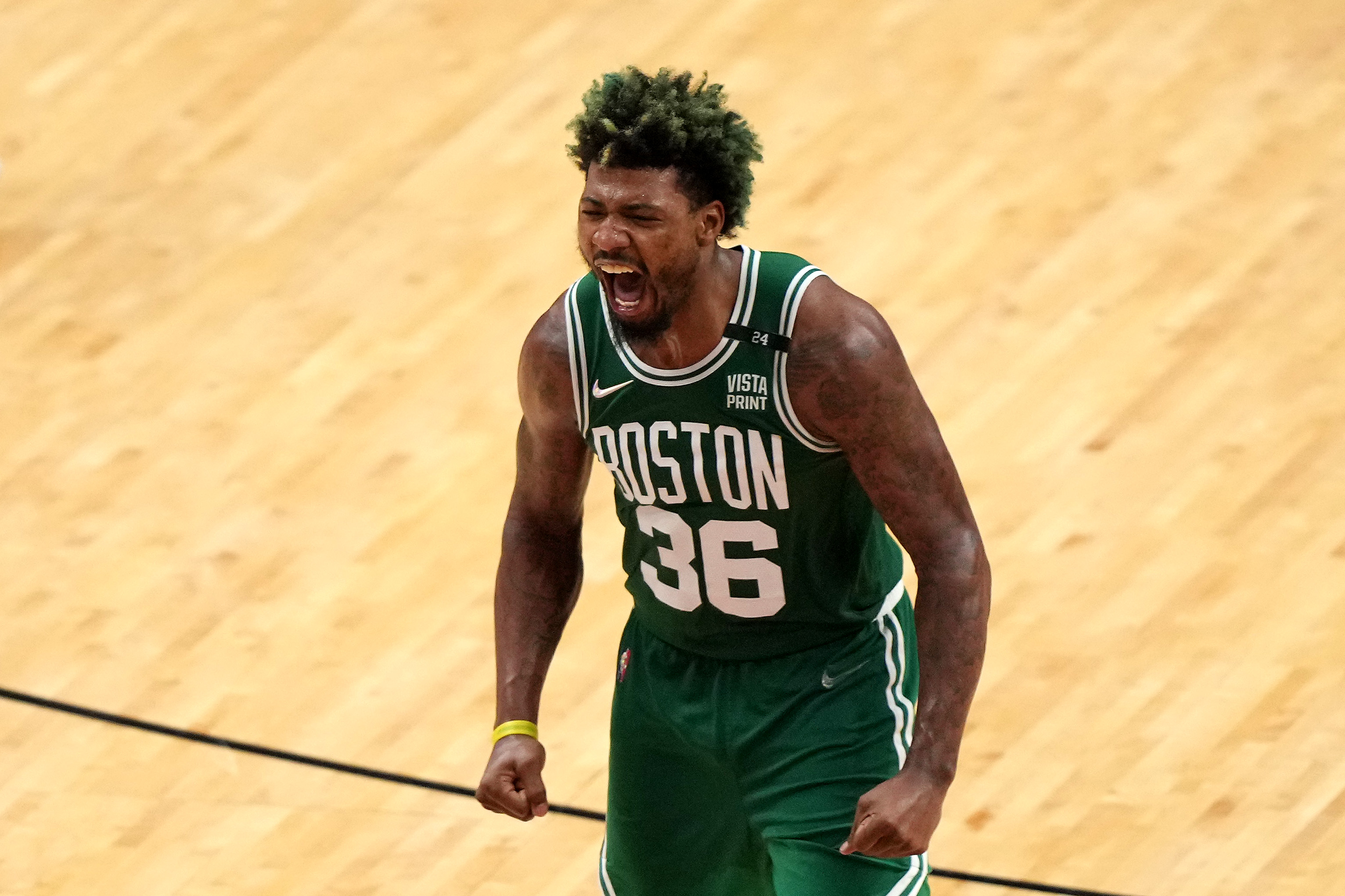 Say what you will about Smart, but the Celtics wouldn't be three wins away from reaching the NBA Finals without him. Some say he shoots too much, doesn't shoot well, and he flops everywhere, but nobody gives more on the court than Smart.
He's the heart and soul of the team. Even he knows it.
"I had to come set the tone," Smart said after the desperate Celtics won Game 6 against the Milwaukee Bucks,  per ESPN. "We go as I go. I'm the heart and soul of the team.
"My teammates say that to me all the time. I try to be that for them. The energy that I bring is contagious. I know that. I try to bring that every game."
That's not bragging. It's not cockiness. That's Smart telling the truth. The passion and energy he brings night in and night out is unmatched.
Marcus Smart took a page from Bill Russell's book
Smart's return Thursday showed the difference he makes on the court. Nobody takes more charges, dives for loose balls, and pumps up a team more than Smart. There is never less than 100% given by the veteran point guard.
Friday morning, Smart took to Twitter and referenced a quote from Russell, who won 11 NBA championships as a player with the Boston Celtics.
"If you take a job and they pay you five dollars a day, give them seven dollars a day worth of work!" – Bill Russell," Smart tweeted. Then Smart added, "Always always work your hardest! Then work harder! Good things always happen."
Russell is a Celtics icon. He's arguably the best player in team history. Like Smart, Russell made his living on defense. Russell was a strong, physical, shot-blocking presence in the paint, who led the NBA in rebounding five times.
He was a 12-time NBA All-Star and a five-time MVP. He was inducted into the Naismith Memorial Basketball Hall of Fame in 1975.
Smart may not have the 6-foot-10 body like Russell, but he has the same size heart.
Smart has become a fan favorite with the Celtics
Hard work and floor burns will endear you to fans. Smart has become one of the Celtics' most beloved players. He's one to mingle with fans before games, and he's always giving back.
Recently, Boston Children's Hospital posted a photo of a 10-year-old boy named Benjamin, who dyed his hair green like Smart. In the photo, posted May 13, Benjamin held a sign for Smart, saying "you got this."
Smart took the time to reply to Benjamin.
"Hey Benjamin- you're the REAL player in a REAL GAME that you're going to prevail a CHAMPION in," Smart tweeted. "You're the MVP. You're the REAL fighter. Not me. Not us. YOU! You're MY hero! And when I grow up I wanna be just like you! YOU GOT THIS!"
Smart has shown his value on and off the court. Now, he's trying to become like Russell and bring home a championship.