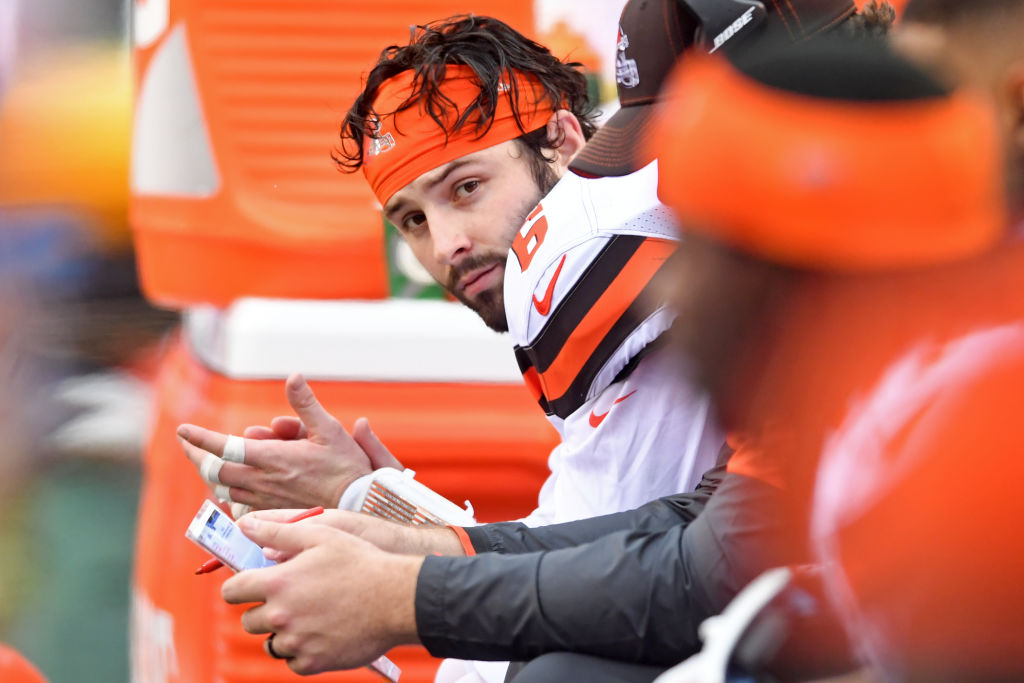 The Browns Have a Plan to Tackle Their 1 Big Concern
The Cleveland Browns had high hopes in 2019 but couldn't deliver as Baker Mayfield's performance fell off. They have a two-part plan to improve at quarterback this fall.
Cleveland Browns fans will be seeing less of Baker Mayfield next season – one way or another. The perennially underachieving NFL club hopes to solve the source of Mayfield's sophomore slump by slimming him down, but the Browns are also shopping for a backup quarterback who can challenge the first overall pick of the 2018 NFL draft for playing time if necessary.
Baker Mayfield regressed in his second NFL season
The Cleveland Browns were perceived as a team on the move heading into last season. Breaking out of a 4-44 nightmare over the previous three years, they went 7-8-1 in 2018 and made a bold move by trading for Odell Beckham Jr. There was even talk of a trip to Super Bowl LIV, a brash boast that disintegrated during a 2-6 start to the 2019 season.
Much of the blame for what went wrong with the Browns in a 6-10 season has been pinned on quarterback Baker Mayfield, who threw 22 touchdown passes and 21 interceptions a year after setting the team's rookie record with 27 TD passes.
The former Heisman Trophy winner's completion rate slipped to 59.4% despite having OBJ and Jarvis Landry as his wideouts. He was sacked 40 times, an increase of 60% over his first year.
The Browns think Baker Mayfield was heavy and slow in 2019
The one statistical category in which Baker Mayfield improved in his second season was a modest gain in rushing, improving his average from 3.4 to 5.0 yards per carry. However, both the player and the team view that as an outlier.
According to NFL Network reporter Ian Rapoport, the Cleveland Browns are addressing Mayfield's body makeup this offseason, having concluded that his decision to bulk up last year cost Mayfield some of his quickness. Consequently, he was less elusive and pass rushers were able to force him into more poor throws.
The 2019 Browns roster may have listed Mayfield as being five pounds lighter than his rookie season, but it's tough to make a case that he carries the 215 pounds on his 6-foot-1 frame as well as Russell Wilson wears the same weight on a 5-foot-11 body.
The plan, then, is to turn Mayfield into a sleeker, faster version of the 2019 model in the hope that he'll show more ability to escape the pocket and also get to his mark faster on designed rollouts.
The Browns will be active in the quarterback market
The Cleveland Browns, who haven't produced a winning record since 2007, overhauled their coaching staff again by bringing in offense-minded Kevin Stefanski as the head coach and former quarterback Alex Van Pelt as the head coach. Once a new quarterback coach is in place, Baker Mayfield will have plenty of resources getting him in sync with the game plan.
The Browns are also looking for a backup quarterback. Drew Stanton, a 12-year veteran of four NFL teams, may have been helpful to Mayfield in the film room, but he has four career starts and 187 passing attempts to his credit.
Cleveland reportedly wants someone who can mentor Mayfield on the sideline and in the locker room but also pose a threat to take over as a starter if he needs the proverbial wake-up call. Names that have been suggested include Case Keenum and Chase Daniel.
Daniel's career nearly mirror's Stanton's resume in terms of being backup equipment and the designated clipboard holder, but Keenum is an intriguing possibility.
Stefanski was on the Vikings staff in 2017 when Keenum threw for 3,547 yards and 22 touchdowns (with seven interceptions) for Minnesota.
He's only 27-35 as a starter since coming into the NFL in 2012, but his 85.3 career QB rating is nearly identical to Mayfield's 85.9. He would be able to step into the lineup seamlessly in the event of injury or ineffectiveness.