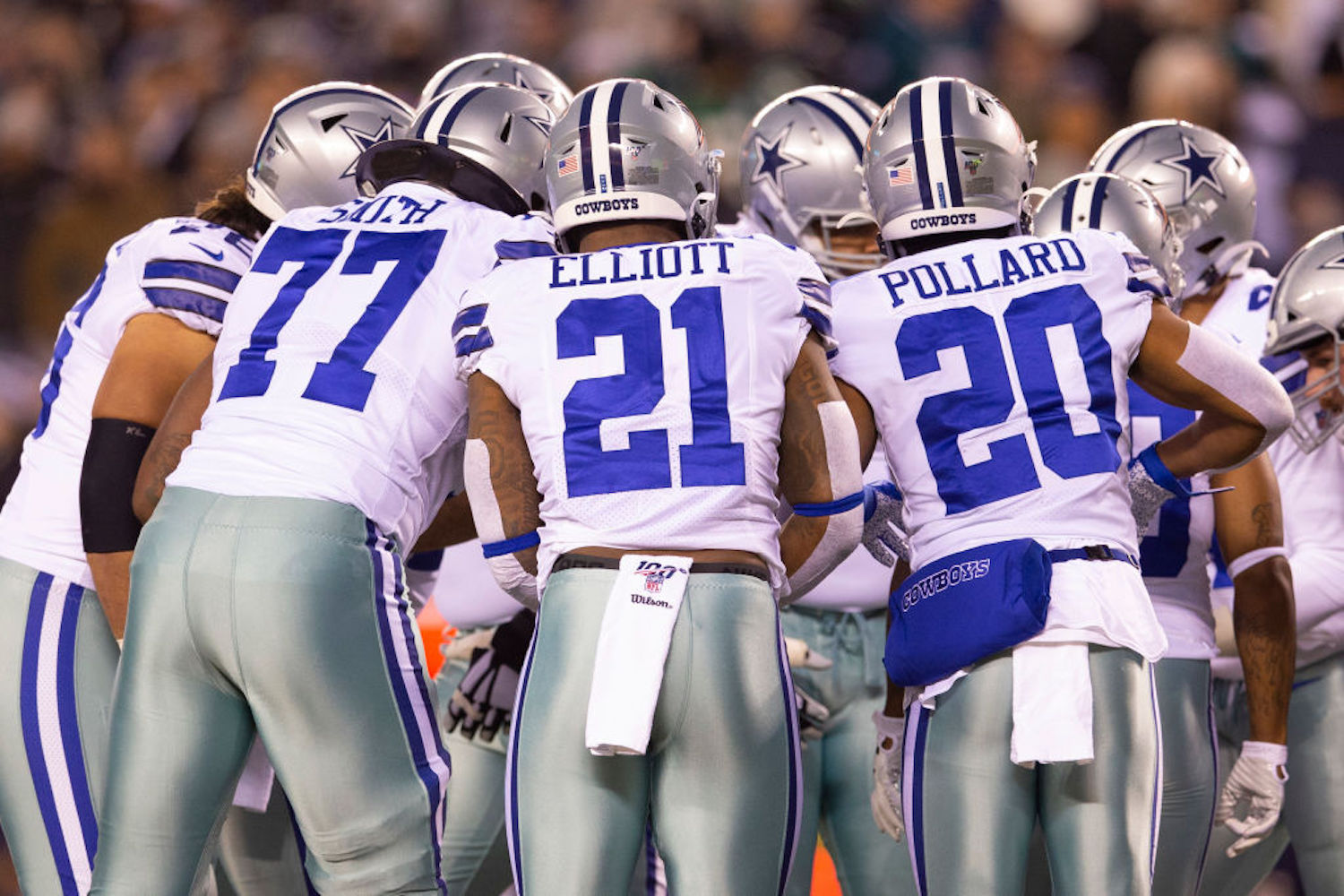 The Dallas Cowboys Have Finally Found a $3 Million Reason to Move on From Ezekiel Elliott
Ezekiel Elliott is having the worst season of his Cowboys career in 2020, and the team's $3 million backup might force him out of Dallas.
Ezekiel Elliott has clearly taken a step back in 2020. The 25-year-old running back is having his worst season as a pro, which doesn't bode well for a Cowboys team that just signed him to a $90 million contract.
Elliott took the day off Sunday while he nursed a calf injury, and Cowboys fans got a glimpse of what the backfield could look like in the near future. Tony Pollard, who's only due $3 million over the course of his rookie contract, got the start and was more efficient than Elliott has been in any game this season. Could Pollard force Elliott out of Dallas?
Ezekiel Elliott is regressing as a running back
Ezekiel Elliott was one of the most dominant running backs in the NFL from the second he saw the field as a rookie. Elliott led the league in rushing in his first season as a pro with 108.7 yards per game. He made the Pro Bowl and was named a First-Team All-Pro as a rookie.
Elliott's production fell off a bit in the next few seasons, but he still averaged better than 95 rushing yards per game in both years. After giving the RB 868 carries over his first three seasons, the Cowboys gave Elliott a six-year, $90 million contract extension in 2019. The deal made Elliott the highest-paid running back in the NFL.
In the first season since signing his megadeal, Elliott rushed another 301 times for 84.8 yards per game, which was a career-low at the time. But Elliott is on his way to his worst season as a pro by a large margin in 2020.
Through 13 games played this year, Elliott is averaging a career-worst 3.9 yards per carry and 64.0 rushing yards per game. Elliott has rushed for over 100 yards in a game just once this season. He's rushed for fewer than 50 yards in five games.
Tony Pollard has impressed in Elliott's absence
Elliott's struggles this season could possibly be attributed to the Cowboys' beat-up offensive line, but backup RB Tony Pollard has had no issues running behind the same group.
Elliott is averaging a career-low 3.9 yards per rush in 2020, while Pollard is averaging 4.7. On Sunday, Pollard got his first start of the season with Elliott missing the game due to a calf injury, and he looked explosive.
Pollard rushed 12 times for 69 yards and two touchdowns and caught six passes for 63 yards against the San Francisco 49ers. He averaged 5.75 yards per carry in the game. Elliott didn't reach that number in any of his 13 starts this year.
Tony Pollard is a $3 million reason for the Cowboys to move on from Ezekiel Elliott
When the Cowboys signed Elliot to a record-breaking contract in 2019, they expected the RB to lead their backfield for the rest of his prime. Well, it's possible Elliott has already left his prime, and the Cowboys might only have themselves to blame.
Dallas fed Elliott 868 carries before inking him to a $90 million contract, which was the highest mark of any running back over that span. And how many times have we seen this before with star running backs? Priest Holmes. Jamaal Charles. Shaun Alexander. All RBs who were considered the best in the sport at one point. All RBs who also got burnt out by massive workloads and were out of the NFL shortly after.
That time might be coming for Elliott soon, and it would be wise for Dallas to move off his $90 million contract before it's too late. Pollard is younger, more explosive, and far less expensive than Elliott.
It's a no-brainer for Jerry Jones. Dump Elliott for draft picks and make Pollard the feature back this offseason. It won't just give the Cowboys a better running back going forward, but it will also open up more cap space to improve the roster.
All stats courtesy of Pro Football Reference