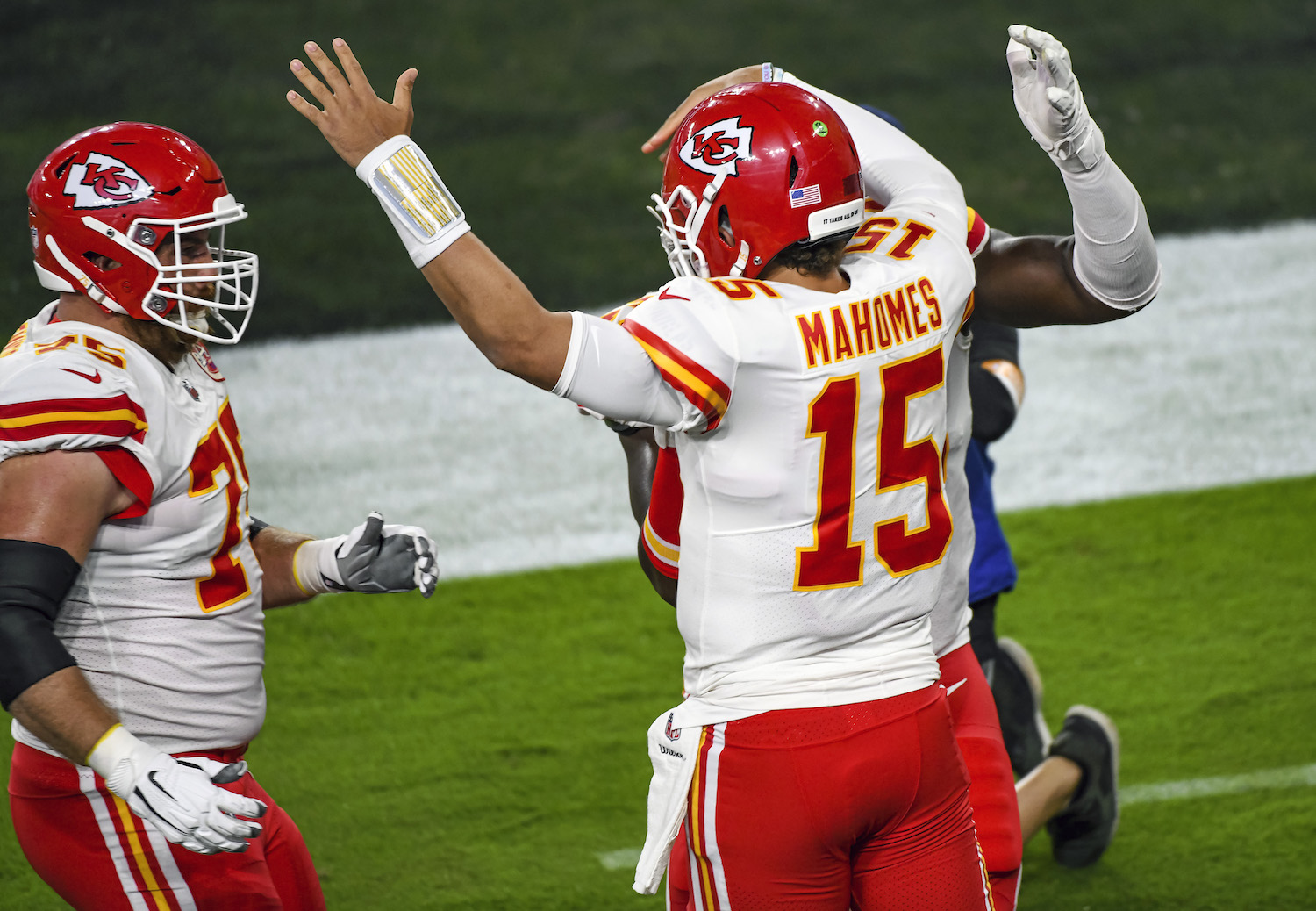 The Impressive and Often Expensive Christmas Gifts Patrick Mahomes, Dak Prescott, and Other QBs Bought Their Offensive Lines
The success of any NFL quarterback is dependent on his offensive line. That's why Patrick Mahomes and Dak Prescott gladly play the role of Santa with expensive gifts each Christmas.
NFL quarterbacks like Patrick Mahomes and Dak Prescott earn incredible sums of money. And each season when Christmas rolls around, some of them put on their Santa hats and deliver pretty impressive gifts to the linemen who protect them. Here's a look at some of the eye-popping gifts quarterbacks like Mahomes, Prescott, and Lamar Jackson have given to their protectors in recent years.
Carson Wentz buys firearms and boots 
This season Carson Wentz has been sacked an NFL-leading 50 times. His offensive linemen might get lumps of coal in their stockings from him this year. However, in years past, Wentz has bought his linemen some pretty creative gifts. 
Back in 2016, during his rookie season, Wentz bought all of his linemen Beretta shotguns, which included each player's number engraved on the butt of the gun. In 2017, he bought each lineman a pair of cowboy boots with the Eagles logo on the front and the player's number on the back. 
Lamar Jackson shocks teammates with his impressive gift 
Lamar Jackson had a phenomenal year in 2019 throwing an NFL-leading 36 touchdowns and rushing for 1,209 yards and seven more touchdowns. He was named NFL MVP. 
At Christmas, Jackson thanked his linemen for protecting him with some of the nicest gifts any lineman has ever received. Jackson gave each one a Rolex watch. 
Undrafted rookie center Patrick Mekari was understandably surprised by the gesture. "It's remarkable. I never really expected a gift, period," he said on BaltimoreRavens.com. A gift like that is obviously ridiculous. It just goes to show the person he is."
Patrick Mahomes provides creative gift package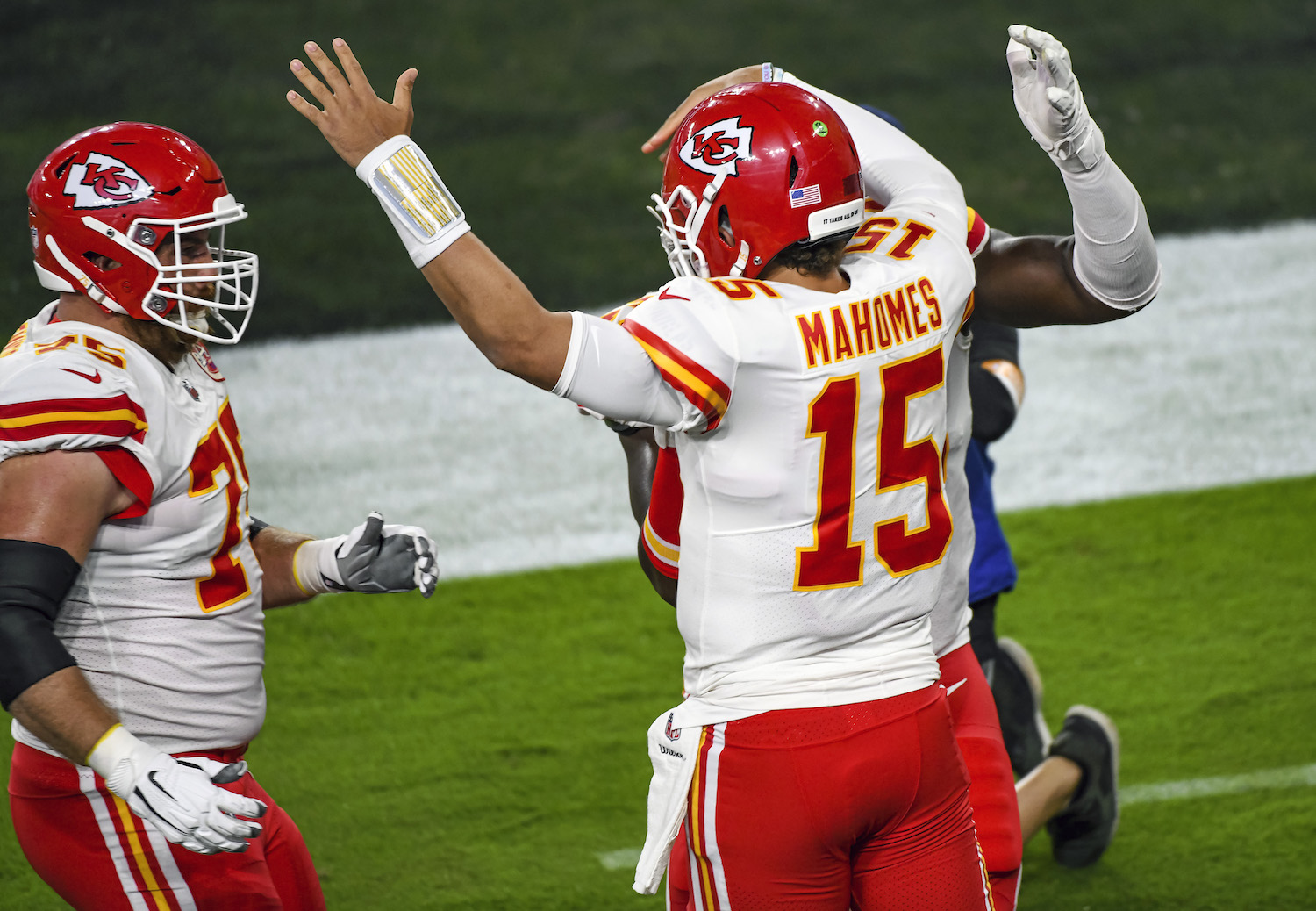 Last season, in the middle of the Kansas City Chiefs' Super Bowl-winning season, quarterback Patrick Mahomes went out and got his offensive lineman a variety of gifts that were part of a package. 
Mahomes delivered each a Louis Vuitton bag Keepall Boundouliere 55 Monogram travel bag, a pair of Adidas Alphaboost running shoes, a Bose SoundLink Revolve+ portable Bluetooth speaker, a HyperIce HyperVolt Plus Percussion massager, and a pair of Oakley glasses. 
Dak Prescott buys linemen expensive toys
The Dallas Cowboys are paying Dak Prescott $31.4 million this season. He was well on his way to earning it when disaster struck in Week 5 and he broke and dislocated his ankle. 
Despite that setback, Prescott recognized that before the injury, his offensive linemen had kept him upright and allowed him to throw for 422 yards per game in the first four games of the season. He decided to reward them accordingly.
According to Jon Machota of The Athletic, Santa Prescott gave each one of his linemen a Segway Ninebot Gokart. 
"Yes sir, Merry Christmas!" Dak said as he walked around the Cowboys locker room with several karts in various states of assembly. "New Segways. Big shoutout. Working on it."
Dak Prescott and his quarterbacking brethren understand their very livelihoods each Sunday are dependent on what the big boys up front do on each snap. While some of the gifts they provide their offensive linemen might seem exorbitant, to them, it's a small price to pay to those who protect their well-being on each and every play.
Like Sportscasting on Facebook. Follow us on Twitter @sportscasting19.