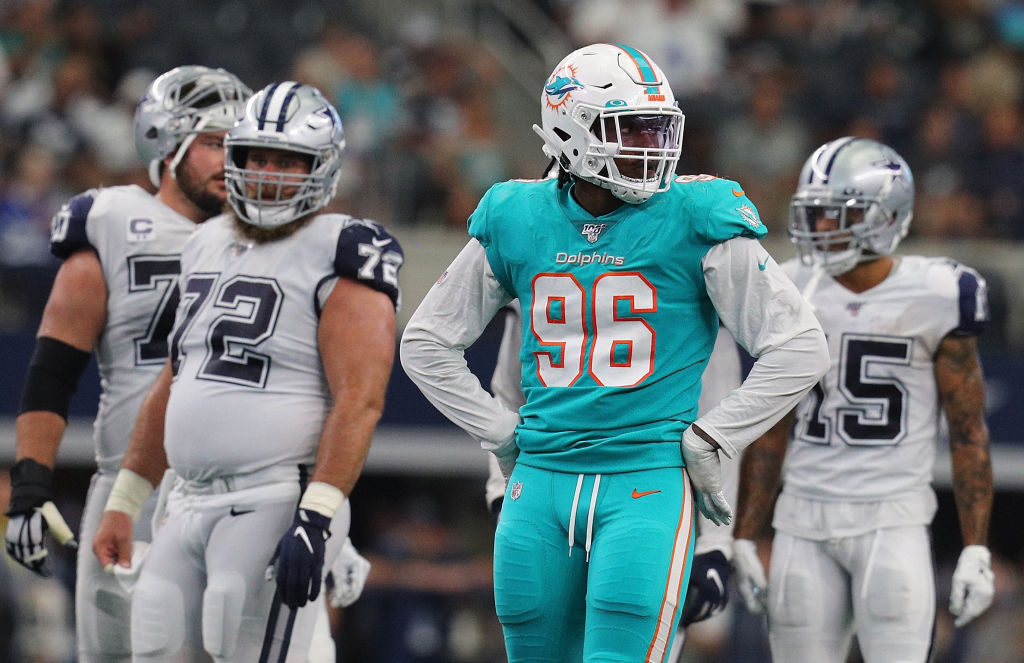 The Kansas City Chiefs Could Have Scored a Bargain Signing a Motivated Taco Charlton
While signing Taco Charlton to a one-year, $825,000 contract might not be a marquee move, the Kansas City Chiefs might have scored a nice bargain.
While everyone knows about Patrick Mahomes and his explosive offense, the Kansas City Chiefs probably wouldn't have won the Super Bowl if not for their defense. After seemingly endless seasons of awful play, Steve Spagnuolo turned his charges into a solid unit. They still might not be world-beaters, but they're now capable of shouldering some of the load as they did in February.
When the 2020 season rolls around, however, the Chiefs defense might be even better. Not only will they have another year of familiarity with Spagnuolo's scheme, but the club could have scored a bargain by singing a motivated Taco Charlton.
Taco Charlton's unrealized potential
As any sports fan can tell you, freakish physical talent doesn't always translate into onfield production. During his first three seasons in the NFL, Taco Charlton has been proof of that reality.
After high school graduation, Charlton headed to the University of Michigan on a football scholarship. While he didn't see much action as a freshman, he slowly became a force on the Wolverines' defensive line. As a senior, Charlton posted 40 total tackles, 13.5 of which came for a loss, and 10 sacks; he was also named an All-Big 10 defensive player and looked like a capable NFL prospect.
When the 2017 NFL draft rolled around, the Dallas Cowboys liked what they saw and selected Charlton at the end of the first round. Despite that status, the defensive end never truly hit his stride in Texas. He recorded three sacks and 19 total tackles as a rookie; the following season, his production tailed off even further.
In September 2019, the Cowboys finally cut bait with Charlton. The defensive end then signed with the Miami Dolphins, where he managed to accumulate five sacks and 21 total tackles in 10 games. That wasn't enough to earn him a job, however, and he was released again in April.
Coming to the Kansas City Chiefs with a new attitude
On May 4, Taco Charlton found a new home with the Kansas City Chiefs. While his first three NFL seasons didn't garner much excitement, the defensive end recently vowed that things would be different in 2020.
"My foot is on the gas for this one. I'm not saying I gave my full effort everywhere I've been. All [previous] situations, things came to an end, and it was kind of mutual. It wasn't really much of a surprise," he explained, according to ESPN. "I was feeling kind of out of position a little bit in the past. This year, I feel like I'll be comfortable and use my talents to the best of my ability."
The move to Kansas City also reunites Charlton with Frank Clark, who he played alongside at Michigan. That reality could also help the defensive end kick things into high gear.
"At Michigan, I made a lot of mistakes, but on that football field, I did my share of leading those guys. One thing I did in that position room was changed the way the position was being played, the rush in, and Taco followed suit," Clark explained, according to USA Today.
"He listens, and he does great things. I'm just excited. I'm excited to see what he's going to do. Like I said, I want to turn him into a legend. First, just show him my work ethic. Show him how we do things with the Chiefs."
At $825,000, Taco Charlton could be a bargain
During the offseason, the Kansas City Chiefs' salary cap issues have been well documented. However, signing Taco Charlton for less than $1 million could turn out to be quite the bargain without breaking the bank.
While it's easy to think of athletes as robotic professionals who will always perform to the best of their abilities, they're still human; factors like work environment and motivation can play a role in their production. Although we don't know how the Dallas Cowboys or Miami Dolphins locker rooms compare to Kansas City's, we do know Charlton will be joining his former teammate and working under two respected coaches in Steve Spagnuolo and Andy Reid. If nothing else, fighting to save his NFL career should light a fire under the defensive end.
At the end of the day, Taco Charlton is the type of low-risk, moderate-reward signing that teams up against the salary cap need to make. If he continues to struggle, he's barely making more than an undrafted punter; if the change of scenery helps—as happened when Emmanuel Ogbah came to Kansas City—the Chiefs will have scored a nice bargain.
All stats courtesy of Sports Reference and Pro Football Reference