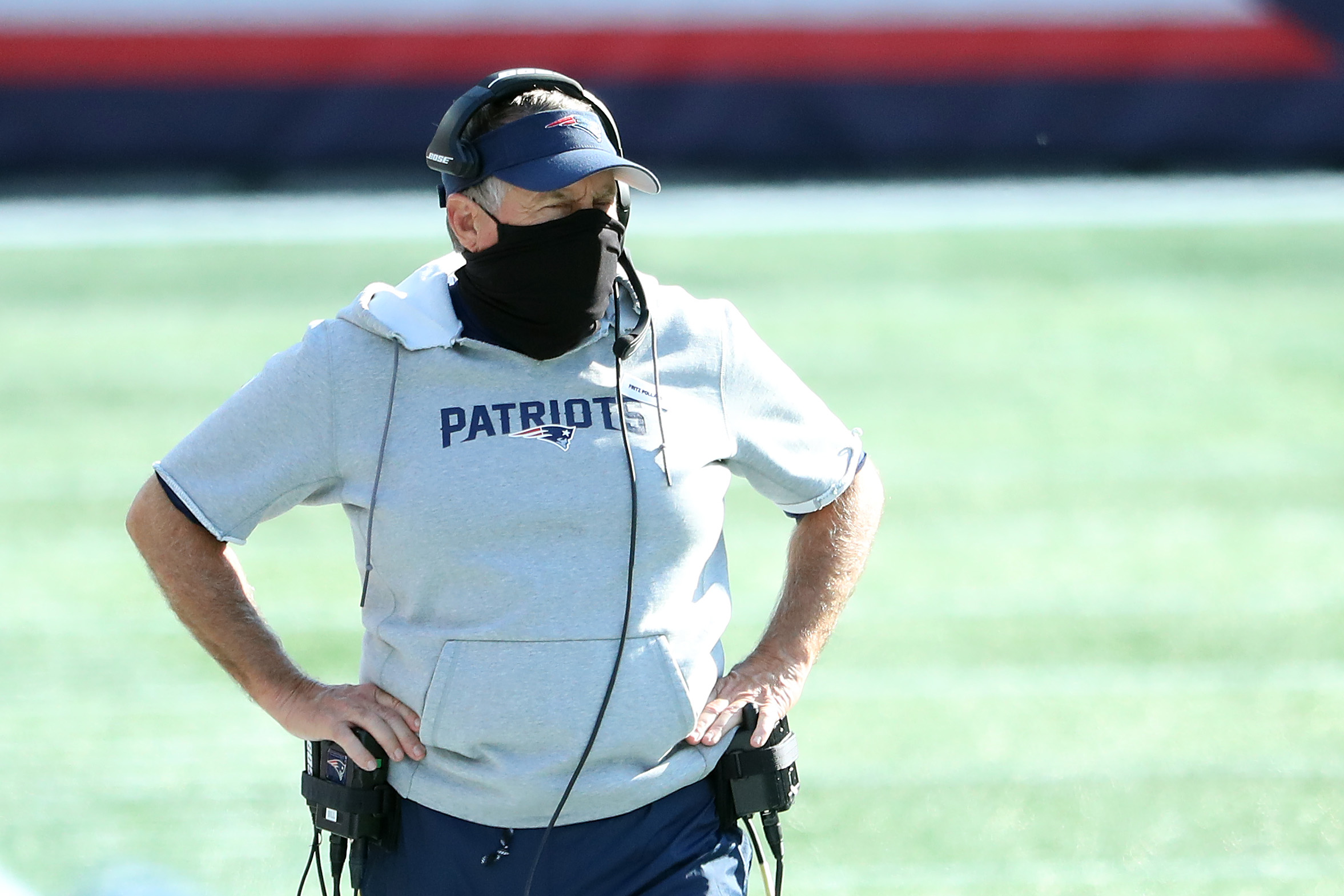 The New England Patriots Are Facing a Problem That Even Bill Belichick Can't Solve
While Bill Belichick has an impeccable track record, even he might not be able to solve the New England Patriots' latest problem.
During his time in the NFL, Bill Belichick has established himself as one of the game's top coaches. No matter what happens in a given season, the New England Patriots always seem to pull together and make a postseason run. 2020, however, is shaping up to be a bit tougher than anyone could have imagined.
While losing Tom Brady and dealing with coronavirus-related challenges all added unique challenges to the campaign, Bill Belichick managed to get everyone pulling in the same direction. The New England Patriots offensive line, however, may fall beyond even the veteran coach's problem-solving powers.
Bill Belichick and the New England Patriots have gotten off to a tough start to the 2020 campaign
When you've won six Super Bowl titles since the turn of the century, you're going to enter every season with high expectations. Despite the departure of Tom Brady, that's exactly how the New England Patriots entered the 2020 campaign.
At first, everything looked rosy. Cam Newton stepped into Josh McDaniels' offense without missing a beat; while he might not be a six-time Super Bowl champ, the quarterback's strength and mobility gave the Patriots a new dimension. That optimism, however, has started to fade.
After a season-opening victory over the Miami Dolphins, the Patriots fell to the Seattle Seahawks; they bounced back with a win over the Raiders before losing to the Kansas City Chiefs. After a COVID-based bye week, New England fell to the Denver Broncos, dipping below the .500 mark.
While there are some mitigating factors—the Chiefs game would have probably been a win if Cam Newton was healthy, for example—the club currently sits at 2-3 through six weeks of play. At the end of the day, you're only as good as your record says you are.
The New England Patriots' offensive line has been decimated by injuries
As any veteran sports fan can tell you, injuries are simply part of the game. That won't be any solace for the New England Patriots and their offensive line, though.
As laid out by NBC Sports' Phil Perry, the Patriots offensive line has seen incredible turnover this year. Marcus Cannon opted-out of the season; David Andrews landed on injured reserve after breaking his thumb. Shaq Mason and James Ferentz recently landed on the COVID-19 list.
On Sunday, the Patriots hit the field with a patchwork offensive line, with virtually everyone shifted out of their normal position. Things got even worse in the first quarter, however, as Jermaine Eluemunor's leg rolled Cam Newton. The guard, who was playing tackle on the day, left the game and did not return.
Even Bill Belichick might not be able to coach his way out of this one
During his time in New England, Bill Belichick has become synonymous with 'the Patriot Way' and his ability to magically solve any personnel problem with someone plucked off the practice squad. The team's current injury crisis, however, could put his abilities to the test.
While Belichick has plenty of coaching talent, problem-solving ability, and personnel-evaluation skills, there's a limit to what any coach can do. At a certain point, talent simply becomes an issue; when you're playing linemen out of position and slotting rookies into the lineup sooner than you'd like, there are bound to be issues.
In Week 6, Denver's defense sacked Newton four times, forcing a fumble; Cam was also credited with another fumble on a botched shotgun snap. While Bill Belichick will surely try to coach his troops up by next week, he can't magically make them more talented or more experienced. By the same token, he can't do anything to get his injured players back before they're ready; even a legendary head coach can't play doctor during the week.
During his time in the NFL, though, Bill Belichick has earned the benefit of the doubt. Dealing with a decimated offensive line, however, will put all of his coaching skills to the test.