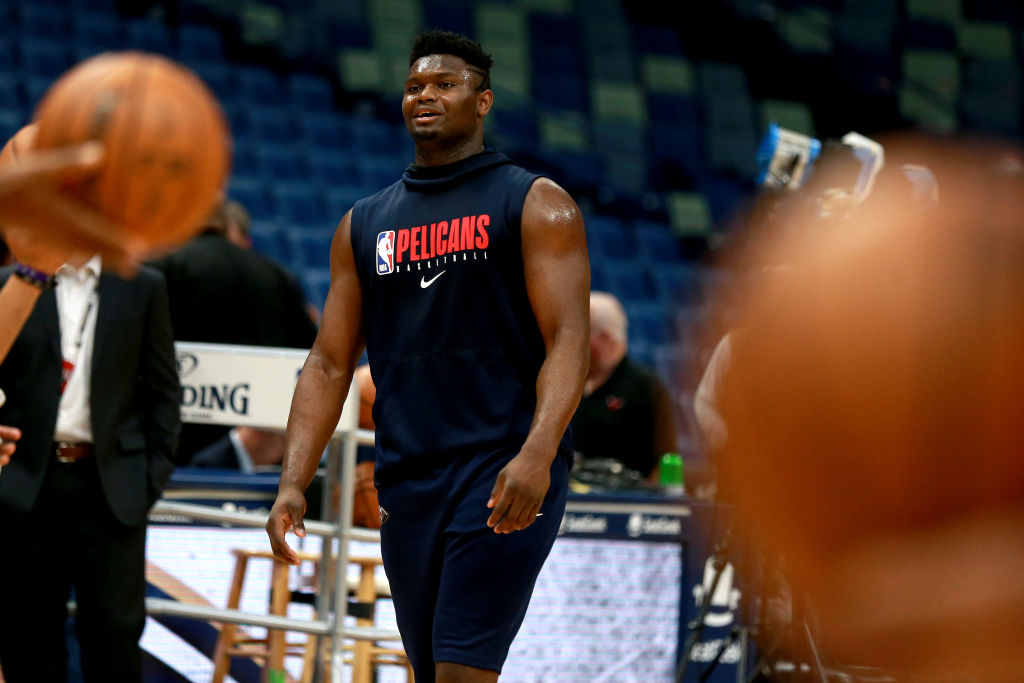 The Pelicans Reveal Their Target Date for Zion Williamson's NBA Debut
After months of waiting, we finally know when the New Orleans Pelicans expect Zion Williamson to make his NBA debut.
After months of anticipation, NBA fans everywhere thought they would see Zion Williamson take the court on Thursday night. Unfortunately, we'll have to wait a little bit longer. The young phenom, it seems, just isn't ready yet. The news isn't all bad, though; the New Orleans Pelicans won't be keeping us in suspense any longer.
On Wednesday, executive vice president of basketball operations David Griffin revealed the target date for Zion Williamson's NBA debut. The wait is almost over.
Waiting for Zion Williamson to return
While Zion Williamson entered Duke as an elite prospect, his star continued to rise in Durham. Even the most hardened basketball fan was excited to see what he could do in the professional ranks. The forward, however, is yet to truly arrive.
Williamson was the marquee attraction in his Las Vegas Summer League debut, but only played nine minutes before leaving the game; after that brief appearance, the Pelicans shut him down for the rest of the summer. Once the preseason arrived, it seemed like Groundhog Day. Zion looked excellent, but missed a game with knee soreness; a few days later, he went under the knife.
The Pelicans said that Zion should be back in action after six to eight, but that timeframe came and went. While all sorts of speculation started swirling, the forward finally started making progress; he seemingly went from taking shots after practice to throwing down pregame dunks in the blink of an eye. A return to action finally seemed imminent.
David Griffin reveals the Pelicans' target return date
On January 13, reports started emerging that Zion Williamson could make his NBA debut on Thursday against the Utah Jazz. While it doesn't seem like the case, we finally know the Pelicans' target date.
On Wednesday, David Griffin told reporters that the team plans for Zion to take part in two "more intense" practices, then take the court on January 22 against the San Antonio Spurs. There's always the possibility of a last-minute setback, but, as of now, the signs are promising.
"This process has been one that has been really, really good," Griffin explained. "We've learned a lot about him. We're getting the point where we think he is as ready as he thinks he is. We're moving in the right direction."
Nothing is set in stone, though, and Williamson still has to clear the final few hurdles. "If we've taken this much time," Griffin said. "We want him to look right when we let him go."
When he finally hits the court, Zion Williamson might be better than ever
While no one enjoyed Zion Williamson spending months on the sideline, the saga is almost over. When the forward takes the court, he might even be a better player than when he arrived in New Orleans.
"Yesterday, the work Zion did was as good as I've seen to this point—better than he was in the preseason," Griffin explained. "We feel like he will be a bigger, better version of himself. A healthier version of himself going forward."
While no one outside of the Pelicans organization knows how Williamson responded, it's possible that this lay-off could shape his career. Although the forward had struggled with injuries in the past, this one could have underscored how fleeting professional success can be; based on what David Griffin said, it seems like Zion had plenty of motivation during his time away from the action.
It's going to take some time for Zion Williamson to work his way back up to speed, but a journey of a thousand miles begins with a single step. For the New Orleans Pelicans, that journey should take a major leap forward on January 22.