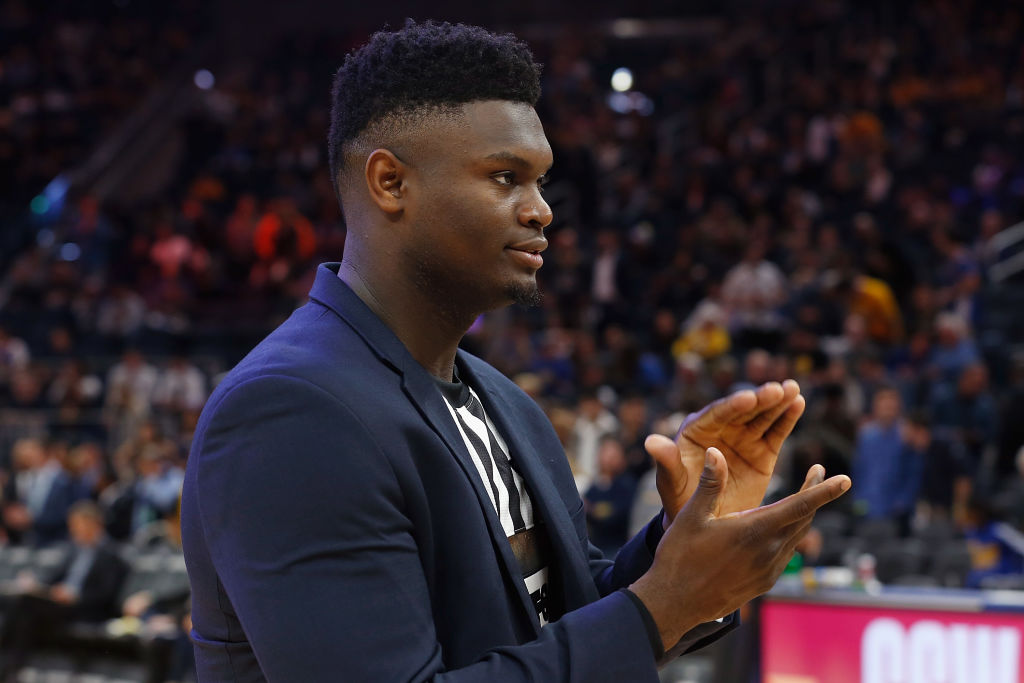 Zion Williamson Is Practicing, but When Will He Return to Full NBA Action?
Zion Williamson has been sidelined for months. The New Orleans Pelicans, however, reportedly hope he can return in to action in January.
The calendar might have turned to 2020, but plenty of things remained the same. Everyone affiliated with the New Orleans Pelicans, for example, is still waiting for Zion Williamson to make his return to competitive action. The New Year, it seems, might be bringing good news for those folks in the Big Easy.
After what seems like an eternity on the sideline, Williamson appears to be inching towards full fitness. In fact, the Pelicans hope to see him take the court within the month.
Zion Williamson's unrealized potential
No one who has ever seen Zion Williamson in action can doubt the young forward's potential. Unfortunately, he hasn't seen much action during the past year.
While Williamson was already nationally known when he arrived at Duke, his collegiate play took that recognition to the next level. The forward dropped 28 in the Blue Devils' season-opener against Kentucky and never looked back; only a freak injury could slow him down.
During his time in Durham, Zion averaged 22.6 points, 8.9 rebounds, and 2.1 assists each outing. Despite missing nearly a month of action, he still took home almost every individual honor imaginable, ranging from ACC Player of the Year to the Wooden Award and the Naismith Award.
The New Orleans Pelicans unsurprisingly selected Williamson first overall in the 2019 NBA draft. While there have been plenty of fits and starts—Zion's highly-anticipated Summer League campaign lasted a matter of minutes—the forward looked good in preseason. Unfortunately, knee surgery has kept Zion out of action for the entire regular season.
Everyone's a doctor when it comes to Zion Williamson
Ever since Zion Williamson went under the knife, everyone has voiced their own unfounded medical opinions. The Pelicans, however, have never strayed from their rehab plan.
Shortly after Williamson had surgery, speculation started swirling that his body couldn't handle the grind of professional basketball. Whether he was overweight or simply putting too much stress on his joints, the implications were clear: Zion was at least partially to blame for his injuries. Pelicans' Executive Vice President of Operations David Griffin, however, asserted that the young player was "in elite condition."
More recently, though, the debate has shifted towards Williamson's return. With the Pelicans struggling and rehab progressing more slowly than expected, Stephen A. Smith questioned if Zion should just sit out the entire season.
When will the Pelicans' star be ready for action?
For all of the speculation and rumors around Zion Williamson's health, the New Orleans Pelicans have remained patient with the young forward. It seems like their faith is finally being rewarded.
During December, Williamson returned to the court and put up shots with an assistant coach after practice. David Griffin confirmed that Zion was "fully weight-bearing" and beginning to make his way back to full health. It seems like the forward may be back in action sooner rather than later.
Shams Charania of Stadium recently reported Williamson "is on the cusp of a breakthrough" and could make his NBA debut by the end of January. While the forward took part in a full practice on January 2, he insisted that he isn't ready for a competitive game just yet. "I gotta pass the assessments," Williamson explained. "Once I pass those, Griff will let me go."
As of now, even Zion Williamson isn't sure when he'll hit the court. The forward's NBA debut, however, finally seems to be getting closer. As they say, it's better late than never.