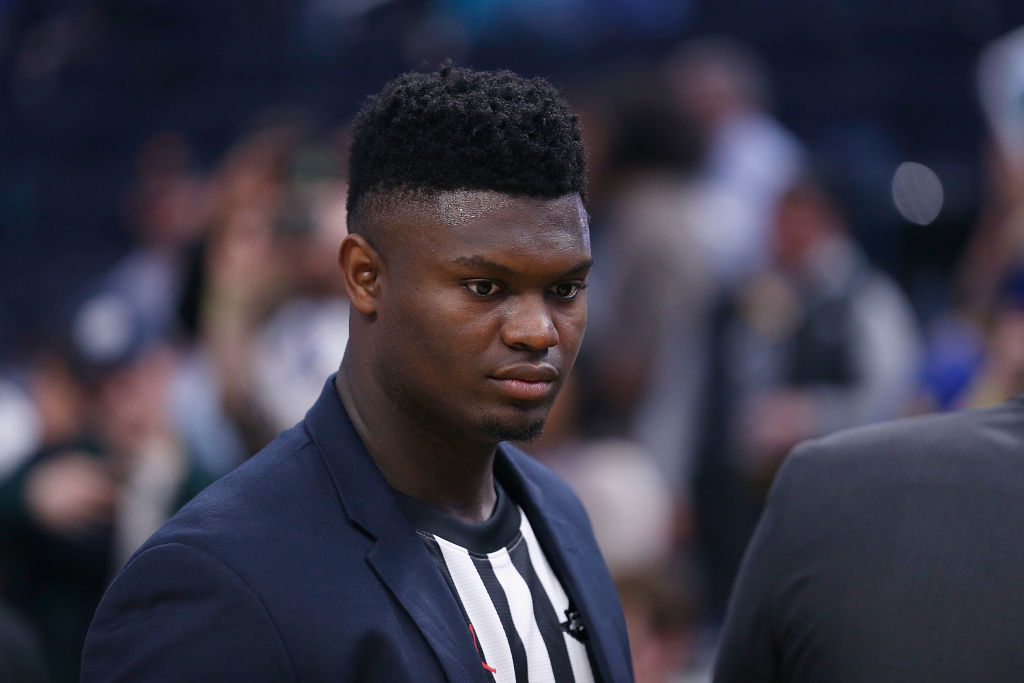 Should the New Orleans Pelicans Really Shut Down Zion Williamson for the Entire NBA Season?
We've been waiting to see Zion Williamson return to action, but should the New Orleans Pelicans just shut him down for the season?
Ever since the 2019 NBA draft took place in June, basketball fans have been waiting for Zion Williamson to suit up for the New Orleans Pelicans. The forward, however, is still yet to suit up for a competitive game after knee surgery. While he's currently working his way back to fitness, Zion still seems quite a ways away from hitting the court for anything other than practice.
Every fan wants to see Williamson play as soon as possible, but teams don't make decisions based on supporter sentiment. At this point, should the Pelicans simply shut Zion down for the entire season?
Zion Williamson's recent knee problems
While Zion Williamson's career has already shown great potential, it has also been blighted by injury.
During his meteoric rise to fame in high school, Williamson first missed time with a deep knee bruise. Then, at Duke, the big forward infamously blew through his Nike sneaker. He suffered a Grade 1 right knee sprain, missing the rest of the Blue Devils' regular season; Zion returned to action in time for the NCAA Tournament, though, and proved that he could still dominate any opponent. When the NBA draft arrived, the New Orleans Pelicans' first overall pick was merely a formality.
With NBA fans clamoring to get a glimpse of Williamson, the Las Vegas Summer League became appointment viewing; the forward's minutes, however, were limited by a left knee bruise. Zion returned to the court in the preseason and looked dominant, but injury issues quickly returned. After being held out of action with knee soreness, the phenom went under the knife to repair a torn meniscus.
A long road back to full health
When Zion Williamson first had surgery, the Pelicans believed that he would be back in action after six to eight weeks. The young forward, however, still hasn't suited up for a competitive game; he's still working his way back to full fitness.
On December 17, Williamson took to the court after his teammates finished up with their practice to put up shots with assistant coach Michael Ruffin. During that evening's game, New Orleans executive vice president of basketball operations David Griffin issued an update on the star forward.
"We're really excited with where he's at," Griffin explained. "He's made really good progress. I know we've reached the eight-week point, and everyone is ready to see him. I think we're a little ways away yet, but today was a really big first step."
"It's an important time for him because he's fully weight-bearing," Griffin continued. "If we're going to see a setback, it would be now. The teammates, the way they responded to him, the joy he has when he's on the floor is evident. And we've obviously needed that."
Should Zion Williamson just call it a year?
While everyone wants to see Zion Williamson as soon as possible, the forward doesn't seem to be close to returning to action. As of now, he's simply practicing with coaches and working on moving in a way that puts less strain on his body; he'll have to play with teammates, then take part in at least a few full practices before appearing in a game.
Based on that reality, combined with the Pelicans' poor on-court performance, ESPN's Stephen A. Smith thinks Zion should just call it a season. While there's no reason to make that decision now, Smith does have a point.
At this point in the season, the Pelicans should focus on doing whatever's best for Zion Williamson and his longterm performance. In an ideal world, the forward will be able to come back into the fold and get some work in with his teammates before the end of the season; while that won't make a short term difference, it would help Zion hit the ground running for the 2020-21 campaign. That, however, should be a bonus, not an expectation.
From a New Orleans perspective, it's probably wise to act as if Zion Williamson is done for the year. That will allow the fans and organization to move forward without unrealistic expectations; Zion's return should only be dictated by his health, not any external pressures.