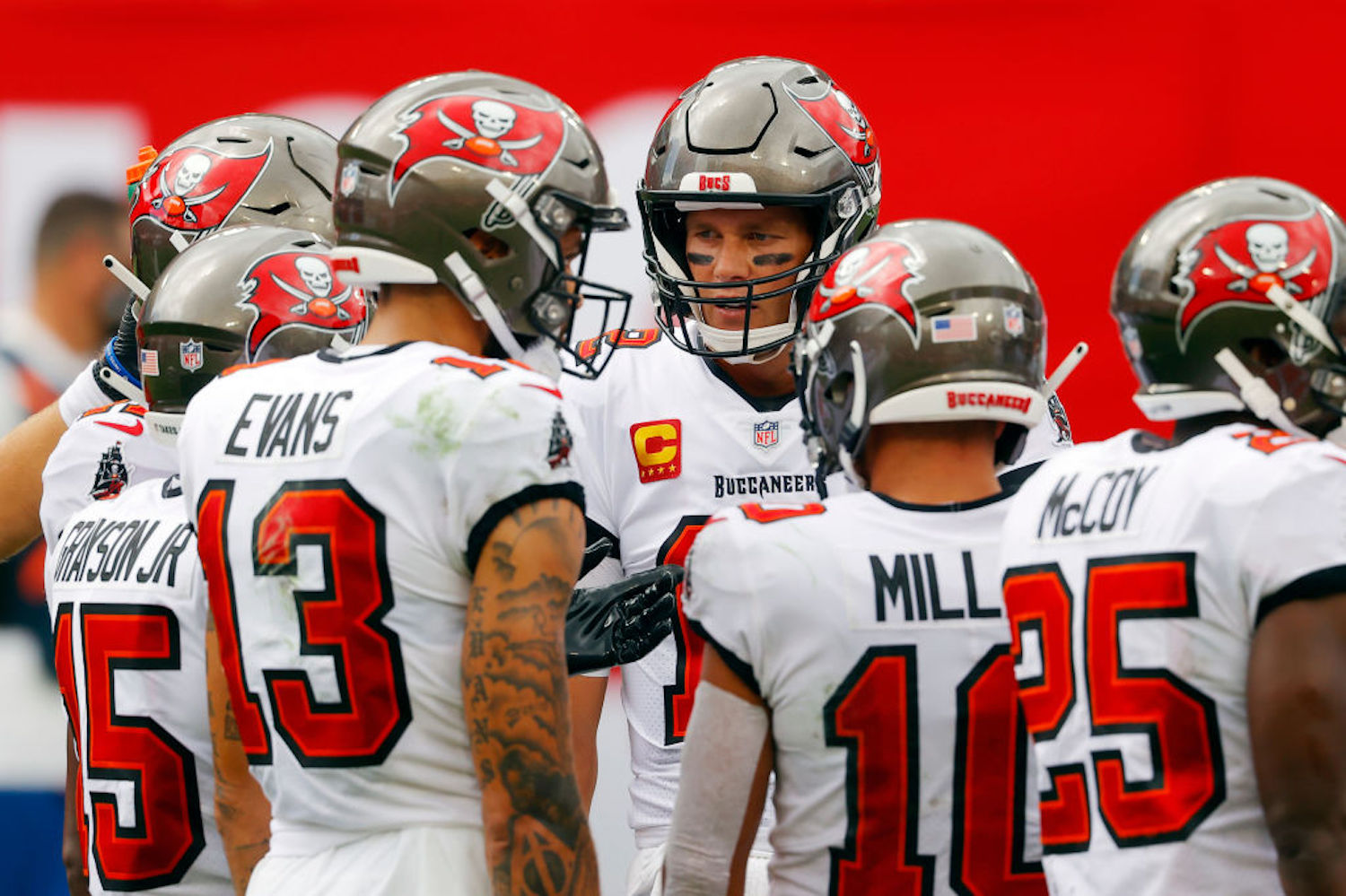 The Tampa Bay Buccaneers' Leading Receiver in 2020 Is Not Who You Might Think
The Buccaneers have Pro Bowlers all over their offensive unit, but a 5-foot-11 sixth-round draft pick has become Tom Brady's favorite target.
The Tampa Bay Buccaneers' offense is littered with Pro Bowl weapons for Tom Brady to target. Mike Evans. Chris Godwin. Rob Gronkowski. Even Antonio Brown in the near future.
Of all the decorated receivers Brady has at his disposal, though, a 5-foot-11 sixth-round draft pick has emerged as the QB's favorite in 2020. Scotty Miller, who's only started six games in his short NFL career, actually leads Tampa Bay in receiving yards this season through seven games. Who didn't see that coming?
Who is Scotty Miller?
Scotty Miller has been overlooked his entire football career. As a high school senior in Barrington, Ill., Miller was a two-star recruit ranked No. 2,154 in the country. He was the 252nd ranked wide receiver in America despite scoring 28 total touchdowns in his junior and senior seasons.
Bowling Green was the only Division I school to offer Miller a roster spot out of high school. He played sparingly as a freshman, recording only 29 receiving yards on seven catches, but he broke out in a huge way in year two.
As a sophomore, Miller caught 74 passes for 968 yards and 10 touchdowns. Miller led the Falcons in all three categories, and he earned a spot on the First-Team All-MAC in 2016. Two years later, he recorded a career-best 1,148 receiving yards and scored another nine touchdowns as a senior.
In 2019, the Buccaneers selected Miller in the sixth round of the NFL draft. He only caught 13 passes last season, but he amassed 200 yards and a touchdown as a rookie. Miller finished the season 16th in the NFL in yards per reception with 15.4, but few fans outside of Tampa Bay even knew his name.
Miller is just 5-foot-11 and 174 pounds soaking wet, so he's been disrespected his whole life on the football field. But he has game-breaking speed in the slot, and Brady has enjoyed feeding him so far this season.
Miller is leading the Buccaneers in receiving this season
The Buccaneers might have the best collection of pass-catchers in the NFL this season. Between Mike Evans, Chris Godwin, and Rob Gronkowski, the trio has nine combined Pro Bowl appearances. Antonio Brown will add seven more when he joins the team next week.
With all those receiving weapons at his disposal this year, Brady has pegged Miller as his favorite thus far. Miller has recorded 22 catches for 365 receiving yards through seven games, which is the highest mark of any Buccaneers' player in 2020. He also leads the team in yards per catch at 16.6.
Brady has high praise for Miller
Brady has always enjoyed feeding small, quick slot receivers throughout his career. Wes Welker. Julian Edelman. Danny Amendola. And now — Scotty Miller.
Before even playing a single game with Miller, Brady had high praise for the young WR during training camp.
He's just another great, consistent, dependable, trustworthy player. Everything we talk about, he retains, and he takes it to the next practice. He's displaying things and he's showing to everybody that he deserves a big role. You can trust where he's going to be, he makes the plays when they come his way. He's really been fun to work with and fun to see grow from the day that I got here.

Tom Brady
Brady had a man-crush on Miller from day one, and it's paying off with surprising production so far in 2020. Can Miller keep it up and finish the season as the top Buccaneers receiver?
All stats courtesy of Pro Football Reference