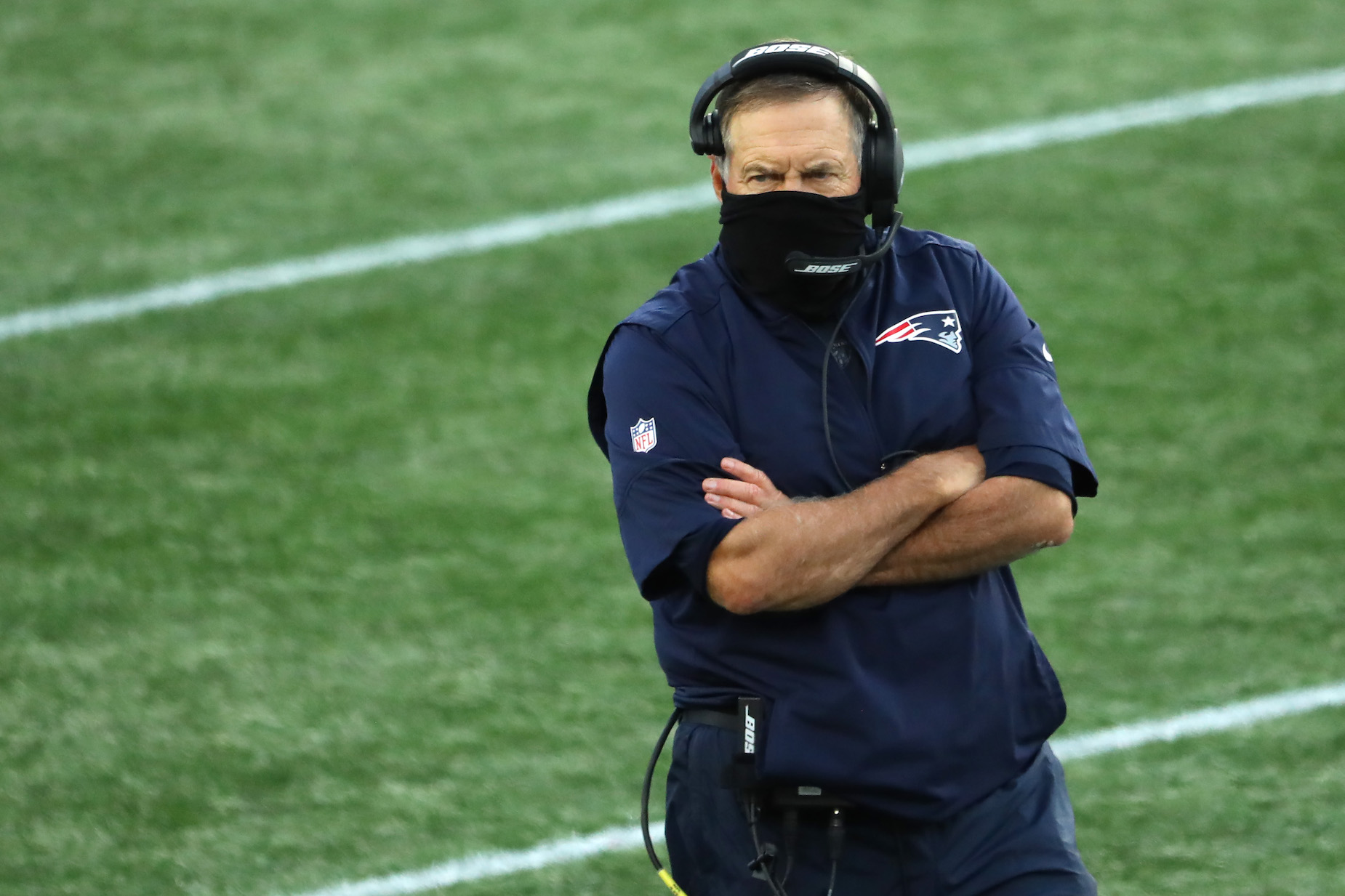 Bill Belichick's Latest Comments About Cam Newton Perfectly Illustrated the New England Patriots' Problems
On Sunday, Bill Belichick gave Cam Newton a vote of confidence. That statement, however, perfectly illustrates the New England Patriots' problems.
Under ordinary circumstances, Bill Belichick's press conferences don't provide much meaningful information. For all of his success, the Patriots head coach isn't exactly an open book; if anything, he tries to play things as close to his chest as possible. After Sunday's loss to the Buffalo Bills, however, things played out a bit differently.
When asked about Cam Newton's job security, Bill Belichick gave an unexciting stock answer. That quote, however, was more than just a cliche; it laid all of the New England Patriots' current problems bare for the world to see.
The 2020 New England Patriots have struggled to get things going
For the past two decades, most New England Patriots seasons followed the same formula; Bill Belichick and Tom Brady would put their heads together, win the AFC East, and make a run at the Super Bowl title. In 2020, however, things are a bit different.
While everyone knew the loss of Brady would be a tough blow, the Patriots entered the season with a decent amount of optimism. Cam Newton, for his injury issues, won the NFL MVP award and led the Panthers to a Super Bowl. Belichick also seemed uniquely prepared for the situation; during his time in New England, the coach had shown a knack for replacing seemingly-irreplaceable players without missing a beat.
After a decent start to the season, though, things have started to crumble. The Patriots are 2-5, sitting in third place in the AFC East. Cam Newton has struggled, and the roster has been racked by injuries. Perhaps most strikingly, the team simply looks bad for the first time in recent memory.
Bill Belichick gives Cam Newton a vote of confidence
During the New England Patriots' loss to the San Francisco 49ers, Bill Belichick benched Cam Newton; after the game, the quarterback candidly admitted that he had to play better to keep the starting job. While he managed to clear that low bar in Week 8 against the Buffalo Bills, it wasn't exactly a stellar performance.
On the afternoon, Newton threw for 174 yards without a touchdown or interception; he also rushed nine times for 54 yards and a touchdown, but lost a fumble, costing his club a chance to tie the game.
After the game, however, Belichick gave his starting quarterback a vote of confidence. "Cam's our quarterback. It's the way it's been all year," Belichick said, according to ProFootballTalk.
Those Cam Newton comments reveal Bill Belichick and the Patriots' biggest problem
In isolation, there's nothing too notable about Bill Belichick's comments. While Newton lost a fumble at the worst possible moment, he wasn't completely awful; even if the coach wanted to make a change, there's very little to be gained from ripping a player in front of the media. With all of that being said, though, that simple statement tells you everything you need to know about the Patriots problems.
Through seven games of the season, Newton has started six times and thrown for 1,143 yards, two touchdowns, and seven interceptions; he's added 298 more yards and six additional scores on the ground. It's safe to say that stat line won't win you too many football games.
Bill Belichick, however, doesn't have much of a choice when it comes to quarterback. Based on what we say in Kansas City, Brian Hoyer isn't more than an emergency option; Jarrett Stidham might have some potential, but he isn't ready for the big time. If you're handing him the keys to the offense, you're essentially admitting that the season is over.
The lack of depth can be seen all over the roster. On Sunday, for example, both Julian Edelman and N'Keal Harry were out injured; that meant Cam Newton's receiving corps consisted of Damiere Byrd, Jakobi Meyers, and Gunner Olszewski. As we saw last season, even Tom Brady became frustrated with New England's offensive options.
For years, Belichick has reaped the rewards of being the head coach and general manager in New England; he's rightfully earned a reputation as a modern football genius. That dual role, however, means the Patriots' current depth issues fall at his feet.
While letting star players walk and replacing them with guys from the practice squad may work in isolation, you'll eventually need to replace the top-tier talent, whether it's through free agency or the draft. Unfortunately for the Patriots, Bill Belichick hasn't done either; now, those decisions are coming home to roost.
Stats courtesy of ESPN